2 minute read / May 26, 2016 / channel /
The 3 Types of Channel Strategies for SaaS Startups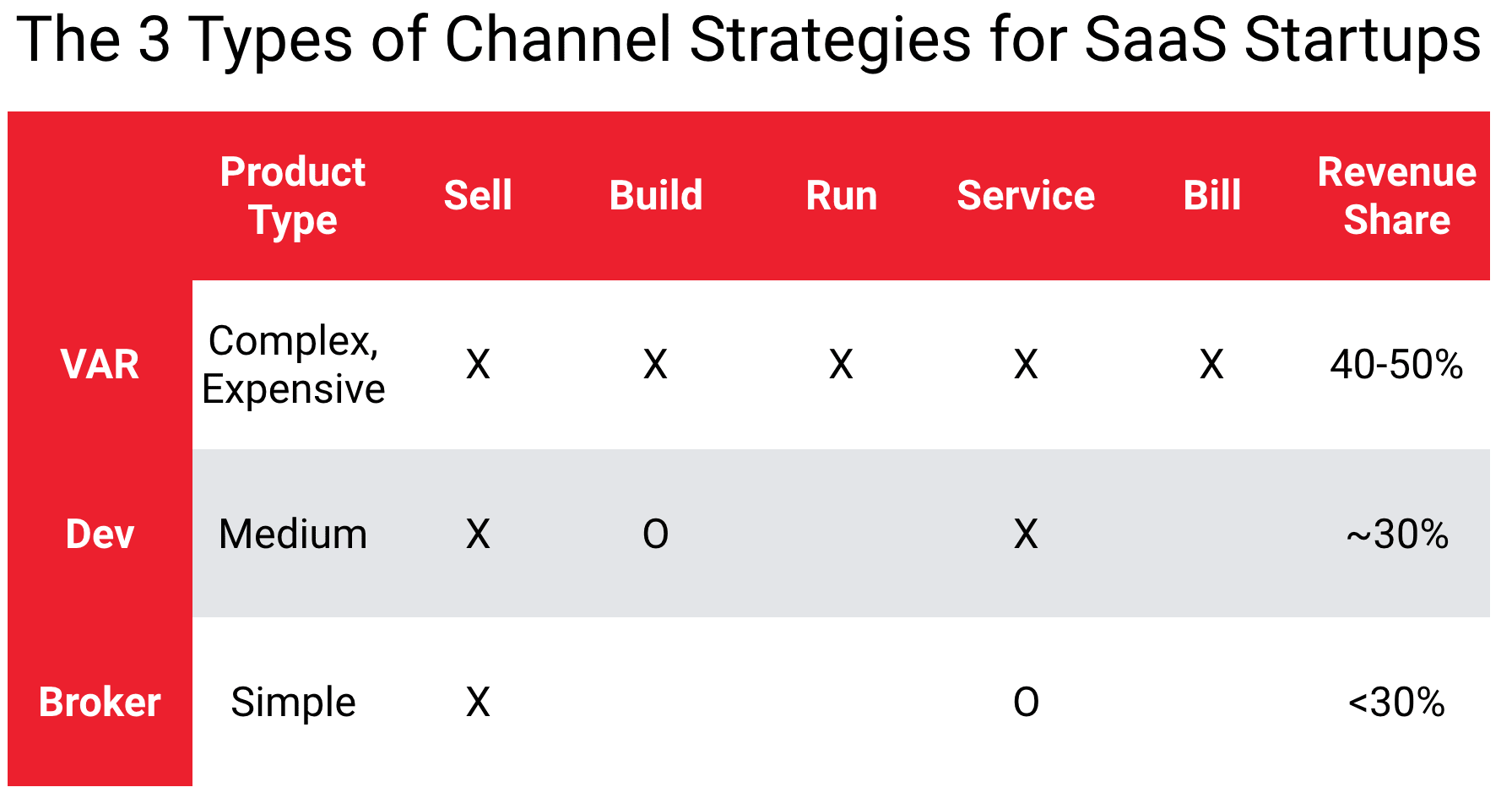 "There are three different types of channel relationships for SaaS companies," a seasoned executive told me recently. Which is the right one for your SaaS startup?
In a classic reseller relationship, the value-added reseller sells, builds, services and operates a solution to a customer. After signing the deal, the VAR crafts and customize the software to the needs of the customer, invoices the customer and supports the customer. The VAR pays some royalty or license fee back to the vendor. Most of the time, when companies say they sell through the channel, they refer to this type of arrangement.
In contrast to the reseller model, the application developer model has one major difference. The vendor bills the customer directly and supports the customer. Salesforce is a great example. Salesforce customers always pay Salesforce directly, even if that customer has paid a services firm to customize Salesforce. The services firm does not resell Salesforce. Rather, the channel can sell an application, Salesforce customization and/or support.
The last of the three models is the brokerage channel model. Most akin to the relationship between an insurance agent and an insurance company, this channel relationship lends itself to simpler SaaS products and more transactional sales. The channel partner's value lies in bundling or packaging a stack of different solutions for a particular customer segment, and potentially some basic account management. A broker channel might develop a software stack for restaurants or for general contractors by selecting the best SaaS point solutions, configuring the integrations and then providing basic support.
This classification of channel strategies into a hierarchy helped me demystify a lot of the talk about channel sales and what the channel program might be for different types of SaaS startups.
No matter the type of channel program, whether VAR, application developer or software broker, the ambition of channel programs remains the same: partner with other organizations who can acquire new customers. The program types typically do vary by the complexity of the software. The more complex the software, the more bespoke the customer's requirements, the more expensive the transaction, the greater the likelihood of a traditional VAR relationship.
These channel partners may have cornered the market in sandwich shops or chemical producers. Industry knowledge, established relationships and an ability to reshape or reposition a SaaS company's product as a solution rather than off-the-shelf software with a generic marketing message can be an important go-to-market advantage.
When thinking through your SaaS startup's go-to-market strategy, consider which channel relationship might help your bookings grow faster.
---
Read More: