2 minute read / Sep 15, 2023 /
4 Key Takeaways from the AI Panel at Saastr 2023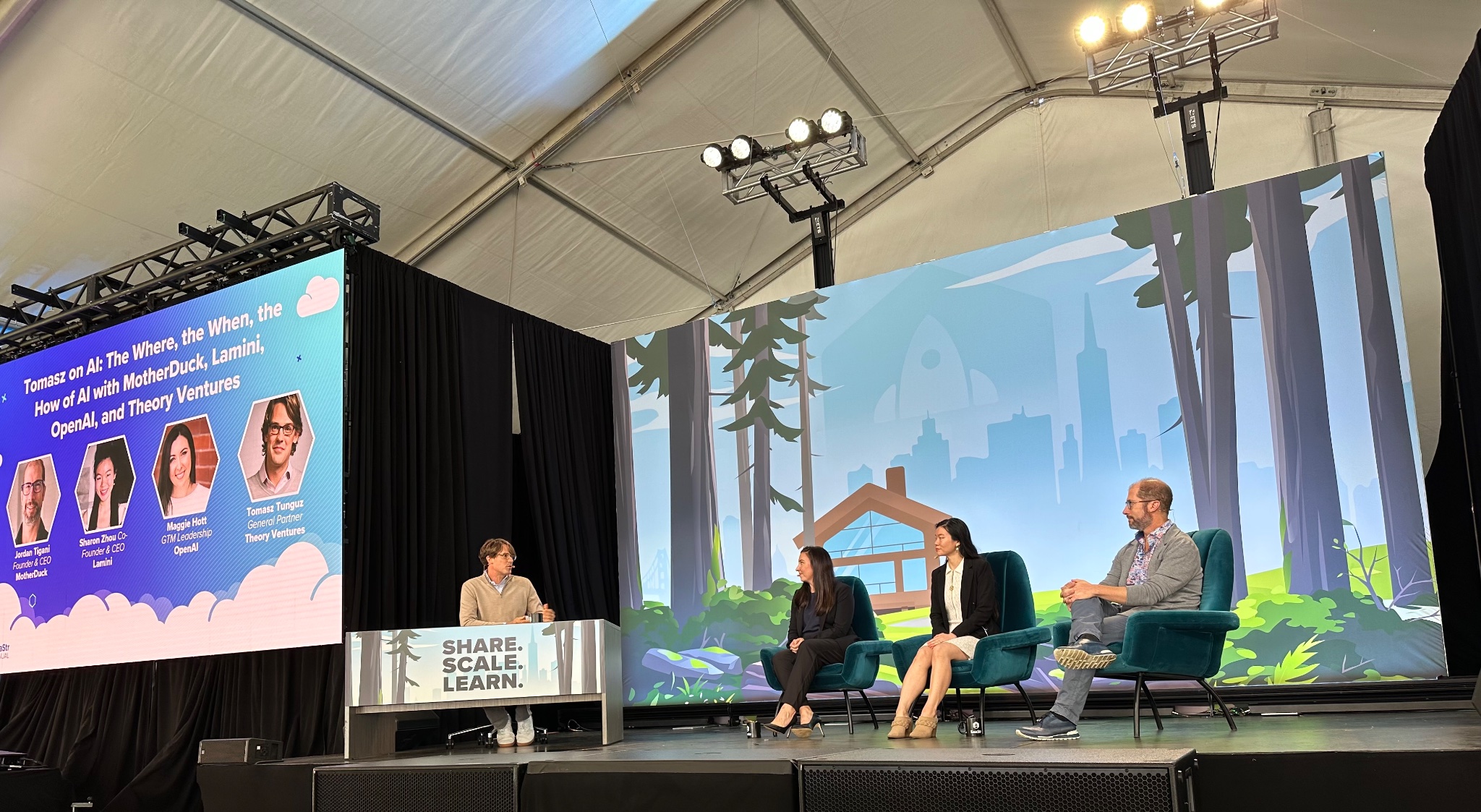 Last week at Saastr 2023, I had the privilege of hosting a panel with Maggie Hott, GTM leader at OpenAI, Sharon Zhou, cofounder & CEO of Lamini, & Jordan Tigani, founder & CEO of MotherDuck talking about the implications of AI for the software industry broadly.
Four themes resonated throughout the session.
First, large language models like GPT-3 are making AI accessible to the masses. These advanced models allow people to interact conversationally with technology. For example, instead of writing complex SQL queries, users can get database results by describing what they want in plain English. The upshot is that AI can now be utilized by domain experts, not just computer scientists, which opens up the markets for previously technical products to upwards of 10x the user population.
Second, education represents a huge opportunity for AI. Universities are eager to incorporate large language models into curricula and instruction. Students have started to use AI to tailor lessons and quizzes for each student's needs and learning style. The prospects of such infinitely patient and personalized tutors are driving major investment in AI both for education within schools & ultimately learning within the enterprise.
Third, AI-generated images saw breakout success this year. Leveraging models like DALL-E 2 & Midjourney, our panelists noted the significant improvement in content performance when spending more time on the image than the content.
Finally, there's debate around who will tune AI software. Will it be third-party SaaS vendors or the customers buying the software? The answer is it's much more likely to be the subject matter experts within the enterprises who know enough to drive the model performance. But the software vendors will have to offer the tools to do it.
It's hard to believe this wave is only about 9 months old. From the conversation we shared at the conference, the ripple effects of this technology we felt for a very long time. We are still figuring out exactly the right ways to deploy it and where it will have maximum leverage.
In fact, during the quick fire round, we discussed how a CEO should navigate this and it's hard. The reality is the industry is changing so fast that it's difficult to project the implications of AI even a few quarters out on any individual company or industry.
Thank you to Maggie, Sharon, & Jordan for joining me.
Photo Credit: Christiano Boria
---
Read More: