3 minute read / Oct 24, 2023 /
AI Reaccelerating Cloud Growth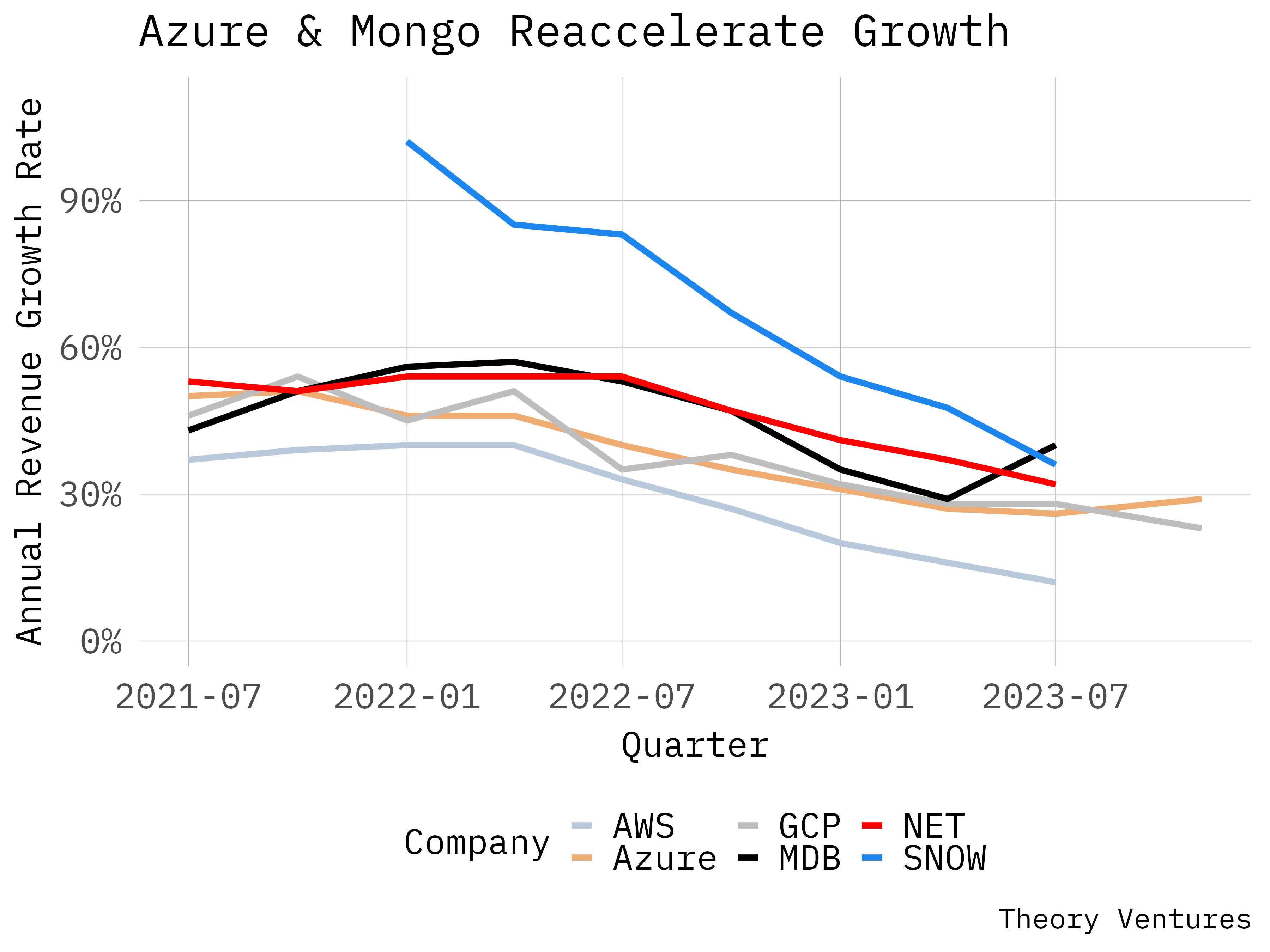 Yesterday, both Google and Microsoft announced their earnings for their cloud businesses. I've been tracking the growth rates of these companies and product lines for the last 18 months to develop a broad gauge of enterprise buying patterns after the downturn.
In the chart, it's immediately evident that Mongo has seen dramatic increase in growth rate last quarter. We await the earnings from everyone aside from Google and Microsoft in the next few weeks.
Notably, Microsoft has also re-accelerated - like Mongo, although to a lesser extent. This growth is fueled by AI workloads.
Google, on the other hand, declined after having plateaued last quarter.
Listening to the Microsoft earnings call, There are some interesting insights to be gleaned.
First, Microsoft is diversifying its algorithms portfolio from primarily OpenAI to open source models.
"Azure AI provides access to best-in-class frontier models from OpenAI and open-source models, including our own as well as from Meta and HuggingFace"
Second, the adoption of Azure OpenAI has grown from 11,000 last quarter to 18,000, a 67% growth, demonstrating the broad wave of adoption that has & likely will continue to Azure revenue growth.
"Because of our overall differentiation, more than 18,000 organizations now use Azure OpenAI service, including new-to-Azure customers." "Higher-than-expected AI consumption contributed to revenue growth in Azure."
Also, the growth rate should sustain next quarter, indicating some durability in the growth rate.
"In Azure, we expect revenue growth to be 26% to 27% in constant currency with an increasing contribution from AI. Growth continues to be driven by Azure consumption business, and we expect the trends from Q1 to continue into Q2."
Third, the paid Copilot business - the assistant across Microsoft products is now roughly a $360m ARR business, assuming every customer pays list price. The average customer purchases 38 seats of Copilot (though this is very likely skewed by larger customers).
"We have over 1 million paid Copilot users and more than 37,000 organizations that subscribe to Copilot for business, up 40% quarter-over-quarter, with significant traction outside the United States."
Microsoft's presence in the developer ecosystem continues to astound. At the time of acquisition, Github had about 25m users & projected to reach 100m in 2025. They've crossed the mark 2 years early.
"All of the number of developers using GitHub has increased 4x since our acquisition 5 years ago."
Both Google & Microsoft have announced Copilot for security products, features that other security vendors including Cisco are developing, uggesting this may be the next vertical to grow from AI after content generation & legal software.
Microsoft: "We see high demand for Security Copilot, the industry's first and most advanced generative AI product, which is now seamlessly integrated with Microsoft 365 Defender. And our SIEM Microsoft Sentinel now has more than 25,000 customers and revenues past $1 billion annual run rate."
Google: "We also integrated Duet AI across our cybersecurity portfolio to differentiate in the marketplace, providing generative AI-powered assistance in Mandiant Threat Intelligence, Chronicle Security Operations and Security Command Center. This reduces the time security teams spend writing, running and refining searches by 7x. "
Google has benefitted from some significant interest in Duet, their Copilot product which has driven customer expansion.
"In Workspace, thousands of companies and more than 1 million trusted testers have used Duet AI…Google Workspace also delivered strong revenue growth, primarily driven by increases in average revenue per seat. "
At hyperscale, the companies with the deepest AI exposure are enjoying faster growth rates as enterprise demand for these products accelerates.
---
Read More: