2 minute read / Mar 9, 2022 / startups /marketing /
The People Roadmap for Startups
Startups create products. After product-market fit, product teams hew the product roadmap from a panoply of options to the features best aligned with the company's plans.
In much the same way, CEOs architect the organization that builds, markets, sells, and supports the product. When a business is ready to scale, a startup ought to develop an organizational roadmap. These roadmaps chart the growth of each organization within the business.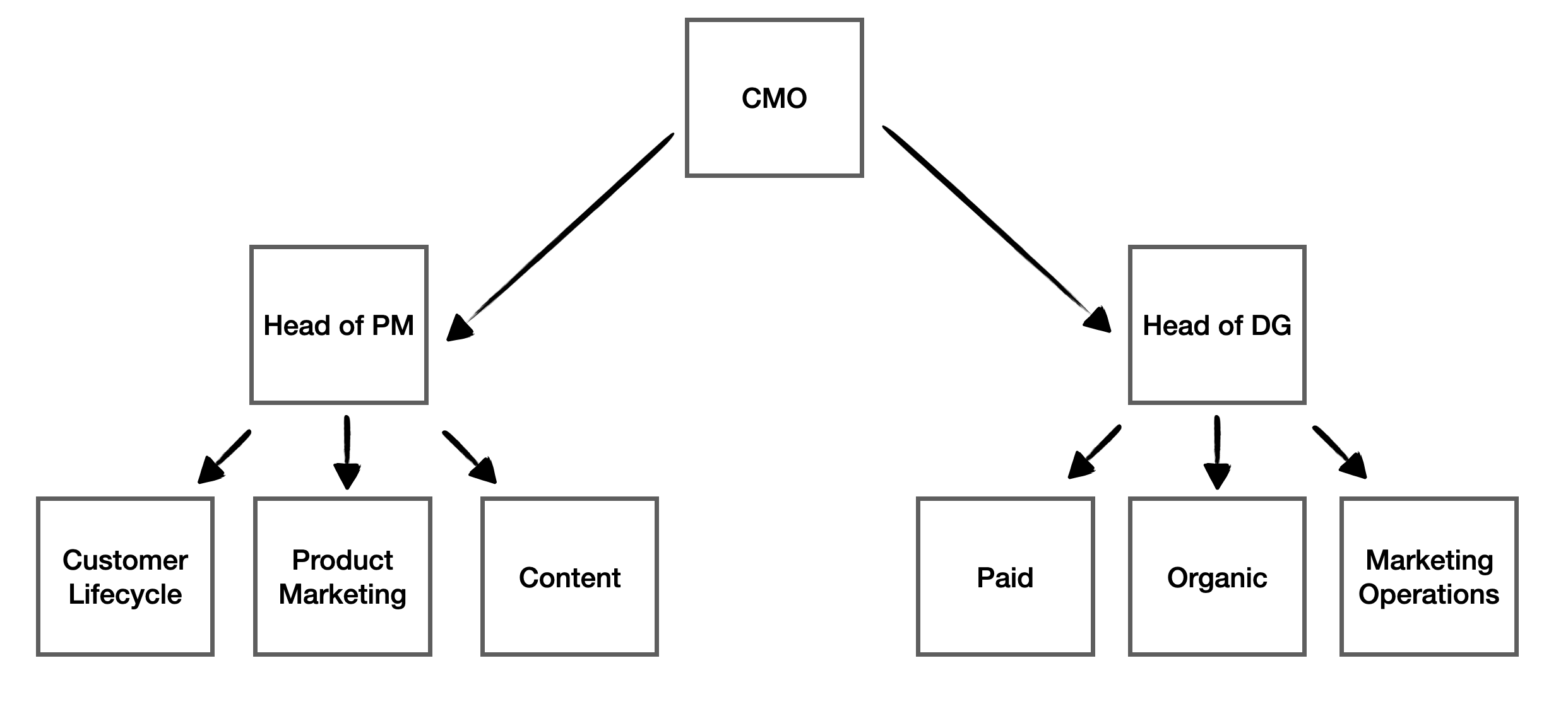 This schematic depicts a common structure for a marketing team at a later-stage company. A CMO manages the organization. Two lieutenants, a head of product marketing and a head of demand generation, enlist teams of various specialties.
The customer lifecycle team, product marketing team, and content team report to the head of product marketing. Other marketing disciplines are important - analyst relations, for example, but I've omitted them for simplicity.
The demand generation function is structured similarly. Managers of paid acquisition, organic acquisition, and marketing operations/systems report to the head of demand generation.
The question for early-stage startups is how to start building this structure. Who should be the first marketing hire? Most startups begin either with a product marketer or a demand generation specialist. Given the tightness of the labor market, the first hire is often market-driven: who's available?

In many Series A and B companies, the early marketing organization numbers three people: a product marketer, a content person, and a demand generation specialist.

As the company scales, the heads of demand generation and product marketing join the team.
Some teams wait to staff these leaders, preferring to employ individual contributors first. Hiring doers first means more immediate impact to the organization with less initial investment, perhaps betting the initial recruit grows into the management role.
Other startups begin by hiring leaders first and thereby benefit from an additional hiring manager on the team recruiting from a new network. Early companies face challenges recruiting leaders because of the demand for high-performing leaders, who themselves may prefer to join a startup after the company achieves certain milestones.
Understanding how a startup's team will evolve over time helps an organization plan its recruiting efforts, take advantage of opportunistic hires, and budget for the future.
---
Read More: