4 minute read / Nov 10, 2015 / s-1 analysis /
Benchmarking Atlassian's S-1 - How 7 Key SaaS Metrics Stack Up
Founded in 2002, the Australian software maker Atlassian is an exceptional company in many regards. But foremost, Atlassian is one of the best examples of flywheel SaaS companies yet. Atlassian counts 1600 employees and sells five products JIRA (bug tracking software), Confluence (project management), HipChat (internal chat/collaboration), BitBucket (code repository) and JIRA Service Desk (help desk software. Yesterday, Atlassian filed their F-1, a document preceding their IPO, and revealed how efficient a software company they have built. In 2015, the company will generate $320M in revenue.
The chart above details the revenue growth of the business compared to the median of the 50+ publicly traded SaaS companies. It follows a beautiful geometric curve characteristic of Flywheel business models, where an efficient customer acquisition engine keeps building momentum and growing revenues exceptionally. Note only the last 3 years of revenue are found in the F-1. The rest of the data points I gathered from press about Atlassian.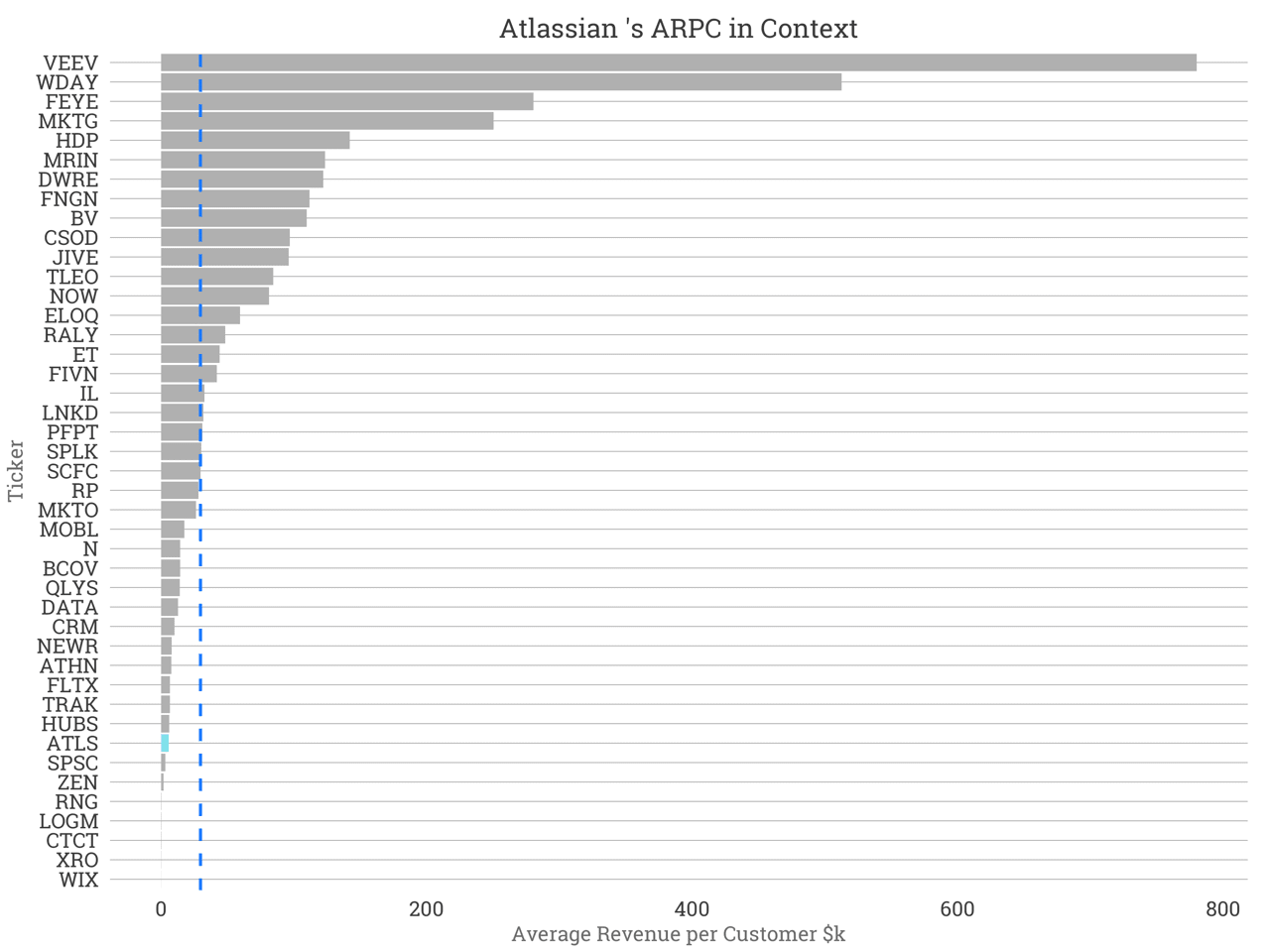 Atlassian's average customer generates revenue of $5594 per year, which places it among companies like Zendesk, LogMeIn, ConstantContact and Xero in the smallest quartile. Atlassian has grown their customer base from 11,000 customers in 2010 to more than 48,000 today. Though Atlassian counts more than half of the Fortune 500 as customers, no single customer accounts for more than 1% of revenue. In other words, no single client pays Atlassian more than $3.5M. And only 864 customers pay more than $50k per year.
Perhaps the most impressive part of Atlassian's business is their go-to-market efficiency. While the median SaaS company spends between 50-100% of their annual revenue on sales and marketing, Atlassian has spent between 12 and 21% of their revenue on customer acquisition in the last three years. These metrics are simply unheard of.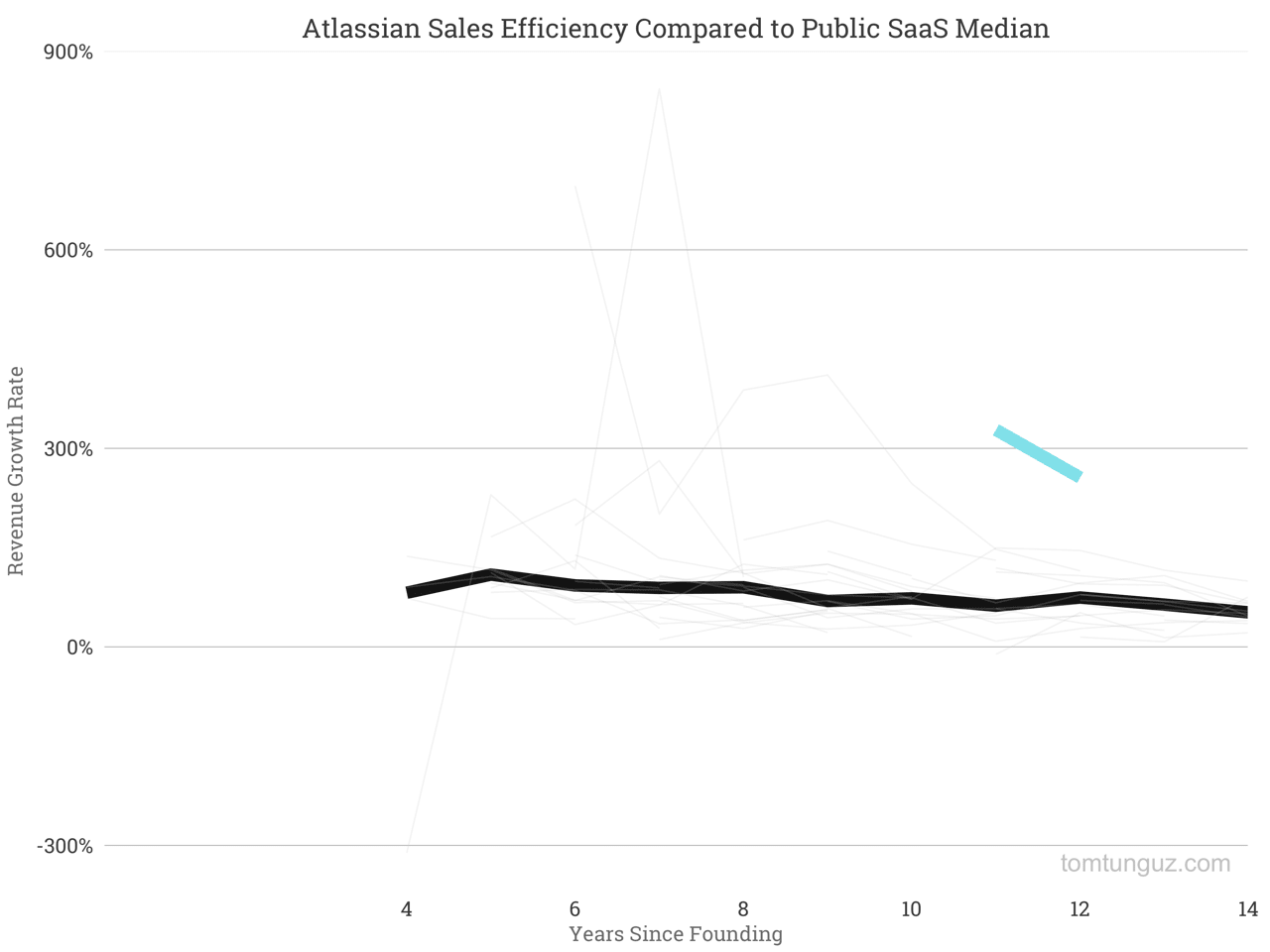 They also imply a sales efficiency, normally in the 0.8-1.2 range of 2.5 to 3.2. The data makes clear that Atlassian employs a fundamentally different go-to-market than the classic sales development rep to inside sales model championed by books like Predictable Revenue and popularized by Salesforce. This flywheel model uses the product and analytics to attract customers and upgrade them into higher paying tiers.
As a consequence of immense sales efficiency, Atlassian is profitable - a rarity in today's software companies. Atlassian's net income as a percentage of revenue has been positive the last three years: 7.2%, 8.8% and 2.1%.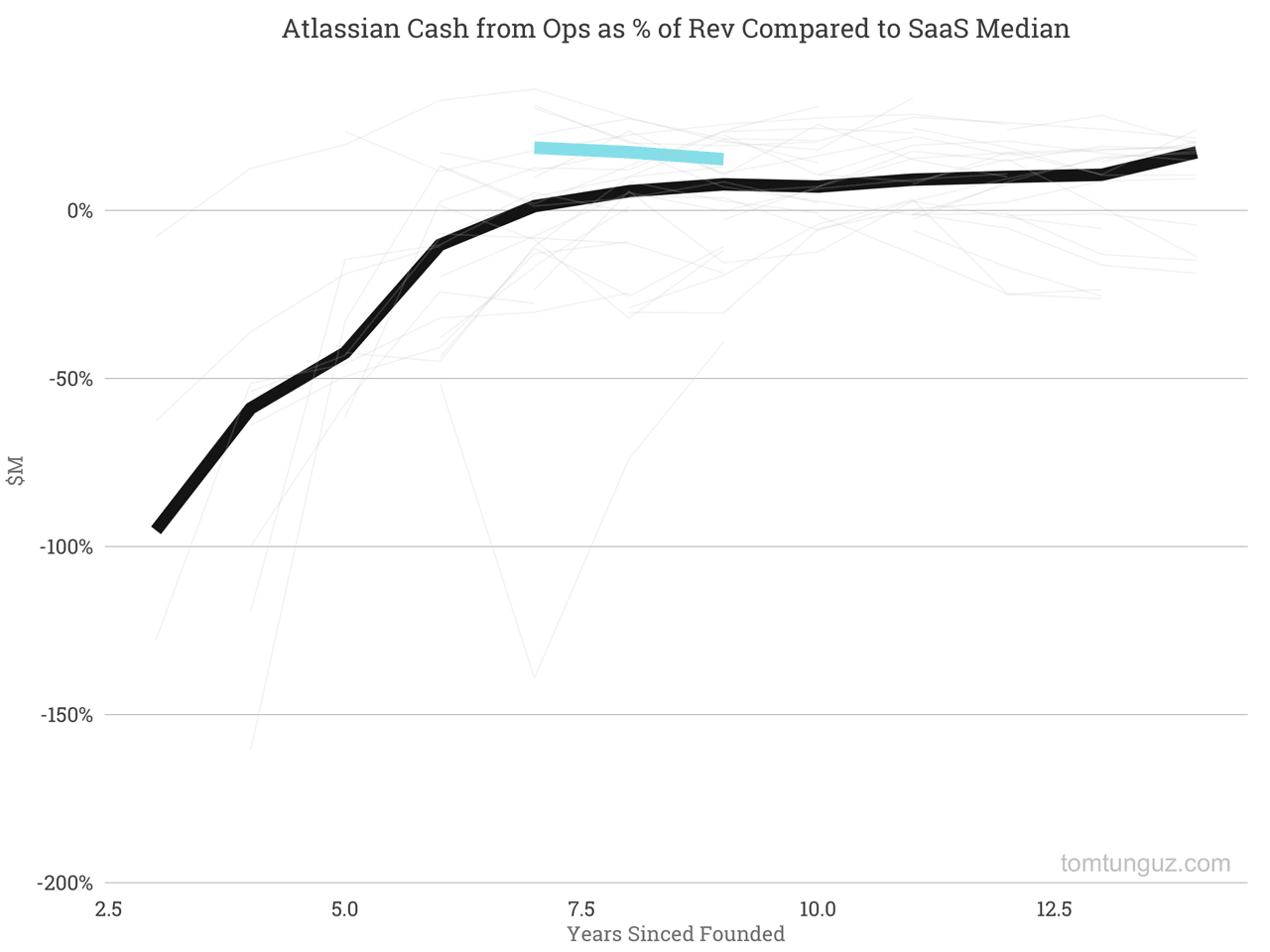 In addition, Atlassian generates cash flow of between 15-18% of revenue. This cash, in addition to a small amount of venture capital, has provided the wherewithal to fuel the business's growth. In 2015, Atlassian will generate more than $65M in free cash flow.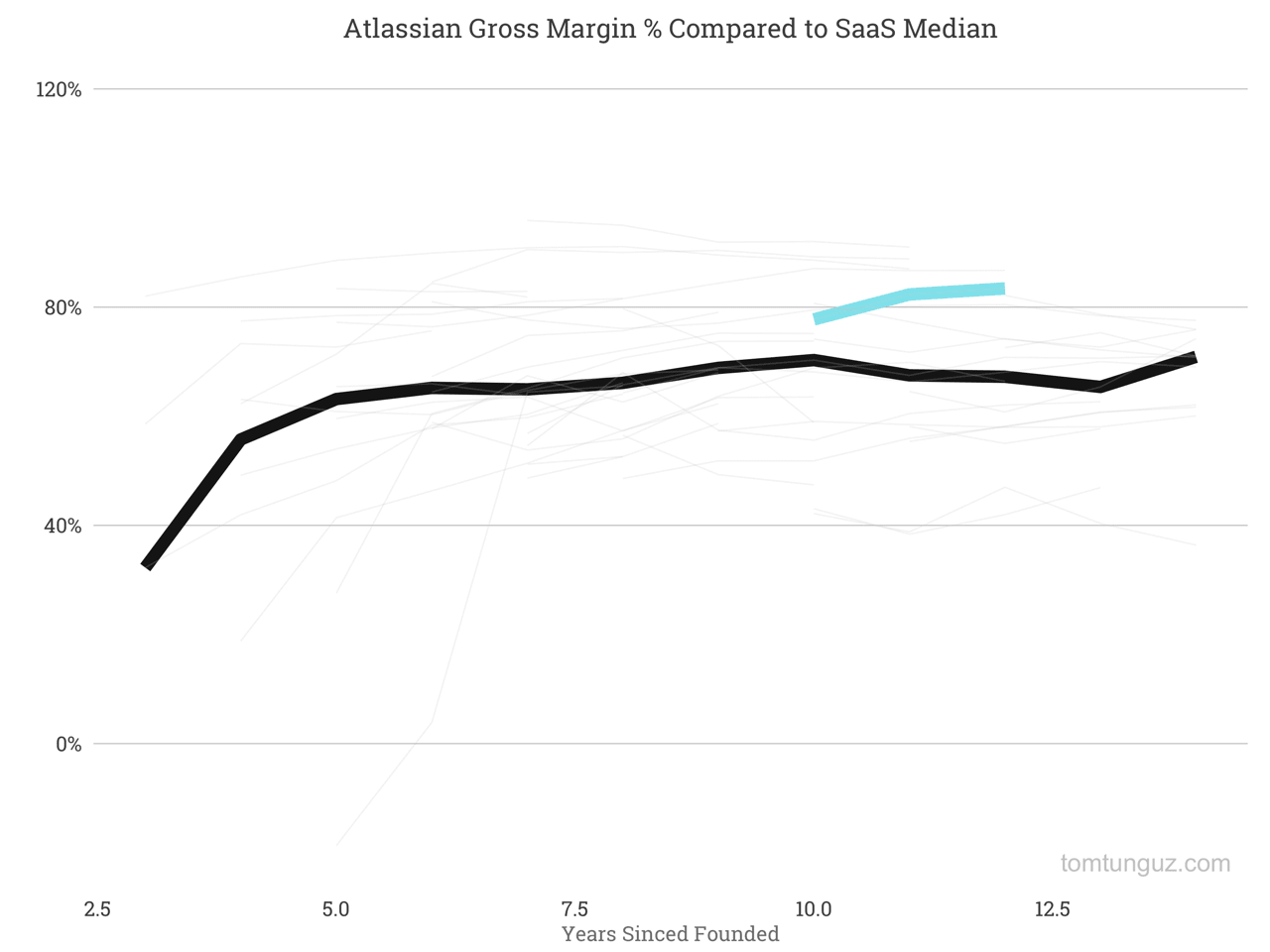 Atlassian operates at 83.4% gross margin, 12 percentage points above the SaaS median of 70.9%.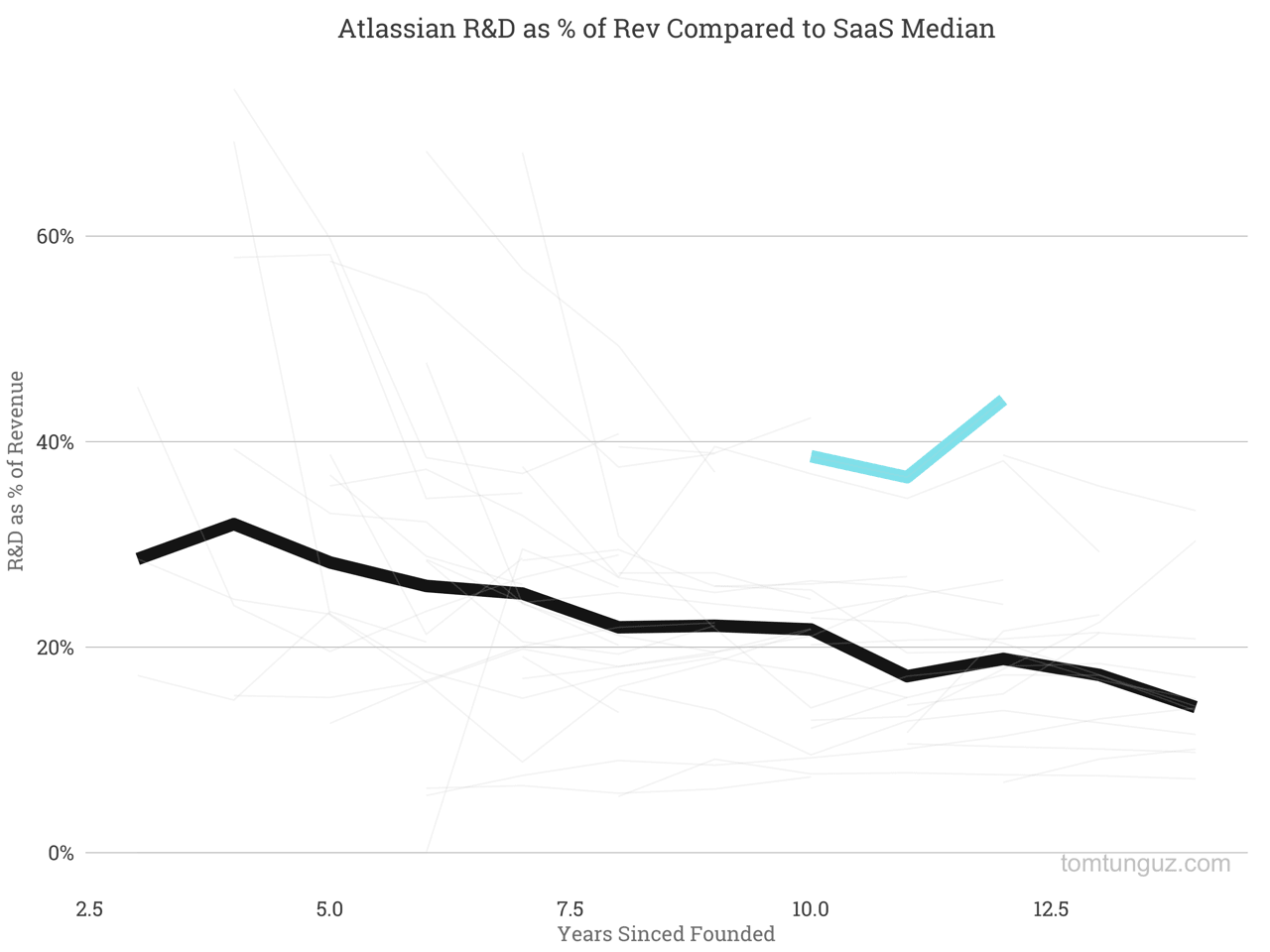 Atlassian spends aggressively in research and development, investing more than 40% of revenues of late into improving their products, optimizing the funnels which fuels the growth of the flywheel model.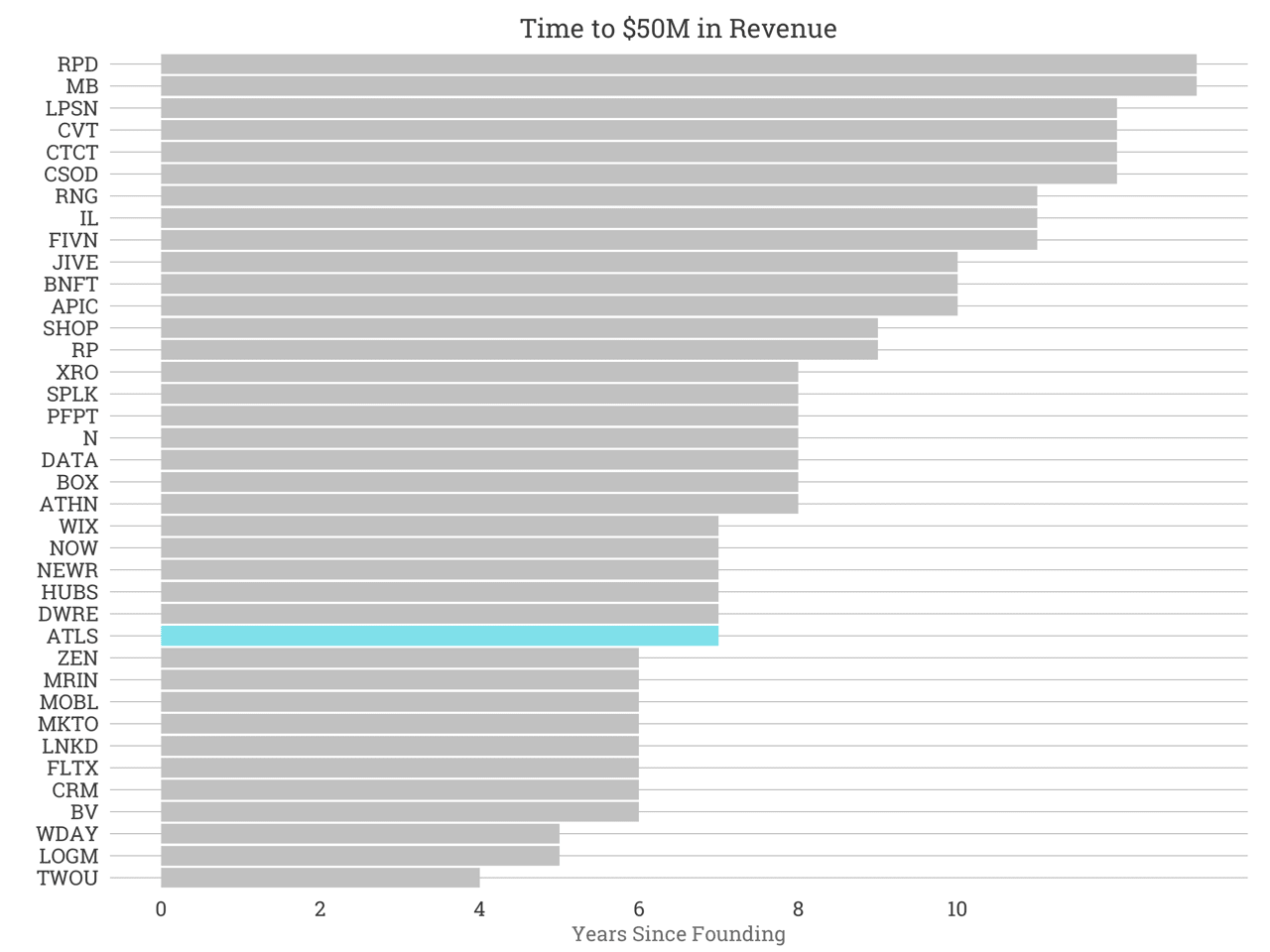 Atlassian surpassed the $50M revenue mark seven years after founding, in 2009, similar to Hubspot, DemandWare, NewRelic and other great companies.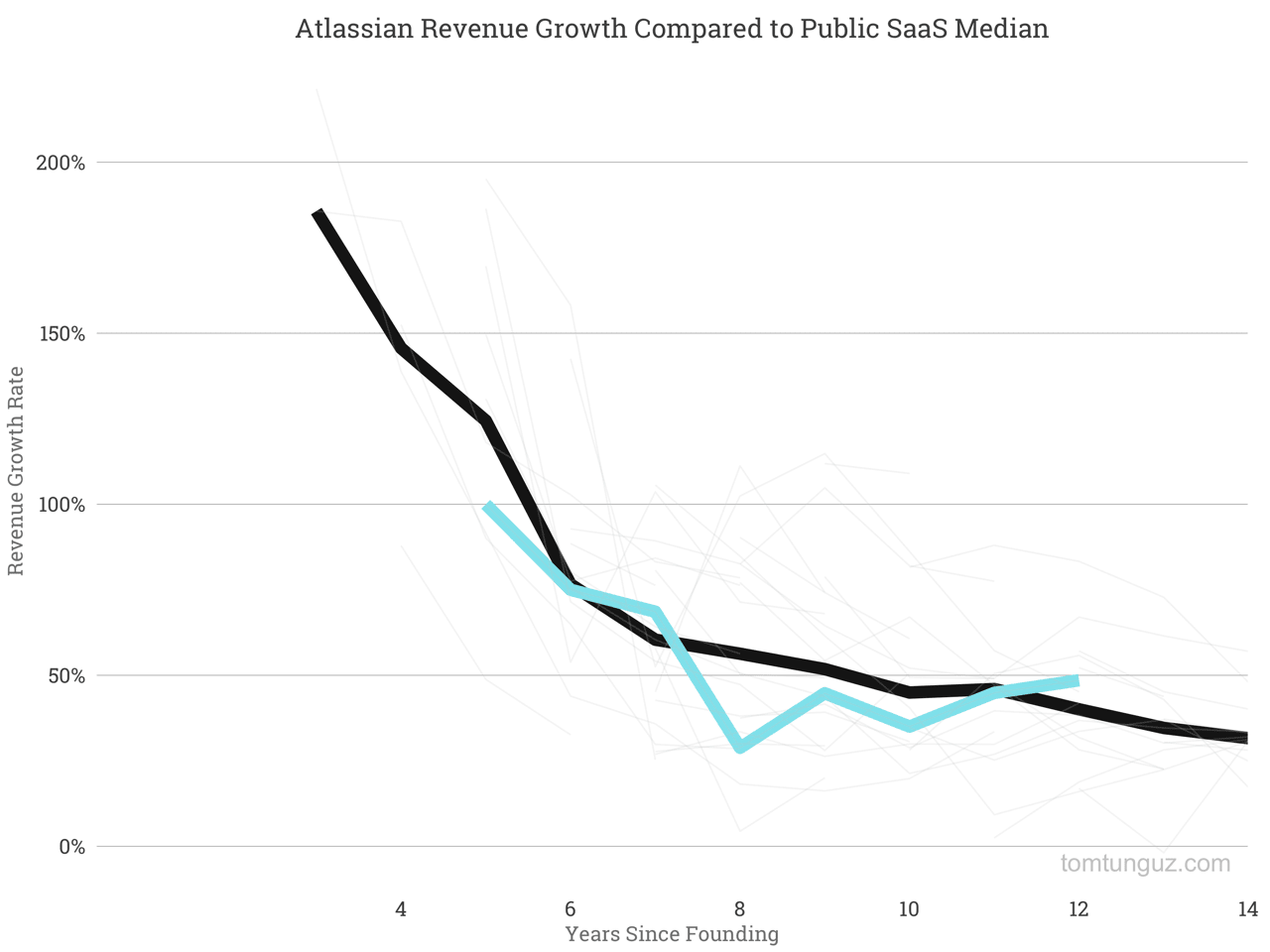 Compared to the typical SaaS company, Atlassian has growth at roughly the median growth rate over the past 8 years.
| Forward Revenue Multiple | Enterprise Value, $B |
| --- | --- |
| 7.7x | $3.6 |
| 9.0x | $4.2 |
| 10.5x | $4.8 |
| 11.5x | $5.3 |
What will Atlassian be worth in the public markets? If we project the company to grow at 45% in 2016, a similar growth rate to 2015, then revenues will total about $460M. Atlassian should command a premium multiple. 7.7x forward revenues is the top quartile median implying a $3.6B market cap. Workday and ServiceNow trade at 10.5x. And Xero trades at 11.5x, which is the best forward multiple as of Friday, which would imply a valuation of $5.3B.
If nothing else, Atlassian is existence proof an exceptional business can come from anywhere. It's a unique flywheel business with best-in-class sales efficiency. Every SaaS founder should study this business to understand the model. It's a case study in sales efficiency.
---
Read More: