3 minute read / Oct 22, 2015 / marketing /saas /startups /office hours /
Five Words of Wisdom from SaaS Office Hours with Bill Macaitis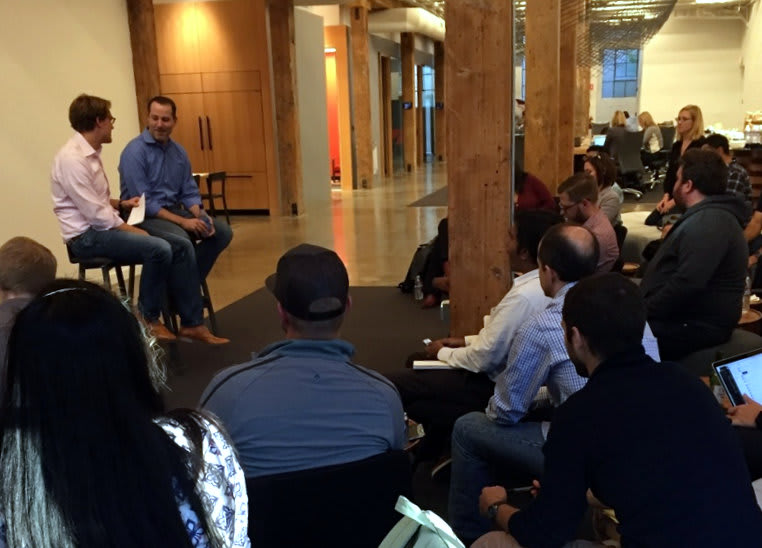 Last night, at our inaugural event, SaaS Office Hours welcomed Bill Macaitis, CMO of Slack, former CMO of Zendesk and former SVP of Online Marketing and Operations at Salesforce. Having worked in three hypergrowth companies, Bill is an expert in building massively successful marketing teams. These are the five kernels of wisdom I learned last night.
When is the right time to hire a head of marketing? The right time to hire a head of marketing for your startup is when the company has found product market fit. Marketing amplifies a message, but rarely do marketing teams ignite the fire.
Which marketing disciplines should the marketing team build first? After a startup hires a head of marketing, the operations and analytics team should be the first of the nine marketing disciplines to hire. After all, in order to understand which marketing techniques work, a startup must be well instrumented to measure variances across experiments. Next, the marketing team should begin experimenting with paid acquisition, understanding the relationship between paid customers and organic traction, and whether they are linked.
Which marketing metrics are most important? One metric that most SaaS marketers don't measure frequently, but should, is Net Promoter Score. NPS measures the likelihood of customers to recommend the product. Best in class companies achieve a score of 70 on a scale of 100, but according to Zendesk data, the typical B2B software company achieves only 29.
NPS is a leading indicator of future growth. The larger the number of advocates for product, the lower the customer acquisition costs for the company, and the more effective customer success team will be.
How does a startup determine its price? Bill shared a unique point of view on this question. The price a software startup can charge is a function of the difference in net promoter score between that startup and its competition. In other words, a startup with a very high promoter score compared to the competition can charge a premium in the market and vice versa. High promoter scores indicate great product market fit, good customer relationships, and substantial value creation, all of which translate into pricing power
When if ever should we verticalize our marketing message? Often, horizontal SaaS products like Salesforce, which serve customers across many different industries, are tempted to verticalize their marketing message. In other words, to create marketing materials, websites, white papers and other collateral that are focused on the specific industry. While conceptually this makes sense, marketing complexity explodes. Instead of having one message to disseminate, a marketing team now must manage 5 to 10 different messages for each of the verticals they seek to address. While this can be done, it requires us very large marketing team. For startups, it's often much more effective to focus on the common attributes of customers and market based on those.
Needless to say, Bill shared some terrifically useful and tactical insights with us. Thank you, Bill!
At the next SaaS Office hours, we'll welcome Kenny van Zant, former COO of Asana and SVP at Solarwinds to talk about flywheel business models. Stay tuned for more details.
---
Read More: