2 minute read / Apr 17, 2014 / saas /sales /
The Challenges SaaS Businesses Face Communicating their Financial Health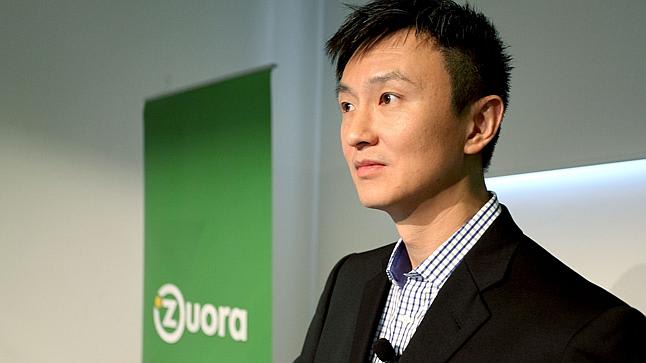 Tien Tzuo, the founder and CEO of Zuora* and former CSO/CMO at Salesforce, knows SaaS businesses better than most. So when he pens an opinion about the subscription economy, a term which I believe he coined, I read it with great interest. Yesterday, Tien wrote "These Numbers Show That Box CEO Aaron Levie Is A Genius", explaining Box's business and growth in great detail.
In the post, Tien argues two important points. First, current accounting practices don't properly reflect the health of recurring revenue businesses, like Box. A dollar from a recurring enterprise costumer with a multi-year lifetime value is worth much more than a dollar from a one-time transaction, like buying a digital apple in an iPhone game. Because SaaS companies can forecast the revenue from existing customers with great accuracy, these businesses can make deeper and longer term investments than transactional businesses.
The image below shows Zuora's take on the income statement for a subscription business, which uses ARR, not revenue as the key metric.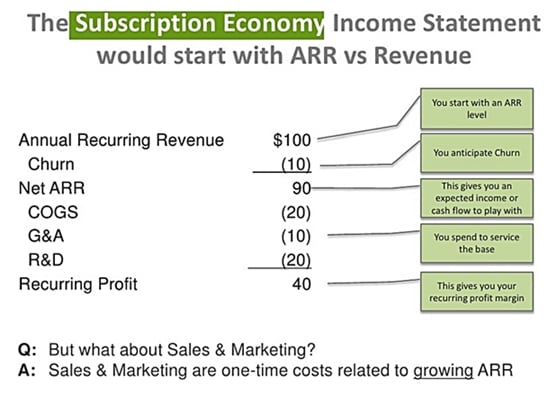 Second, there is a mismatch between an investment in Sales and Marketing and the revenue created by that investment. This image from David Skok's great blog on Saas companies proves the point:
The ROI for a large sales and marketing investment, say doubling a sales team, won't be apparent for two years and will depress the sales productivity numbers and the margins of a SaaS business when using traditional accounting. Fast-growing SaaS companies like Box bet the deep trough of low margins and huge burn will eventually translate into enormous revenues over time with very strong ROI.
In my analysis of the Box S-1, I found the Box sales efficiency metrics registered at the bottom of the cohort. What the numbers don't say is if that sales efficiency metric is for a fully ramped sales team. But if Box decided last year to increase the sales team by 40%, 40% of the sales teams in the company would still be operating at something like 50% of their quota, thereby depressing this metric.
Tien's point is that the true health of a SaaS business isn't properly communicated with the accounting systems we have in place today. I agree with him and hope that we can move to a new, more accurate set of metrics akin to the ARR-based income statement Tien proposes as a way of comparing and contrasting companies with subscription business models.
Redpoint are investors in Zuora
---
Read More: