3 minute read / Apr 26, 2023 / trends /financials /saas /
Microsoft's Billion Dollar AI Business
I'm watching public company earnings to identify early trends in the software market to inform startups' plans for 2023. Yesterday, Microsoft & Google announced earnings. Amazon, Cloudflare, & Mongo announce later this week.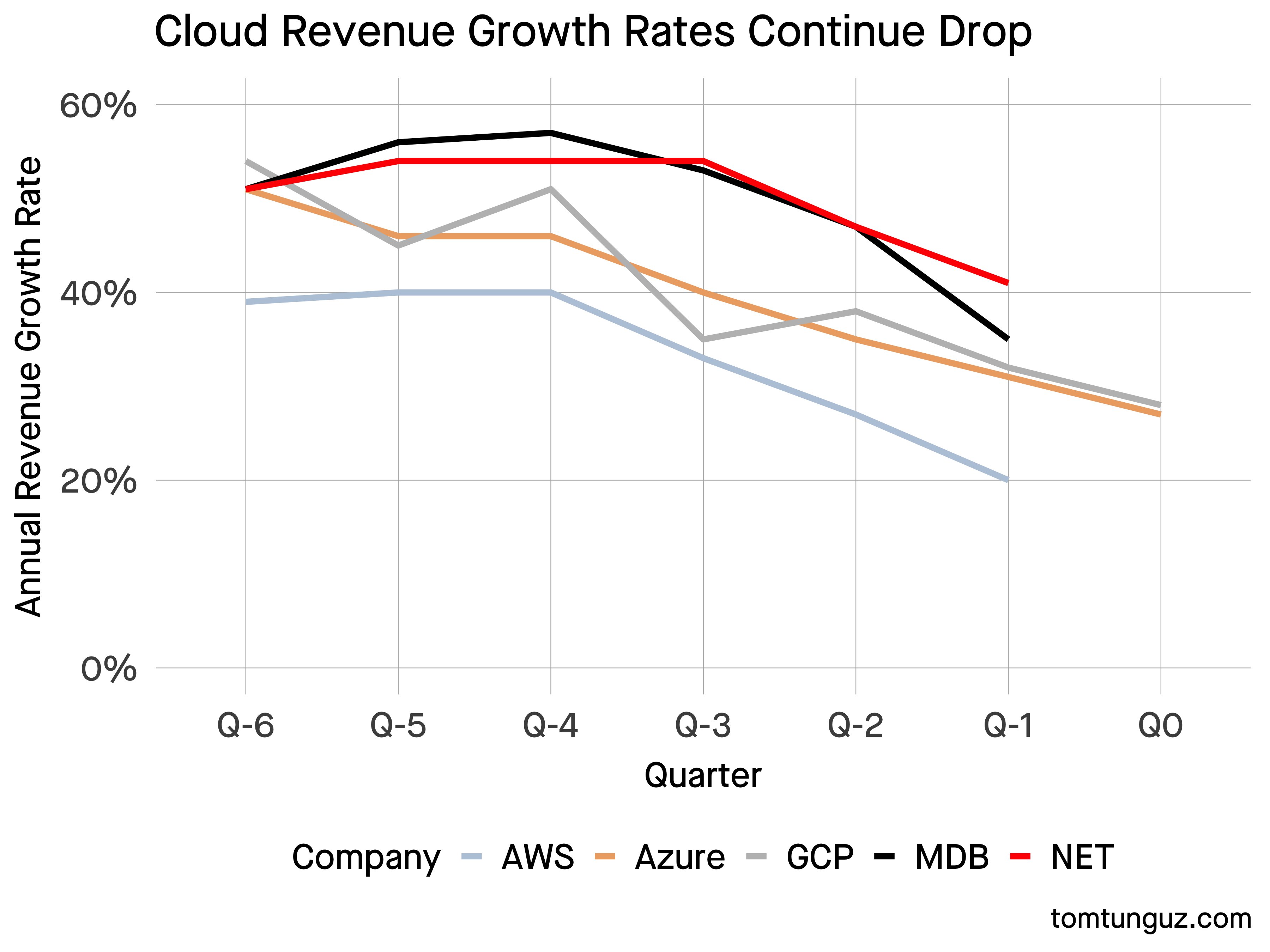 Google Cloud Platform (GCP) & Microsoft Azure had strong quarters with about 28% annual revenue growth each. The decline in growth rate from the last two quarters continues with each service seeing another 4 percentage point drop in growth rate each.
But the story in this quarter's reports is AI. The total customer count for Azure's OpenAI has grown dramatically.
From Coursera and Grammarly to Mercedes-Benz and Shell, we now have more than 2,500 Azure OpenAI service customers, up 10x quarter-over-quarter.
Another example of AI favoring incumbents : Epic, a large health records company worth about $10-12b with about 30% market share in the US, has implemented some OpenAI features.
Just last week, Epic Systems shared that it was using Azure OpenAI Service to integrate this next generation of AI with its industry-leading EHR software.
All of that usage is creating a massive business.
In Azure, we expect revenue growth to be 26% to 27% in constant currency, including roughly 1 point from AI services.
1 percentage point of growth on a $28.5b cloud services business, of which I assume Azure constitutes 75% of revenues, implies the Azure ML business is roughly on a $900m run rate [1], with customers growing 10x - a phenomenal business.
It's not unlikely Azure's AI products could achieve a multi-billion dollar run rate by the end of the year.
Another data point I'm watching is Bing search share. AI has the potential to destabilize Google's dominance in search which could open opportunities for others - even new startups to tackle search verticals in new ways. Coding assistance has been the first, but shopping & travel could be next through OpenAI's plug-ins.
Edge took share for the eighth consecutive quarter, and Bing once again grew share in the United States.
Microsoft's robotic process automation (RPA) product is thriving.
We now have nearly 33 million monthly active users of Power Platform, up nearly 50% year-over-year.
As for next quarter, the team projects about 27% growth. A steady growth rate could potentially signify at least a stabilization in customer cost-cutting.
Last year, we had our largest commercial bookings quarter ever with a material volume of large multiyear commitments. On that comparable, we expect growth to be relatively flat.
Microsoft is the first example of a public company generating hundreds of millions, & soon billions on AI, a data point which underscores the idea that AI grow GDP 1000x more than the PC.
---
[1] $28.5b quarterly run rate x 75% Azure share x 27% growth x (1 percentage point for AI / 27 percentage points total)
---
Read More: