2 minute read / May 22, 2013 / trends /data analysis /fundraising /
Investing in the Consumer Web is Dead
Reading through the tech press since the Facebook IPO, you might get the impression venture capitalists are still reeling from that apocalyptic offering, believe no further successes can be had in the consumer web, and so are fleeing the consumer web in droves to pursue enterprise investments.
That's because in the past year or so most major tech publications have swung from focusing on consumer products to enterprise companies. GigaOm made this transition first, now TechCrunch and PandoDaily are following suit.
But the problem with sounding the alarm for the ebbing consumer investment is that just not true.
Consumer investments historically have garnered massively disproportionate press coverage compared to their volume because consumer products are easier for readers to understand than enterprise technology. Consumer products evoke emotional reactions, drive page views, and build business. It's hard to jump for joy or trigger lots of retweets over data center virtualization innovations unless that's your cup of tea.
To put this into perspective, what fraction of venture investment dollars last year were in consumer companies?
About 17%.
How about over the last 17 years?
16%.
Here's a chart of NVCA data for that period. Click on it to enlarge it.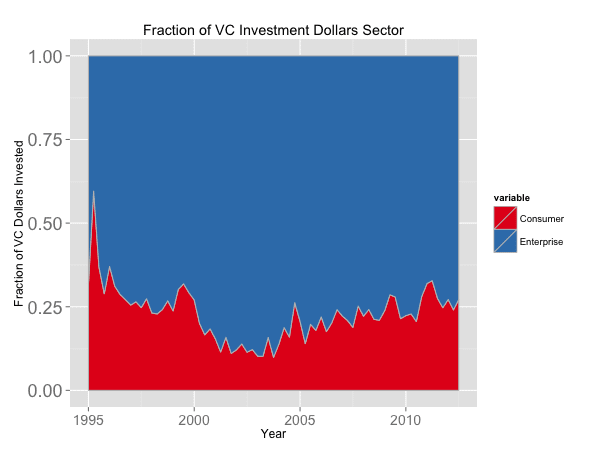 So 84% of venture dollars invested over the past 17 years have been invested in enterprise companies. It's clear that enterprise investments are the bread and butter of the venture business. That trend isn't changing.
This massive swing toward enterprise investing never existed. It's a fallacious perception. Enterprise investing has always been the norm and will continue to be for quite some time.
---
Read More: