2 minute read / Nov 13, 2012 / best practices /
Distribution partnerships for startups
When a startup is approached by an established company about partnership, it can be a very exciting time.
Sometimes partnerships change the trajectory of a startup. Other times, the weight of partnerships can crush startups. Servicing a much larger partner's needs with a small team can be a full time job and deprive the startup of any time to advance their independent projects.
When evaluating a partnership, the most important first-pass analysis to conduct is to understand whether in the success scenario, the partnership is worth the effort by comparing the startup's progress to a conservative estimate of internal growth.
Distribution Partnership Example
Below is a chart for a fast growing startup. The blue area measures the userbase which starts at 50,000 users on month zero and grows 15% each month.
Suppose on month one, the startup signs a distribution partnership agreement that guarantees the startup 10,000 users per month for 2 years. But it takes 9 months to complete integration work, set up the marketing campaign and so on.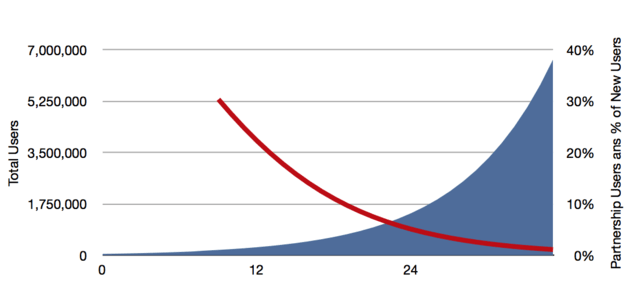 At the outset, 10,000 users per month is a big deal - an additional third of the user base. But a year later, the partnership is driving only 7% of new users. As a fraction of all users, the partnership has driven 14% of all users. And the value of the partnership decreases with time.
Net-net Upside
Was the 9 months of integration work worth the effort?
One way to answer this question is to estimate what additional features or marketing initiatives could have been launched using the time allocated to integration. And their corresponding impact to growth.
If our startup could grow 1.5% more per month because we allocated the time to internal initiatives instead of the product, in three years' time the user base would be nearly twice as large - and growth remains under the startup's control.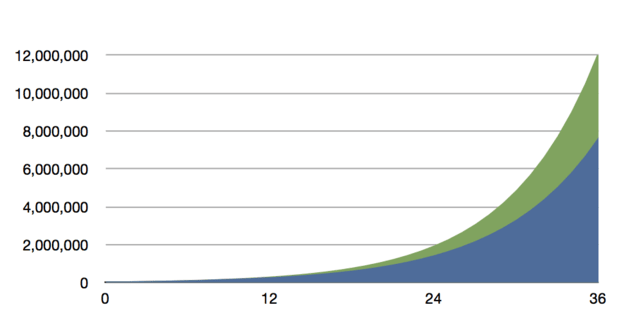 Skate to where the puck will be
The decision to pursue a partnership is complicated. There are considerations of the increase to brand value, access to new potentially more lucrative customer bases, access to new forms of technology, and many other potential advantages.
But a good first pass filter is comparing the success scenario to a reasonable estimate of exclusive internal growth.
---
Read More: