2 minute read / Dec 13, 2013 /
A 47 Year Old Prediction Comes True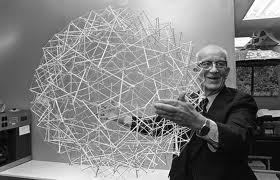 On January 8, 1966, the New Yorker profiled Buckminster Fuller for the first time. During a trip to a Maine island with the journalist Calvin Tomkins, Fuller said something tremendously prescient:
Fuller proposed a worldwide technological revolution…[that] would take place quite independently of politics or ideology; it would be carried out by what he calls "comprehensive designers" who would coordinate resources and technology on a world scale for the benefit of all mankind, and would constantly anticipate future needs while they found ever-better ways of providing more and more from less and less.
Fuller's prediction has come true. The founders of the tech companies embody the values of the comprehensive designers and enact the changes Fuller predicted. From Google investing $100M behind Calico, a life extension research company to Khan Academy which extends high-quality education into the hands of hundreds of millions of people to Twitter which has become the mouthpiece of revolutions and countless others to SpaceX which has dramatically decreased the cost of space transport to Oxford Nanopore which sequences DNA on a chip the size of a USB drive, these products and the comprehensive designers behind them have benefitted mankind tremendously.
The most important part of the quote for me is the last phrase: the constant improvement and reinvention. That's what makes technology so exciting. Industries are constantly under threat of disruption, innovation and change. Welcome to the era of the comprehensive designer.
---
Read More: