3 minute read / Dec 18, 2016 / fundraising /
Just How Global is the SaaS Startup Phenomenon?
Australia, Canada, Israel, China, India. SaaS startups are thriving in these countries and many more. Next generation software companies hail from many different parts of the world, and some of them are worth billions of dollars. Shopify and Hootsuite in Canada. Atlassian in Australia. Xero in New Zealand, just to name a few. As these successful startups have boomed, how has the early stage fundraising market for them evolved?
According to Crunchbase data, US SaaS investment has grown tremendously since 2010 from about $1.5B per year to $7B. 2016 has dropped a bit, which is likely due to both the environment and that not all the data has come in for the year. Ex-US (or non-US) SaaS investment has grown 6.3x over the same time period, an encouraging data point for SaaS founders.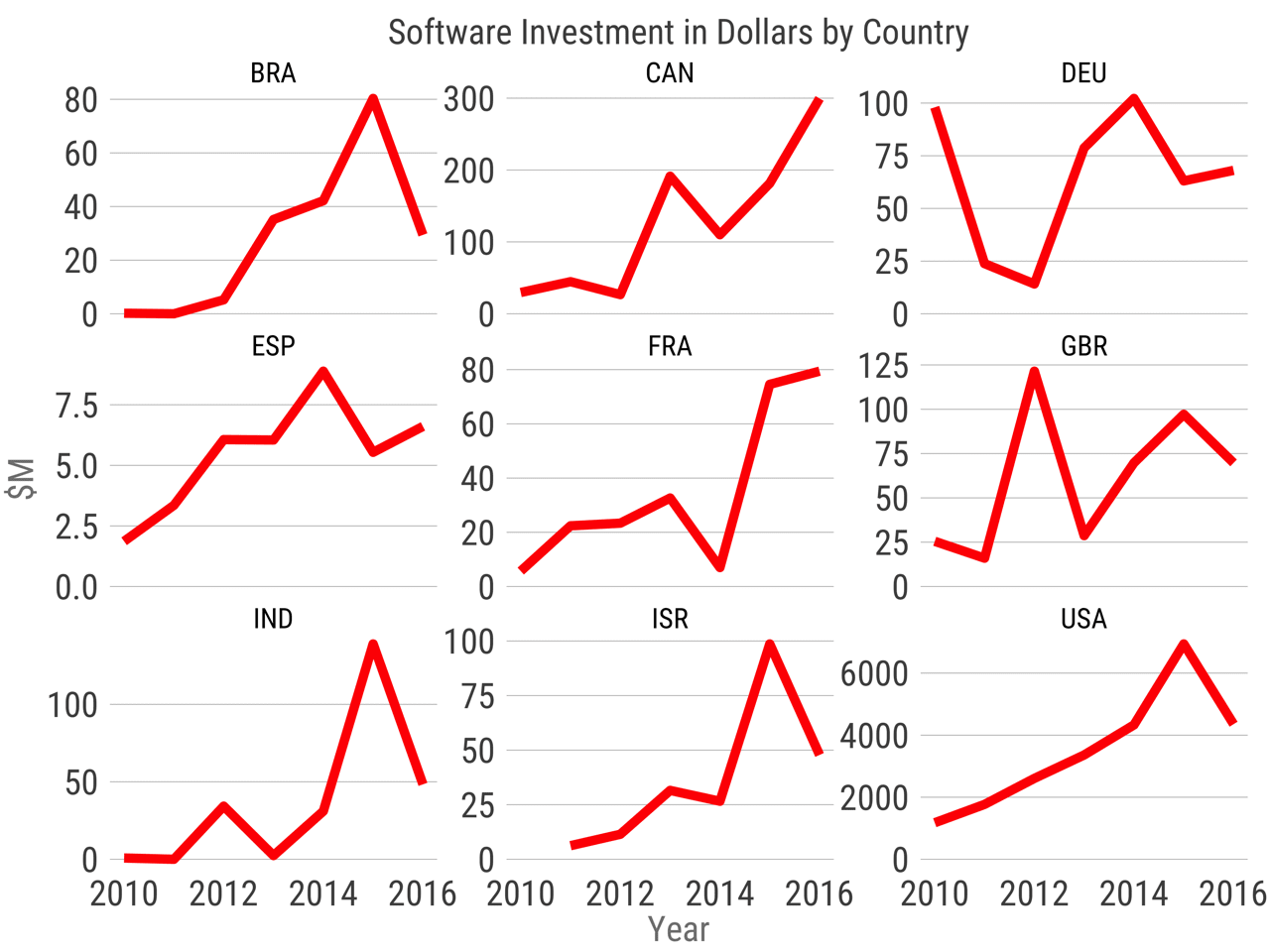 Breaking down the data by country, we can see that outside of the US there is a lot of volatility, but the secular trend is an increasing amount of SaaS investment in the eight countries depicted above: Brazil, Canada, Germany, Spain, France, Great Britain, India, Israel.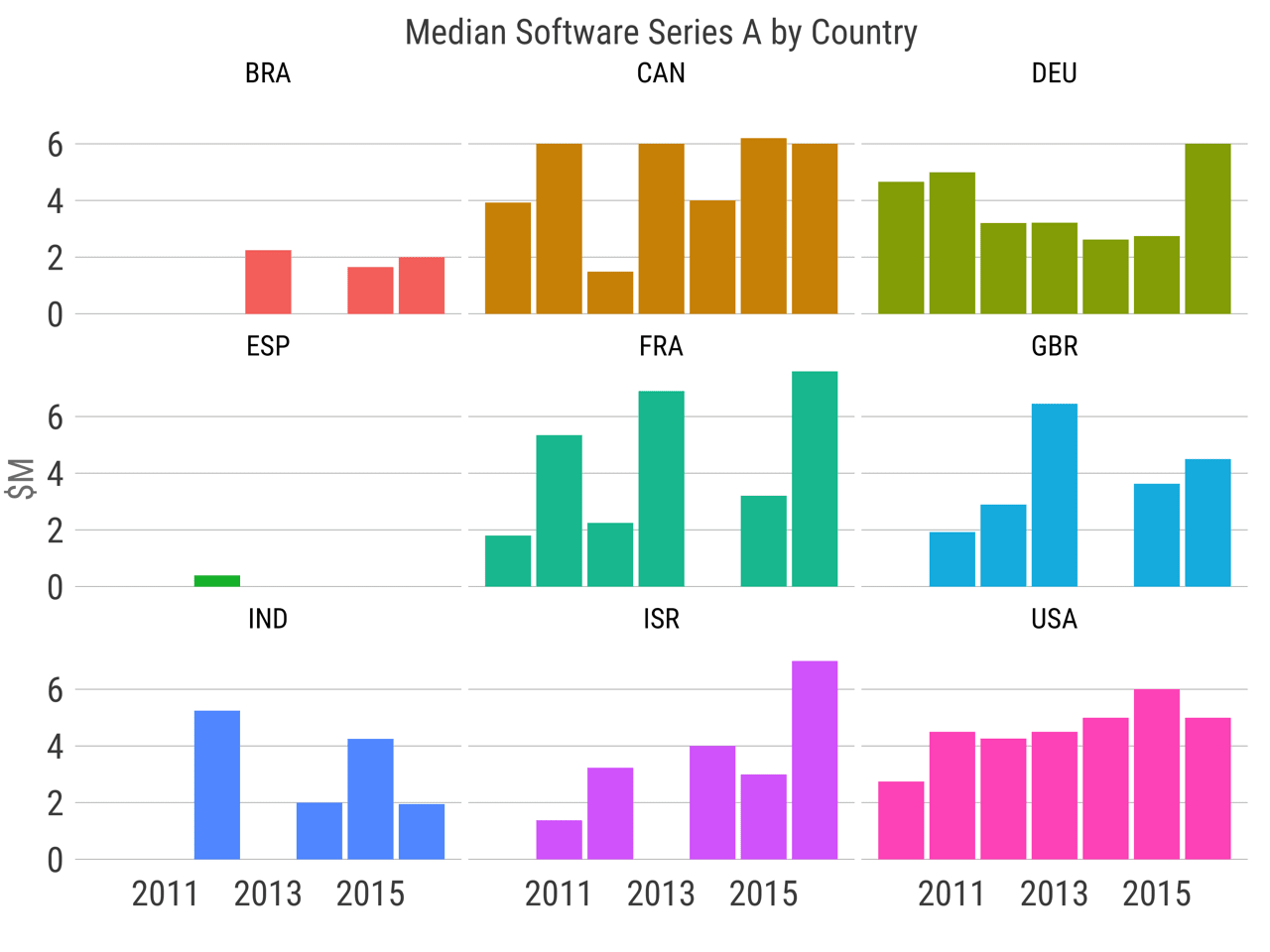 The median Series A varies by geography. In Brazil, it's about $2M. Meanwhile, Israel spiked to more than six million dollars, similar to France and Germany. Canada's SaaS environment seems to be the most similar to the US in terms of stability and round size. There can be many different reasons for volatility. The fundraising environment differs geography by geography. Terminology may differ considerably as well. At some point however we should expect that always figures converge. A SaaS startup by any other name (or in any other geo…)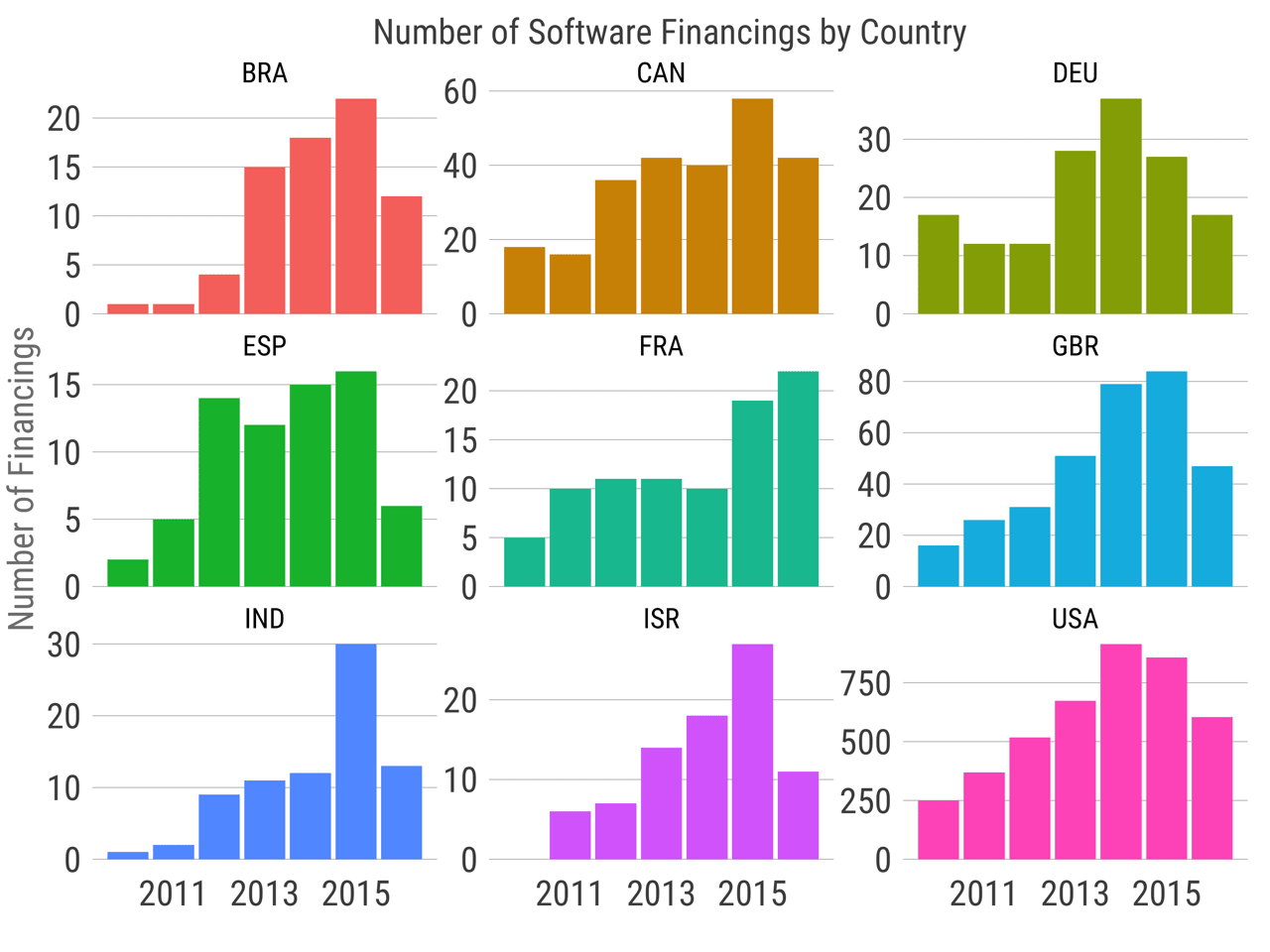 Looking at the data by the number of investments, we see a more encouraging trend of secular growth in almost every single geography. Again, not all of the 2016 data has been recorded. But there's no doubting it. SaaS is a global trend.
The most exciting part about international SaaS startups is that they will identify opportunities that are unique to their geographies that currently haven't been addressed by existing software companies. In some cases, those unique approaches and solutions can grow to global scale.
It's just the beginning for the software companies and 2016 marks agree another great year for these founders as the financing environment continues to grow and support their needs. The US still remains by far the largest fundraising market for software businesses.
But increasingly, we are seeing a pattern of international SaaS companies raising an initial round in their home countries and then raising a subsequent round to come to the US. There often to rationale for this. Building a go-to-market team that targets the US and being able to access a larger financing ecosystem.
SaaS is truly a global phenomenon and one that will continue to upend the software world for a long time to come.
---
Read More: