3 minute read / Oct 19, 2021 /
Hex - The Best Product for the Technical Analyst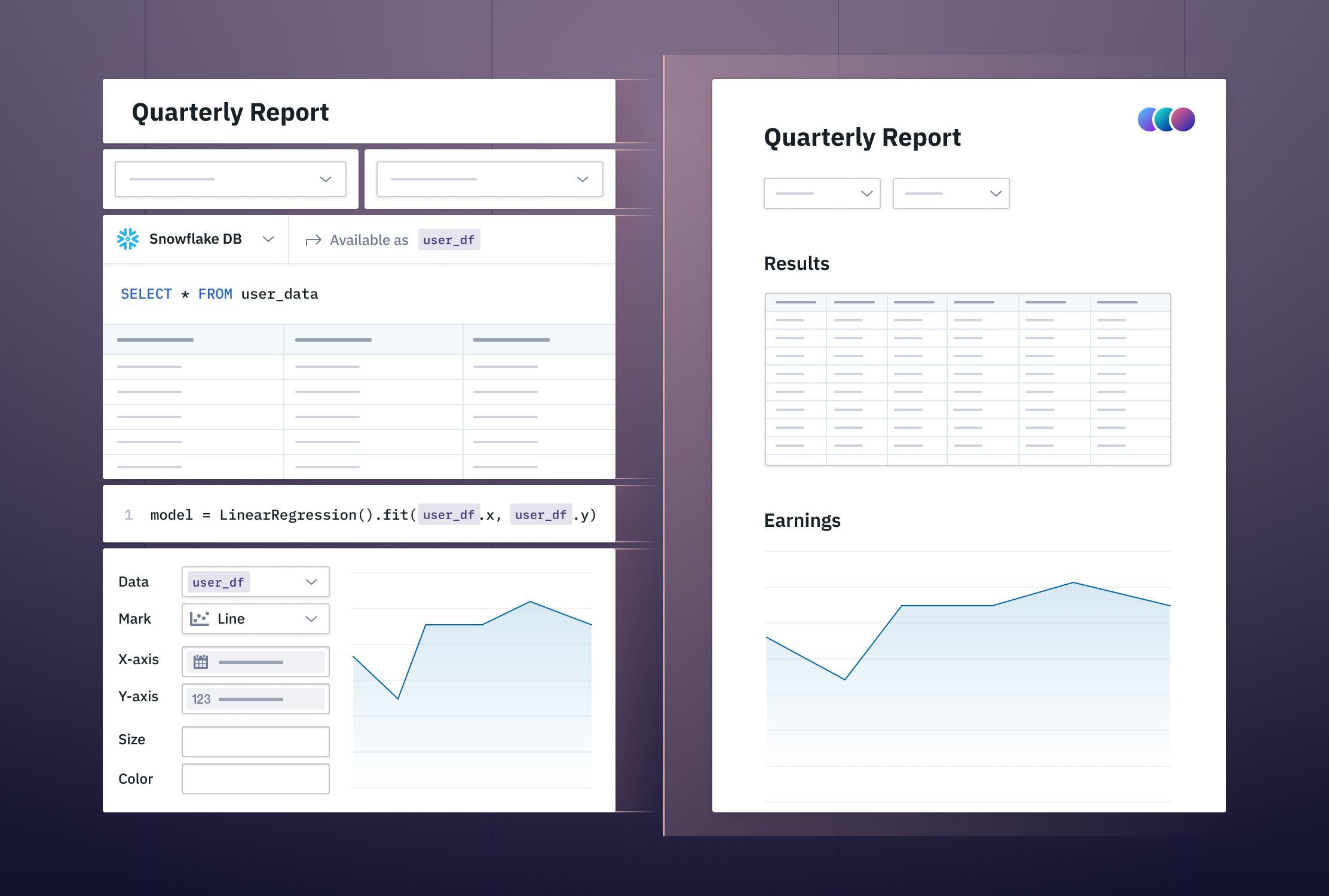 We believe the 2020s are the decade of data. The trends are ubiquitous and plain. The number of data teams is growing as more companies rely on data for daily operations. In addition, the sophistication of these teams has progressed meaningfully in the last five years.
During this period, there have been three main categories of data work: business intelligence, machine learning, and exploratory analytics. Of the three, exploratory analytics is the least developed so far.
Jupyter Notebooks are often the tools of choice for exploration, but they suffer from notable shortcomings. Sharing is cumbersome, reproducing or rerunning analyses is brittle, and the technical barriers of adoption are needlessly high. Despite these rough edges, millions continue to use notebooks daily to analyze data.
About 24 months ago, we met the Hex founding team: Barry, Caitlin, and Glen. From their experience at Palantir, they saw first-hand the challenges that organizations face when exploring data and collaborating with colleagues. They espoused a vision to rethink the notebook model and immediately captivated our imaginations.
Hex combines the power of Python and SQL in the same notebook and empowers users to build interactive apps that others can use. It serves the 'analytically technical'—the tens of millions of potential data-centric users who struggle with the overhead of modern data analysis tools. Hex empowers them to spend less time dealing with unnecessary friction and more time doing impactful data work.
The company has re-imagined how code notebooks should run, replacing the traditional kernel with what it calls the reactive data model. This architecture enables a technical analyst to seamlessly alloy data from different sources, collaboratively analyze the data with colleagues, and build interactive data apps to share with others.
Imagine combining customer purchasing data from an API with customer web traffic data in a cloud data warehouse and running a clustering algorithm on the combined dataset. With Hex, I can ingest both data sets using SQL into a DataFrame, cluster the data with a Python library like scikit-learn, and share a link to an interactive customer segmentation dashboard I've just created with the sales and product teams. It's a magical experience for any data aficionado.
I'm thrilled to announce Redpoint's partnership with Hex. Hex has seen extraordinary demand as a result of compounding insight for the millions of people working with data daily. We're excited to work with them as they build the best exploration and collaboration tool for the analytically technical.
If you'd like to try Hex, give it a spin here. And if you're passionate about building the future of exploratory analytics, Hex is hiring.
---
Read More: