3 minute read / Dec 26, 2018 / exits /trends /data analysis /saas /
Just Where Are SaaS Companies Priced After the 2018 Correction?
Reading the news in the past week made me wonder. Just where are we pricing SaaS companies today? The Nasdaq and the S&P have toyed with a bear market. Many stocks are down 10 to 50%. Absolute valuations are one consideration, but let's understand it at a deeper level. Have multiples compressed?
The answer is yes, they have, but enterprise value to forward revenue multiples are still at some of the highest levels for SaaS companies in the past eight years.
In February 2014, forward multiples touched 7.7x. Then prices began a long descent into the February nadir at 3.3x forward. The market pushed higher for nearly 36 months to a new high in September 2018 at 9.5x forward.
Yes, we have fallen 25% from highs. And that's quite a correction. But we're not close to the 8 year median of 5.2x.
The most highly sought after businesses like Atlassian, Okta and Alteryx trade at 11x+ and top out at 15x. These are exceptional businesses growing at exceptional rates trading at exceptional prices.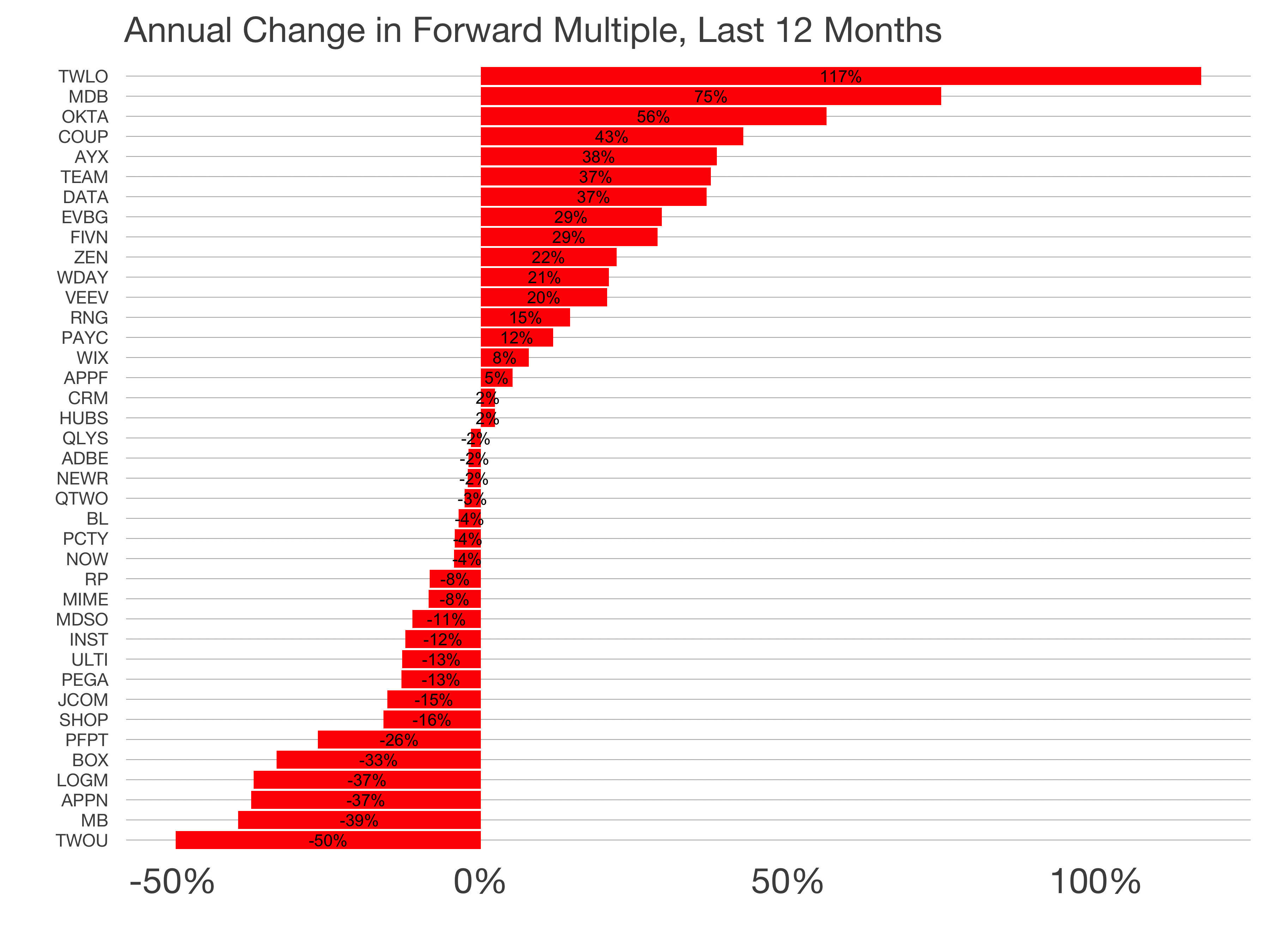 And despite the overall change in multiples, more SaaS companies have benefitted from multiple expansion over the last 12 months than those whose multiples have compressed.
What does this mean for early stage startups? If prices hold at these levels, even with the recent correction, I don't think there's much impact to the private markets.
With approximately $100B raised in the last 12 months by venture and growth funds, all with an approximately 3 year investment period, the supply of venture dollars should still be strong.
Rising interest rates suggest venture debt, which has been sold very inexpensively since quantitative easing decreased interest rates, may increase in price.
The exit markets may see some changes. Multiples at IPO will be lower in 2019 than for most of 2018. But 2018's multiples were at decade highs, and 2019s figures are are 40%+ larger than the trailing 8 year median.
M&A may also slow as acquirers' multiples have compressed as well: Google touched a 52 week low this week. SAP, Oracle, Microsoft, Amazon, Apple, and others have all suffered contractions of 20-40%. The public market perturbation may decrease the big fishes' appetites.
Perhaps the biggest changes may be in customer budgets. From the WSJ, "Sentiment among chief financial officers, who help set budgets that will shape investment and hiring decisions, has also soured. Half of CFOs believe a recession will start within a year, and 80% think a recession will hit by the end of 2020, according to a Duke University survey."
There's volatility in the public markets, but SaaS companies are still some of the most expensive equities around, which is great news for startups. The biggest question is how buyers and their budgets evolve in this period of volatility.
---
Read More: