2 minute read / Sep 24, 2018 / exits /trends /saas /
Three Observations About the Adobe/Marketo Acquisition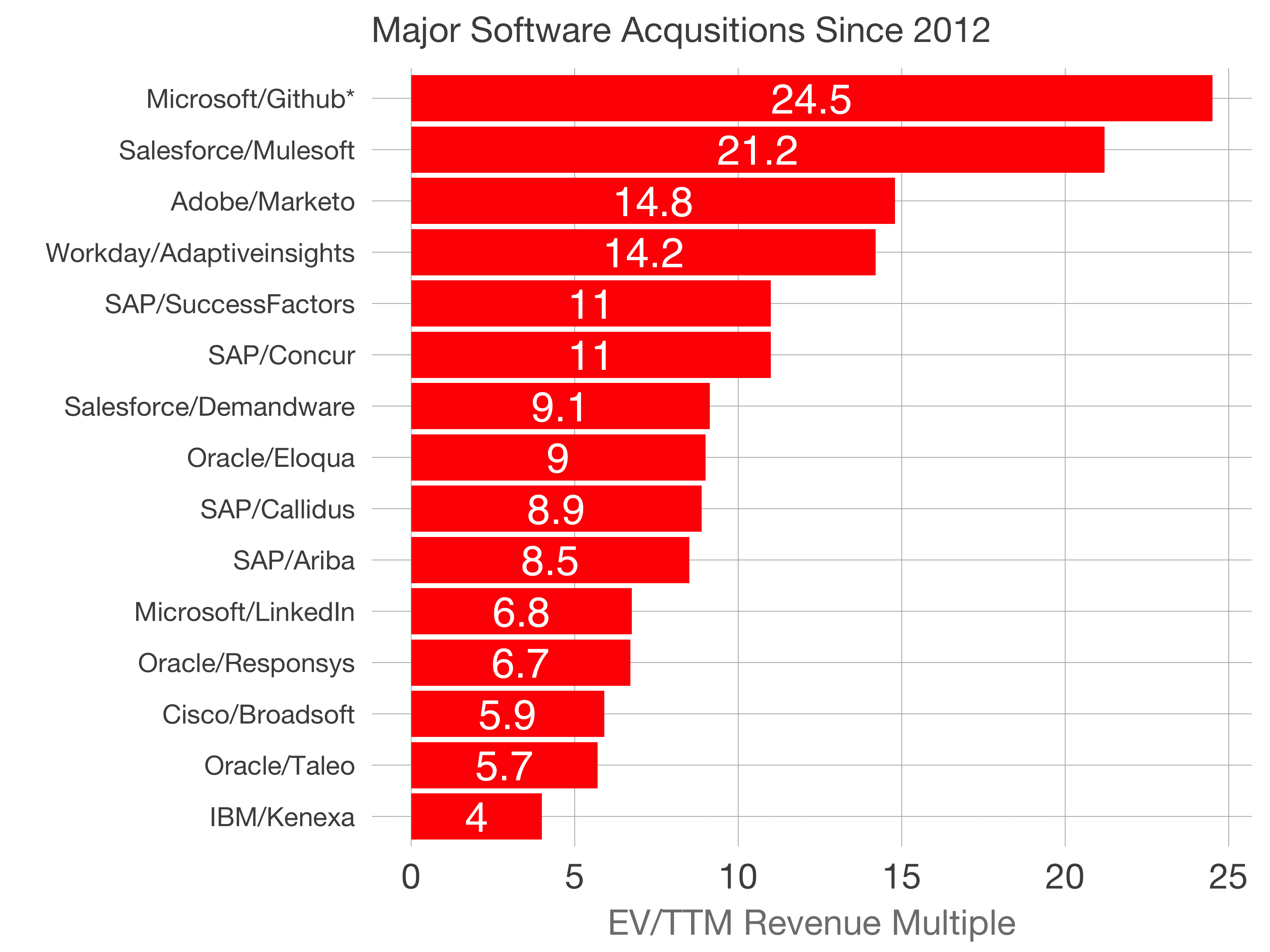 About two years ago, Marketo was publicly traded and valued at roughly $1.1B. Vista Equity paid $1.8B to take the company private, a 64% premium. At the time it was taken private by Vista, Marketo generated $241M in trailing revenue, growing at 35% annually. Its net income margin was -31%.
Last week, Adobe announced they acquired Marketo for $4.75B. By the time of the sale, revenues had grown to $321M, growing at about 21% annually and profitable. Presumably, the company traded investments in growth for profitability to service the new debt.
The Marketo story highlights three important trends in SaaS.
First, PE can generate spectacular results in software. Vista generated a estimated return of about 3.1x on $1.4B in equity for an IRR of about 72% in 25 months. According to reports from Reuters, Marketo/Vista borrowed $400M, and used equity for the remaining $1.4B. I expect PE to remain a very active acquirer of venture backed SaaS.
Second, the M&A environment continues to boil. Adobe paid 14.8x trailing twelve months, the third highest multiple for large software acquisitions. The other two, Mulesoft and Github, also transpired this year. Had Adobe won the bidding in 2016 for the company, they could have owned the same asset for $3B less. In fact, relative to acquisitions of software companies growing at similar rates, at $4.75B,
Third, the multiple expansion in the SaaS market continues, and it's incredible. In the public market, Marketo was valued at about 5x trailing revenues. When it was taken private, the multiple jumped to 7.5x. At the Adobe sale, the multiple doubled to 14.8x.
There are two major drivers of the multiple expansion in the market. First, there is the broader bullish backdrop of the decade long stock market run. But second, the markets software companies address are far bigger than previously anticipated, than previously estimated.
Marketo is the brand name in the marketing automation category. Its evolution over the last two years is a microcosm of the surrounding SaaS environment.
---
Read More: