2 minute read / Aug 2, 2022 / startups /saas /fundraising /data analysis /
The Math Behind Starting a Successful Software Startup
How much value does a successful software startup create per dollar of venture investment?
About 10x, though it's volatile.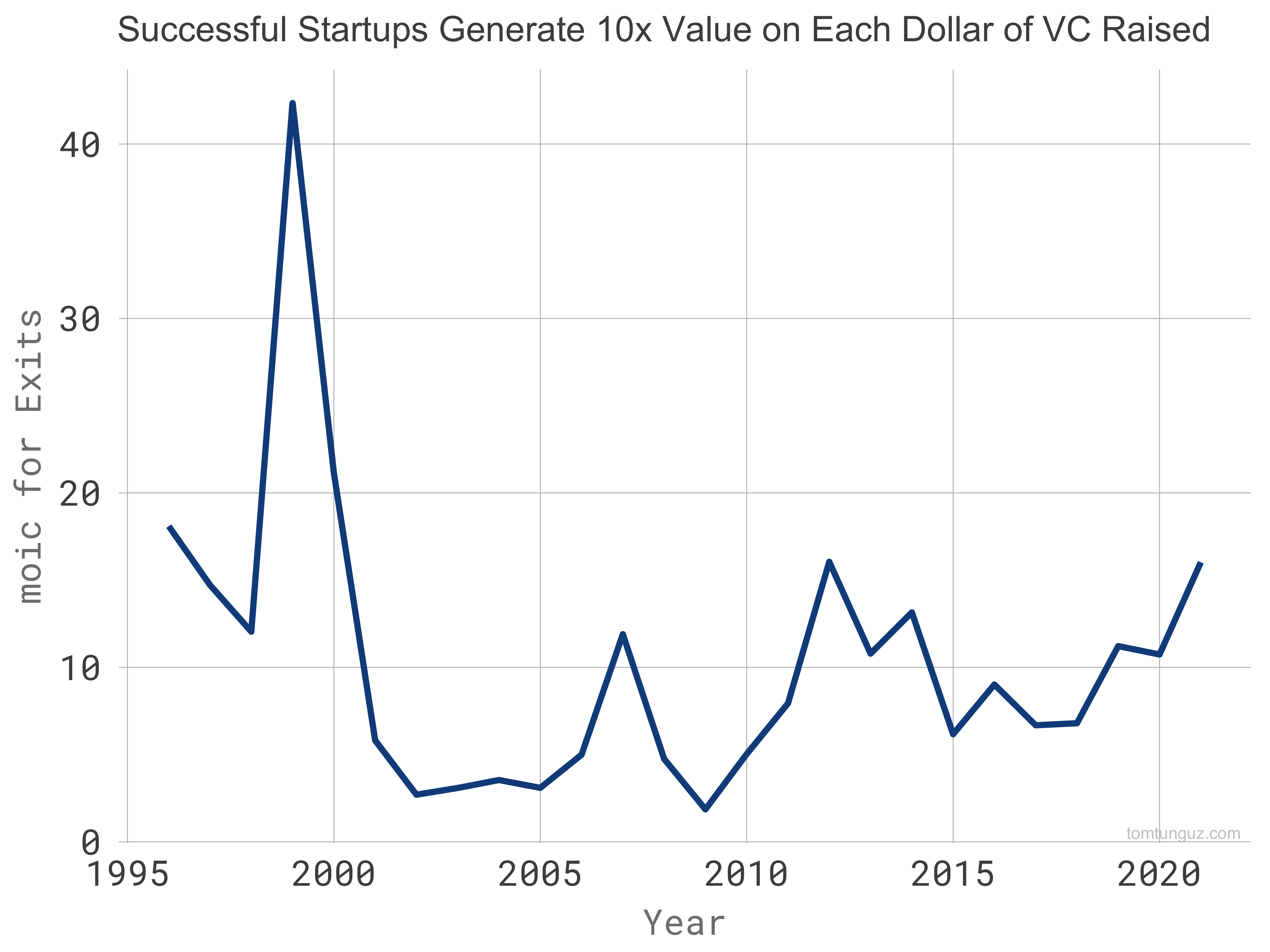 Let's call the value generated per venture dollar the MOIC (multiple on invested capital).
MOIC = value_at_exit / total_VC_dollars_raised
Over the last 30 years, a venture dollar invested in a successful US software startup generated $10 of value.
In the late 90s, the MOIC oscillated between 12-42. After the dotcom crash, the MOIC fell to 5.0, save for a brief period preceding the Global Financial Crisis. Quantitative Easing for the next decade juiced the MOIC to 8.5. In 2021, the figure topped 15 for the first time in ten years.
No wonder so many new founders entered the ecosystem.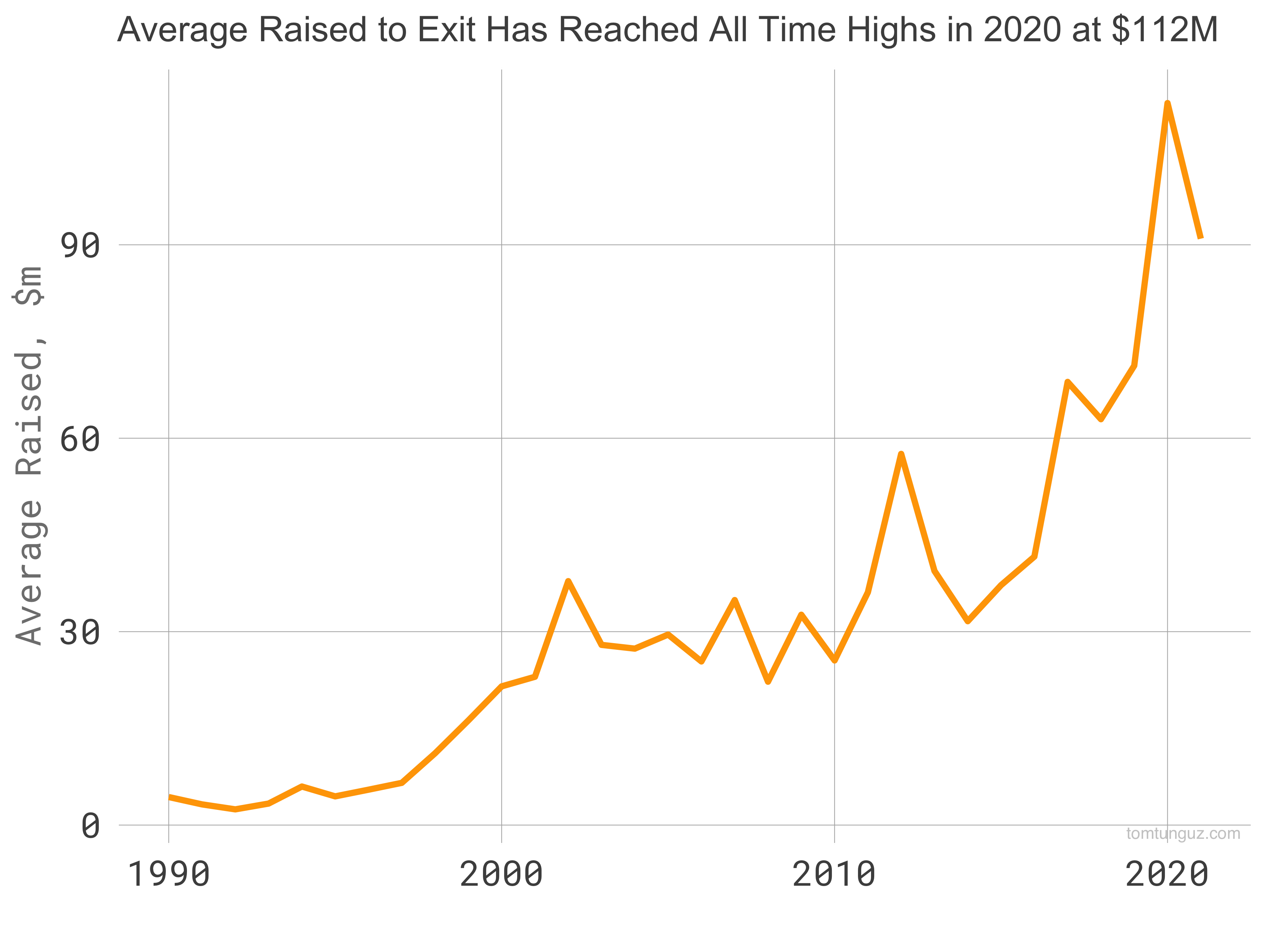 In addition to MOIC patterns, the data reveals three startup fundraising epochs.
Startups in the 90s raised less than $10m. In the 2000s, about $30m. In the 2010s, somewhere between $30-120m. This growth outruns inflation by a mile.
The growth in VC dollars raised is economically rational for successful companies since each dollar raised generates $10 of value at exit.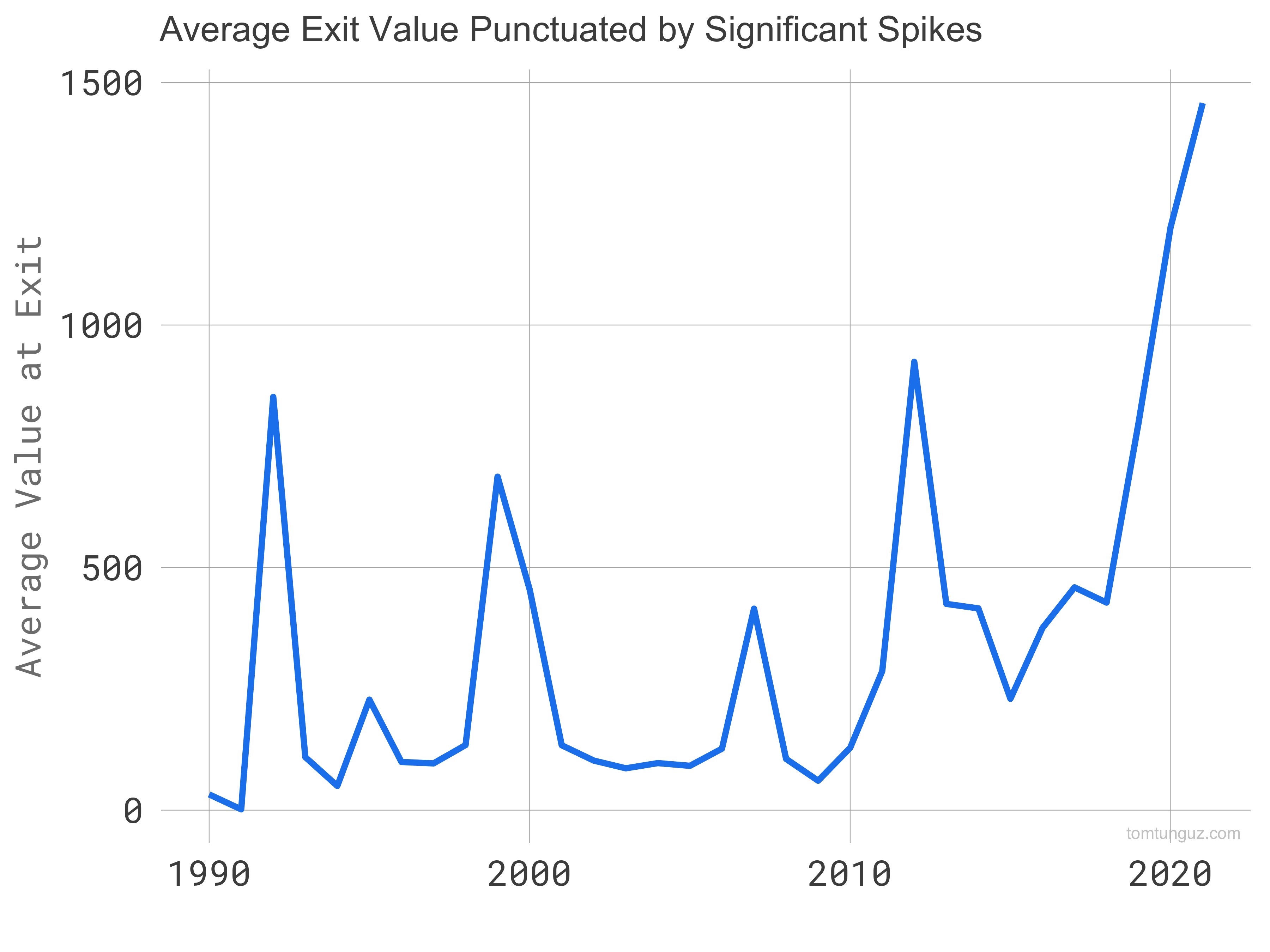 As fundraising totals swelled, so did the prize. Average exit values hit all time highs in 2021.
But the roads runs over cobbled roads. Exits arrive during periods of punctuated prosperity. Five surges in the last 30 years demonstrate the wisdom of making hay while the sun shines. When the IPO markets shuts, exit value regresses to the average M&A price.
When the IPO window is open, average exiting startup values blast skywards, most recently near $1.5b. The Nasdaq's performance explains 80% of the variance in exit price.
I haven't addressed several questions in this analysis. First, what is the success rate of software companies across the entire population? Second, what is the ultimate founder ownership at exit? I hope to cover them in the future.
Despite all the changes of the past ten years - 10x growth in venture dollars & 70% correction in stock market valuation - the economics behind starting a successful software company remains compelling, even throughout downturns.
---
Notes on the data
Thank you to the PitchBook team for providing the underlying data.
The data set includes only software M&A whose prices were disclosed & IPOs for US venture-backed software companies.
---
Read More: