2 minute read / Aug 16, 2013 / startups /strategy /
Your Startup's Three Horizons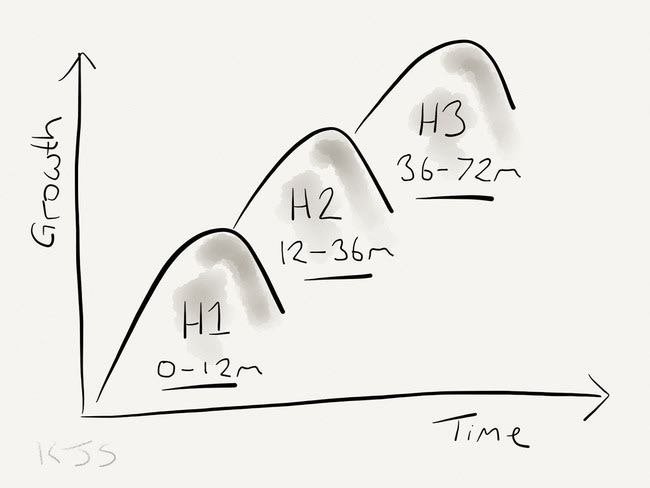 Credit: Karl Scotland
When I started at Redpoint in 2008, I wanted to find every way of analyzing companies I could. Consultants scrutinize the inner-workings of companies daily and create simple frameworks for explaining their operations. So I bugged a handful of friends with experience at the Big 3 consulting firms for their most used frameworks.
Recently I came across an old friend, a framework I studied then called McKinsey's Three Horizons in The Lean Entrepreneur, an anthology of lean startup techniques and case studies.
The Three Horizons is a simple idea. Each project within a business follows an S-curve. At the beginning, the business must invest in the project, then if successful, the project grows and makes money, and last the project reaches maturity and declines. This is as true for startups as Fortune 50s.
If a management team can take the profits from the first successful project and invest in the second project, during the height of the first project, then two S curves overlap, and again for a third. This this the idea behind the three horizons and the genesis of the chart above.
For a business to prosper over many years, it must invest in more than one project or product. The management team will also want to diversify the company's product portfolio. But, investing in all of them at the same time will diffuse the company's focus and resources so sequencing the products becomes important. The Three Horizons helps to think through that sequencing.
I've found the Three Horizons helpful in pitch meetings and board meetings to think through the evolution of a startup's business. It helps me answer questions like: Which project should the company take on first? When should we start a second or third project? What is the ultimate vision for the business? Is the probability of success for the business conditional on the first product's success or can the business succeed with the product from the second horizon?
The Three Horizons is a fantastic strategic tool. I hope you can find some use for it at your startup.
---
Read More: