2 minute read / Mar 17, 2023 / trends /financials /saas /
When Will SaaS Budgets Increase Again?
I'm watching public company earnings to identify early trends in the software market to inform startups' plans for 2023. Earlier, Mongo DB announced earnings. I'm adding Mongo to the list of tracked companies for this series.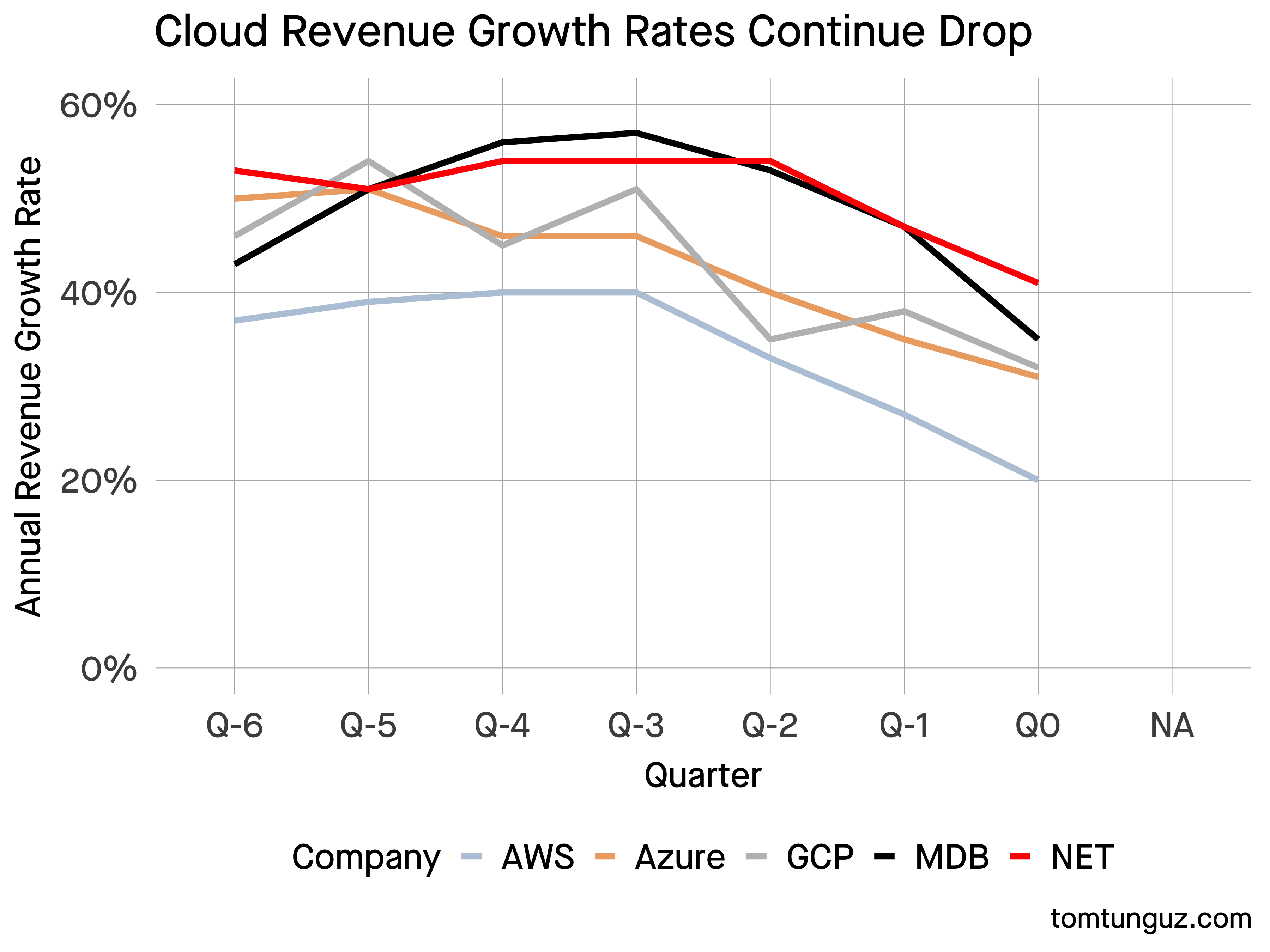 The economic slowdown which started one year ago has reduced growth rates by 31% across this group from 46% annually to 31% annually.
Mongo expects the environment to challenge growth over the next few quarters.
Mongo's predominant database product is a transactional database records purchases in contrast to analytical databases which read data for reporting. Since Mongo charges by use, we can interpolate a declining number of purchases at Mongo customers.
There's more insight within the transcript highlights :
Mongo Atlas is a hosted cloud database which shows significant growth still at 50% & has become the majority of the company's revenue
Atlas revenue grew 50% year-over-year, representing 65% of revenue and we had another strong quarter of customer growth, ending the quarter with over 40,800 customers.
Plus, customers aren't using their credits, which suggests longer-term usage declines.
[T]he higher-than-typical unused commitments that benefited Q4 revenue are making for an incrementally harder sequential compare.
But Atlas revenue will decline in Q1 - illustrating the speed & depth of cost cutting efforts within the Mongo customer base. Existing customers have reduced budgets & the company must acquire new customers at a fast enough clip to maintain revenue.
First, we expect Atlas revenue to be flat to slightly down sequentially in Q1.
In addition, Mongo's other main product Enterprise Advanced which enables customers to manage their own Mongo instances, is shrinking.
[W]e expect to see a meaningful sequential decline in EA revenue.
NDR remains above 120% but has fallen across the board.
We had another quarter with our net ARR expansion rate above 120%.
Overall, this is a recipe for significantly less growth.
Mongo generated $1.28b in fiscal 2023. At the high-end of the range of $1.51b for fiscal 2024, the company projects 17.6% growth - quite a drop from the 47% seen the previous year.
For the full fiscal year 2024, we expect revenue to be in the range of $1.48 billion to $1.51 billion. Unused credits boosted this quarter's revenue - another sign customers have cut usage significantly.
In closing, an analyst asked whether particular verticals contributed to the growth rate decline. The answer: "No, it's been broad-based."
Mongo's earnings call underscores the new budget constraints across buyers & paints a stark contrast to the massive growth in the previous year.
Software budgets aren't yet showing signs of growing.
---
Read More: