1 minute read / Sep 1, 2020 / office hours /marketing /
Redpoint Office Hours with Kimbre Lancaster on Hosting Successful Virtual Events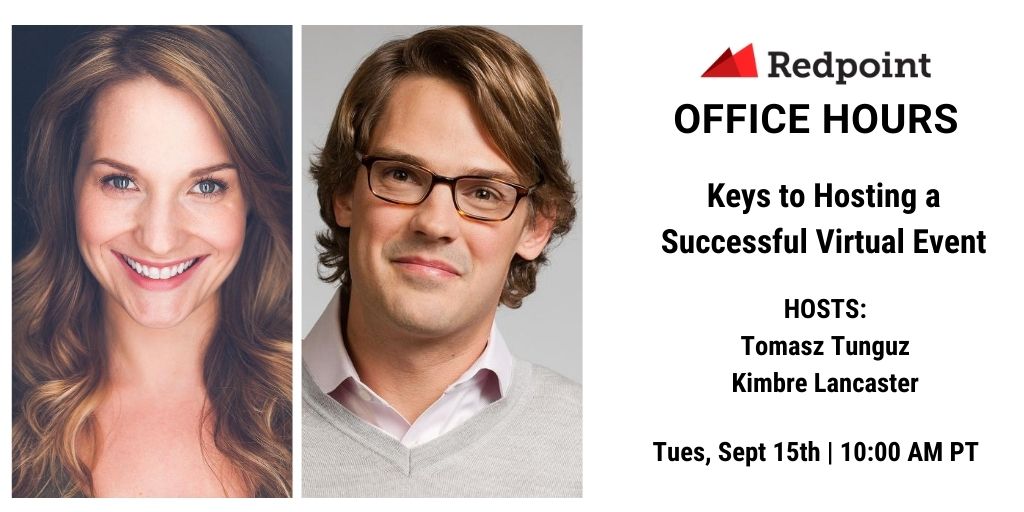 On Tuesday, September 15th at 10 AM PT, Redpoint will welcome Kimbre Lancaster as the next co-host of Office Hours. Kimbre is the former Director of Global Events and Field Marketing at Gremlin where she managed the industry sponsorships program, Gremlin's produced conferences (Chaos Conf, Failover Conf) and the new remote field program. Prior, she built and scaled the programs at both Split and Scalyr.
During the presentation, we will cover the keys to success for hosting virtual events, including building audiences, managing sponsors, and programming. We have seen the lead generating potential of virtual events across our portfolio, and we believe this type of marketing will become essential in the next decade.
This Office Hours will be a virtual event. We will collect questions from participants beforehand and try to cover them throughout the discussion. We'll also answer questions from the audience at the end.
If you're interested in attending, please apply here before Tuesday, September 8th. Once your registration has been received, you will be sent an email confirmation by Wednesday, September 9th.
We look forward to welcoming Kimbre and engaging in a great conversation!
---
Read More: