2 minute read / Mar 22, 2021 / office hours /
The Importance of Building & Maintaining Great Developer Documentation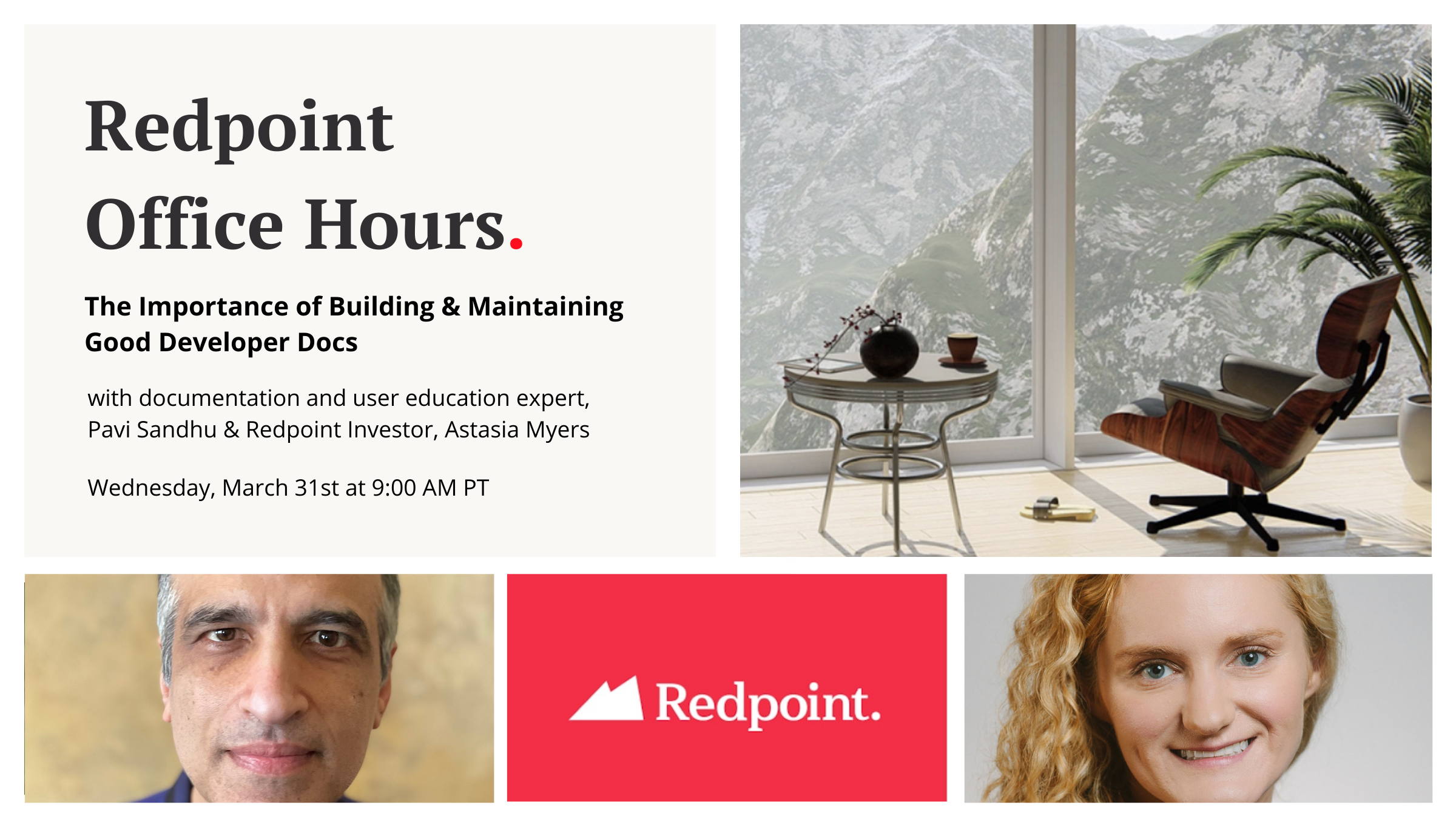 Developer tools and business-to-developer companies are among some of our favorite category of startup. We've had the privilege to partner with many of the leaders like Stripe, Twilio, Hashicorp, LaunchDarkly, SourceGraph, and Heroku, among many others.
Developer documentation is one of the differentiators in developer community building efforts. If you're an engineer, and you hear about an interesting project, the first place you'll land is the documentation. Guides that are easy to follow, have clear examples, and guide an engineer through a smooth experience grease the user engagement and acquisition funnel.
How should B2D companies invest in their documentation? To answer that question, on Wednesday, March 31st at 9:00 AM PT, Redpoint Office Hours will host Pavi Sandhu.
Pavi has more than 20 years of experience leading documentation and user education initiatives, at companies such as Salesforce, Amazon, Mesosphere, and MongoDB. Pavi co-founded Salesforce's learning platform, Trailhead, which now has more than two million users.
In the conversation, our colleague Astasia Myers will ask Pavi questions covering:
Importance of documentation for a robust developer ecosystem
Industry 4.0 and the latest evolution in developer documentation
Building and scaling developer and user education
If you'd like to attend, please register here.
We will collect questions from participants during registration and try to cover them throughout the discussion. Attendees will also have the opportunity to participate in a live Q&A throughout the session.
---
Read More: