3 minute read / Feb 20, 2013 /
What SaaS Businesses Can Learn from the News Industry
If asked to describe the characteristics of a successful freemium business, I might highlight three things: effective community marketing, command of new distribution platforms, and a paid product users love that is priced by usage.
Look no further than ZenDesk, Evernote, Expensify, Dropbox. Each of them has built a vibrant user base using freemium products.
But what if instead of pointing to SaaS companies as the vanguards of this movement, I lauded The Atlantic, The New York Times and the Financial Times? In fact, SaaS companies can learn quite a lot from the marketing efforts of content companies. In both cases, a great product alone is not sufficient to maximize growth. Marketing plays an essential role.
![image](https://res.cloudinary.com/dzawgnnlr/image/upload/q_auto/f_auto/w_auto/image_145_770022089">
Publishing houses invented the subscription model and have honed the marketing tactics to support it. The first subscription business developed in the 1700s as a way to hedge the risks of a single, fickle patron underwriting book publishing costs. The most important works of the era including the first illustrated edition of Milton's Paradise Lost were financed this way.
In the 300 years since its invention, the content subscription model hasn't changed, but the marketing tactics have been refined. The three major marketing tactics employed by these companies are:
Daily community marketing: The Atlantic's blogs provide daily high quality content for consistent engagement between published issues. These blogs cement the brand and voice in users' daily lives while reinforcing the value of the journalism in the magazine.
In addition to staff blogs, several publications have adopted the contributor model, the newest wave of community marketing. The WSJ Accelerators Program co-opts key members of a community who write on particular topics and bring their own audiences to the WSJ.
Similarly, the effectiveness of Mint or OKCupid or GitHub's blog can't be overstated as a method for engaging the community every day. ZenDesk's blog highlights challenges their customers face and suggests solutions allying the company with their user base.
Leveraging new distribution channels: Publishing great daily content isn't enough. Customers and potential customers need to read it. BuzzFeed is the canonical example of content reverse-engineered to succeed on social networks. The power of social networks for content syndication is enormous. Ride the wave.
Freemium business rely on large, vocal, passionate user bases. Catalyzing these groups to get together (whether online or offline), discuss key issues, problems and solutions as a community is essential for growth.
Mobile is an equally important channel. For the Financial Times more than half of revenue is digital thanks to mobile app store distribution. Marco Arment's the Magazine is the second highest grossing iPhone news app - generating more revenue than the WSJ, the Economist and the New Yorker. That's the power of new distribution channels.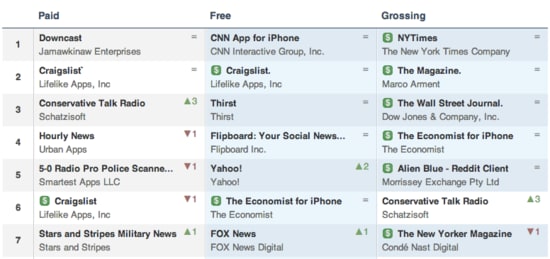 Similarly, the lion's share of Expensify's users come across the application through mobile app stores. Because these users are free, no one can compete with Expensify's cost of customer acquisition, creating a big moat for competitors.
Free content creates a marketing base: All that great content published by news organizations invites users to learn more about the publication, participate in conversations, download mobile apps, share content and so on, generating data. This data is fuel for marketing to build customer sales campaigns to drive content subscriptions, eg the FT's dynamic paywall which decides how many free articles to permit a user based on that user's propensity to pay.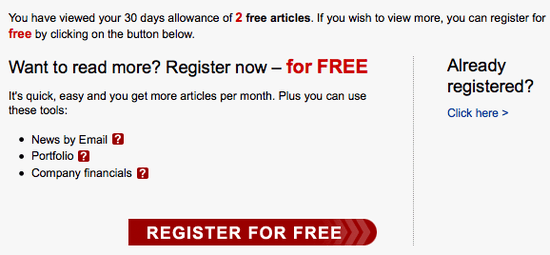 Freemium SaaS companies are no different. The goals of the freemium product are to create prioritized leads for a marketing or sales team to close with much greater efficiency than an uninformed outbound calling campaign.
The tactics of content marketing companies apply equally well to freemium SaaS businesses who can leverage content, community and data to great success.
---
Read More: