4 minute read / Apr 19, 2015 / saas /marketing /sales /
The Innovator's Solution for SaaS Startups - The Flywheel SaaS Company
In the Innovator's Dilemma for SaaS Startups, I outlined the path of many software companies, which disrupt incumbents by first serving the small-to-medium business and then move up-market by transitioning to serve larger enterprises with outbound sales teams. I argued this transition is largely due to the more attractive characteristics of larger customers, namely higher sales efficiency and reduced churn rates. This is the "traditional" way of disrupting. But, as Kenny van Zant of Asana and Mike Cannon-Brookes of Atlassian told me, there's another way, a novel way of building companies that still isn't very well understood: the Flywheel SaaS Company.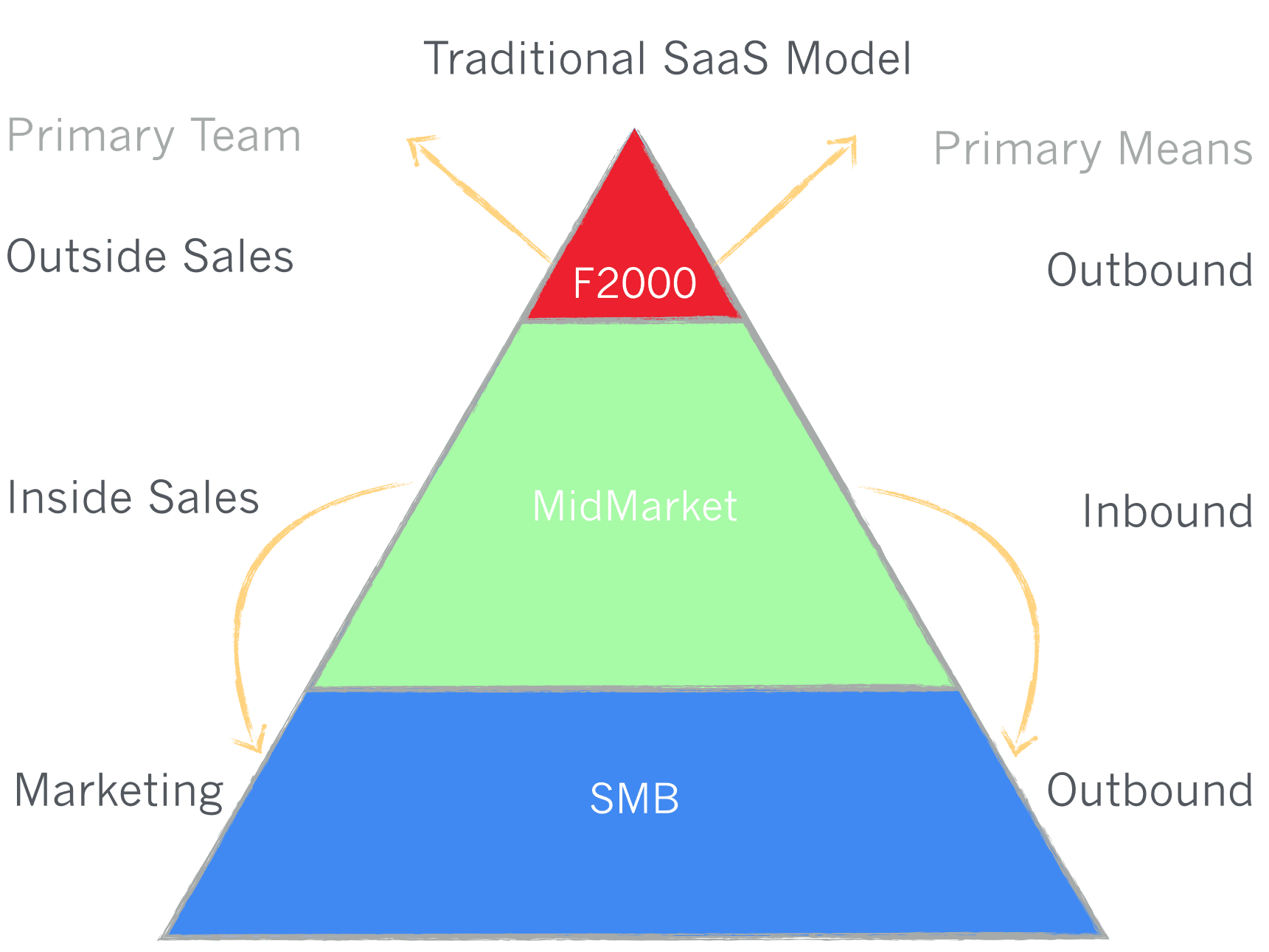 The pyramid above describes the Traditional Model. A startup initially targets the SMB segment, develops a product to suit those customers and uses marketing to acquire large numbers of them. Eventually, the product improves, mid-market customers come calling, and the new inside sales team closes those customers which are primarily inbound leads. At some point in the future, the company decides it's time to pursue enterprise accounts and hires an enterprise team. Those sales people are primarily outbound, sourcing, marketing and creating their own customer accounts. Most of the time, this enterprise sales effort operates independently of the existing marketing/inside sales effort.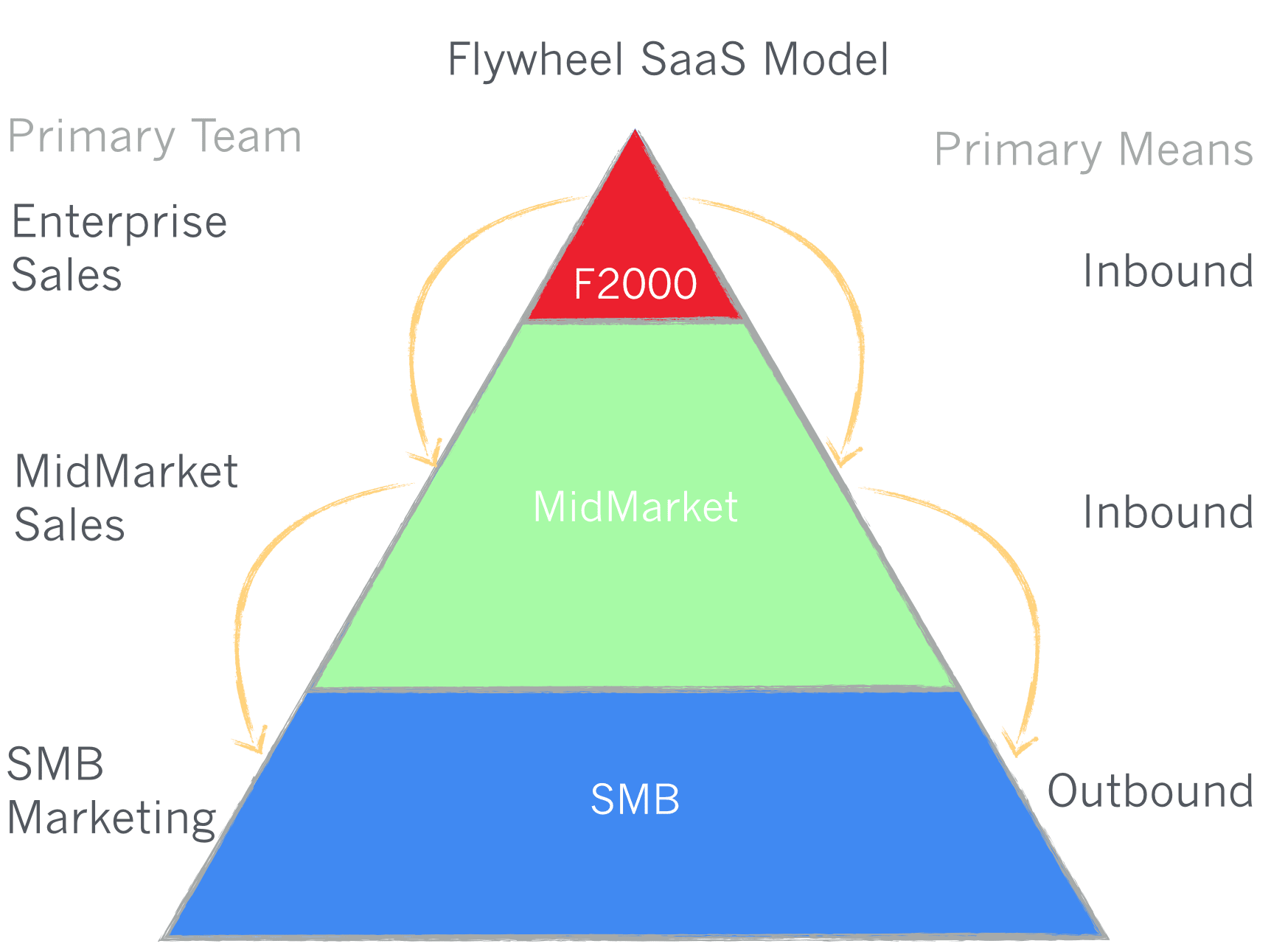 The Flywheel Model differs from the Traditional Model in one fundamental regard. The enterprise sales team is exclusively inbound. They are explicitly denied the option of seeking business outside the customer base, and must gin up business from only existing customers. The enterprise sales team is an up-sell and cross-sell team. In fact, so is the mid-market sales team. Only the SMB marketing team is permitted to acquire new leads. In short, the Flywheel flips the traditional idea of enterprise people as hunters and others as farmers.
The marketing engine spins a customer acquisition flywheel that captures all kinds of customers, both big and small. Some of these customers are true small businesses; others are teams or departments in companies. Over time, the product spreads from team to team, and department to department, increasing customer size and revenue to the startup. It's the responsibility of the mid-market and enterprise teams to find, cultivate and upsell these growing accounts.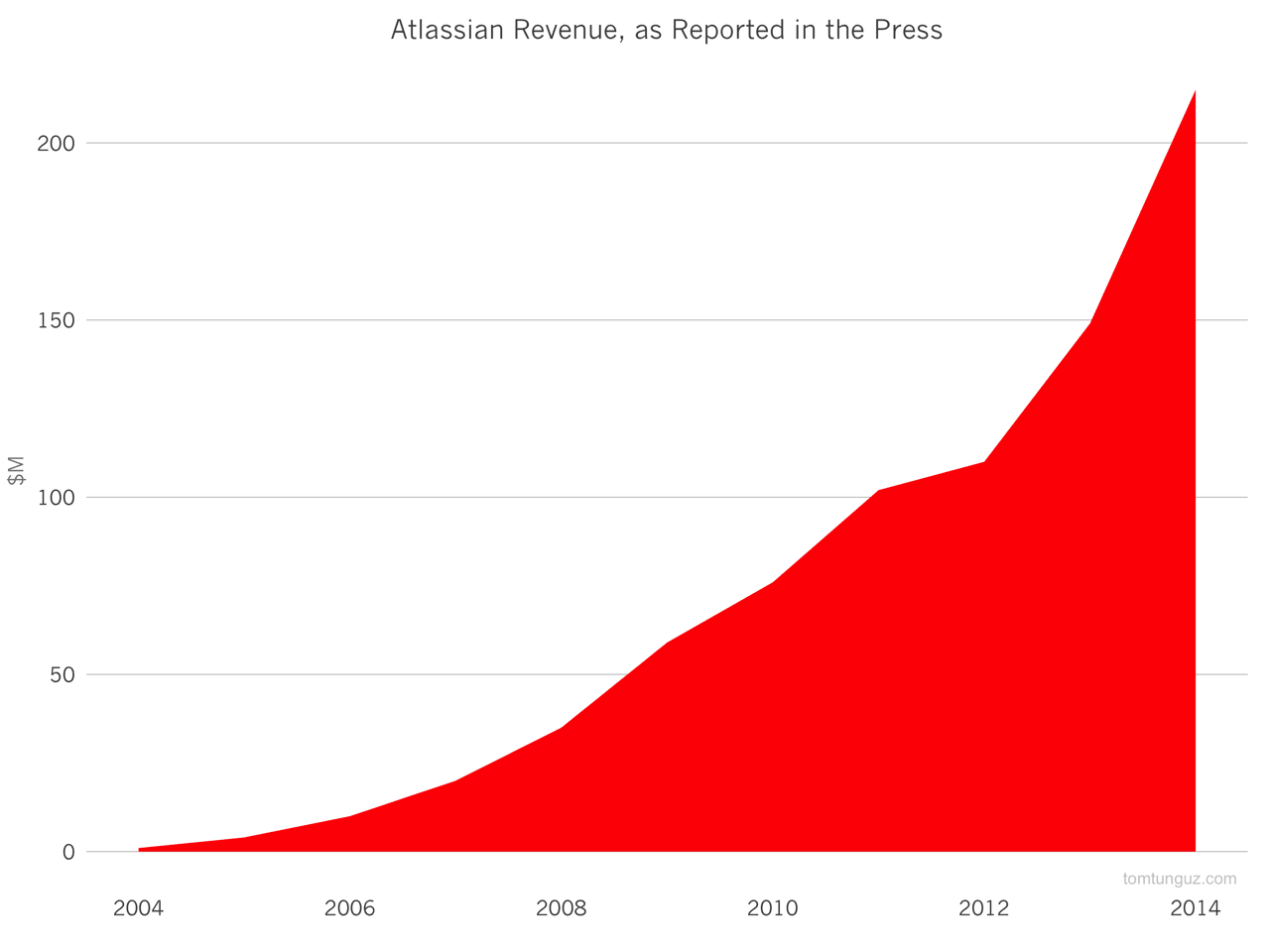 Atlassian has mastered this method and achieved terrific success, recording $215M in revenue, growing 44% in 2014. The chart above shows the company's revenue growth since its founding in 2002, according to press reports. The company famously touts that it has grown without sales reps, precisely because its mid-market and enterprise teams farm exclusively within the pool created by the company's marketing engine. The up-sell conversation is a very easy one: "Mr. CXO, there's no need for a trial or feature comparison. 25% of your employees are already using our product." What better argument for success is there than internal social proof?
Flywheel models have a simple beauty about them. The entire company is focused on the same thing: building the momentum in one main customer acquisition mechanism. Additionally, this flywheel model is incredibly capital efficient. Atlassian raised its first venture round of $60M after being in business for 8 years and growing to $59M in revenue.
In SaaS, the Traditional approach and the Flywheel approach both have led to the creation of some astounding companies. But sometimes, one model is better than another.
Flywheel models work very well in sectors where the ultimate buyer has is very difficult to sell or market to, (e.g., product managers and engineers). The high customer acquisition costs of these customer types are driven by their software evaluation and product purchasing behaviors which differ from the norm. These customer segments often prefer educating themselves than relying on a salesperson. Engineers don't buy software the way marketers do.
In addition, Flywheel models work in markets where products can expand from any part within the continuum of SMBs to enterprise. A deployment can start with an individual, a team, a group, or the whole company and be successful. In contrast, ERP software isn't a flywheel business. Individuals don't deploy ERP for themselves or their teams. ERP is monolithic, company wide software that is a top-down decision for larger businesses.
Last, Flywheel models may not work as well when an industry has intense competition already pursuing a Traditional model. Relying on customers to self-educate, or awaiting products to percolate throughout an organization to grow customer accounts requires patience and time. Sometimes, top down sales may trump the bottoms up sales. However, if a Flywheel company's product is significantly better, it can rally internal sentiment as a powerful sales tool during a bake-off between competing vendors.
I believe very strongly that there are many different ways of building a business. I also believe we're going to see more and more Flywheel SaaS companies in the future. It's an elegant model to build a company, and I'm very grateful that Kenny helped me understand them better, and let me recreate the drawings he used to describe this model to me.
---
Read More: