2 minute read / Jan 27, 2015 / s-1 analysis /history /
Benchmarking Salesforce's S-1 - How 7 Key SaaS Metrics Stack Up
This post is part of a continuing series evaluating the S-1s of publicly traded SaaS companies in order to better understand the core business and build a library of benchmarks that might be useful to founders.
Salesforce went public more than 10 years ago. This harbinger of subscription, internet delivered software created one of the most exciting waves in software and the single most valuable SaaS company today, worth $37B as of this writing.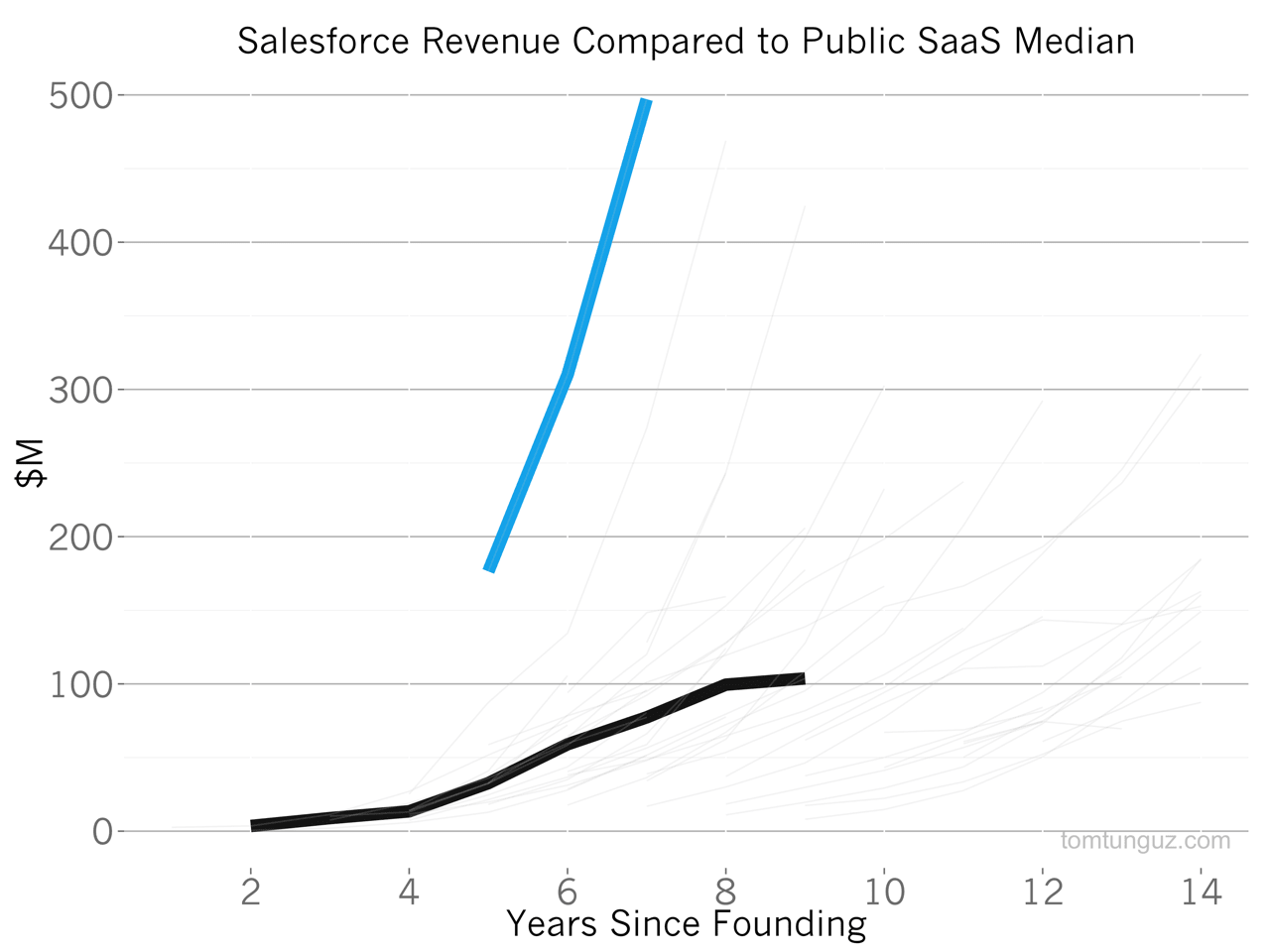 If I had to choose one chart to describe Salesforce, it would be the one above. Salesforce remains the fastest growing SaaS company on record. More impressively than the growth rates are the scale of the numbers. Seven years after founding, the company generated $500M in revenue. No other SaaS company has come close to the same scale of achievement.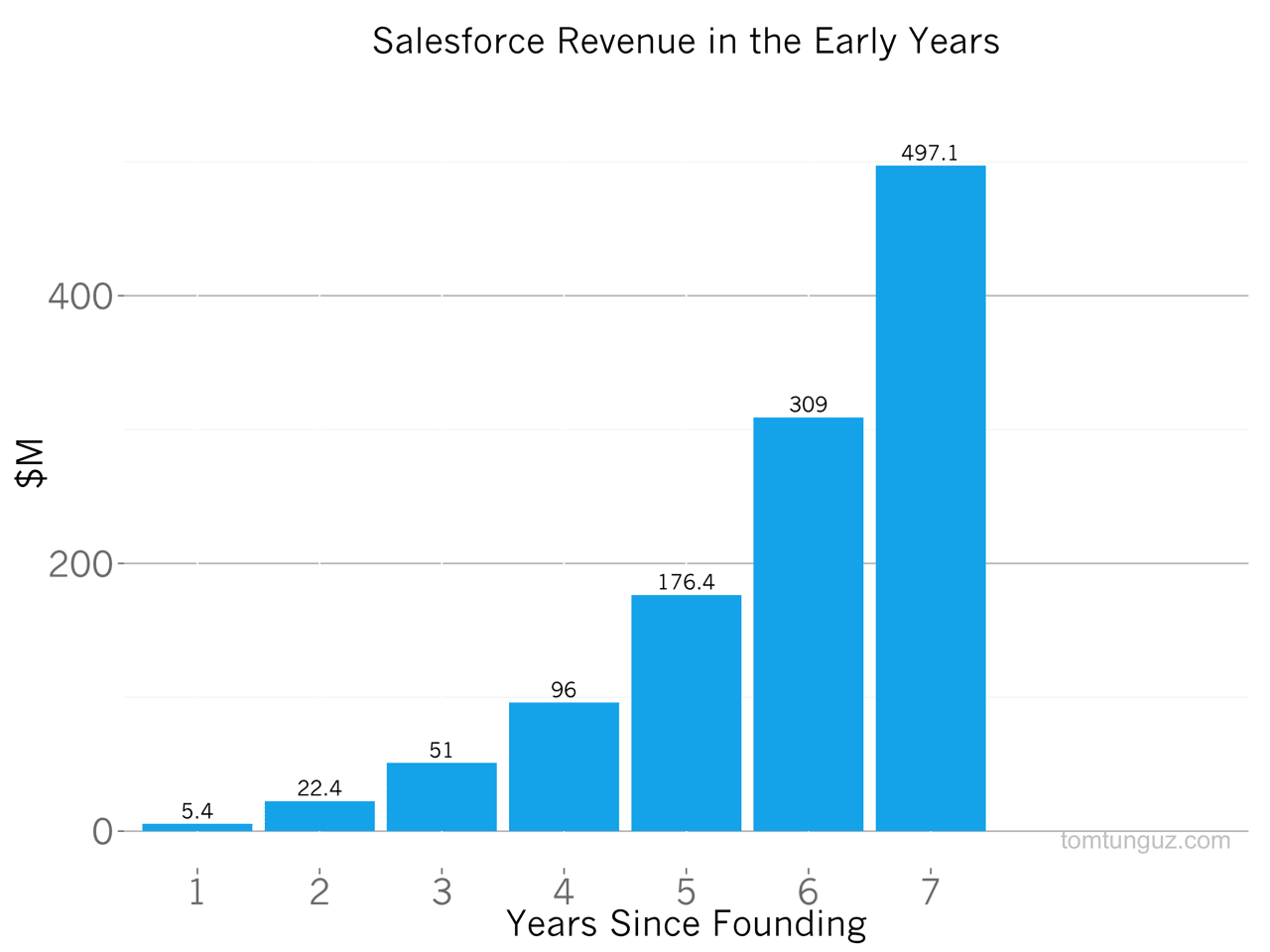 Salesforce's S-1 contains the company's data all the way back to Salesforce's second year since founding and we can see the revenue growth in the first few years was astounding.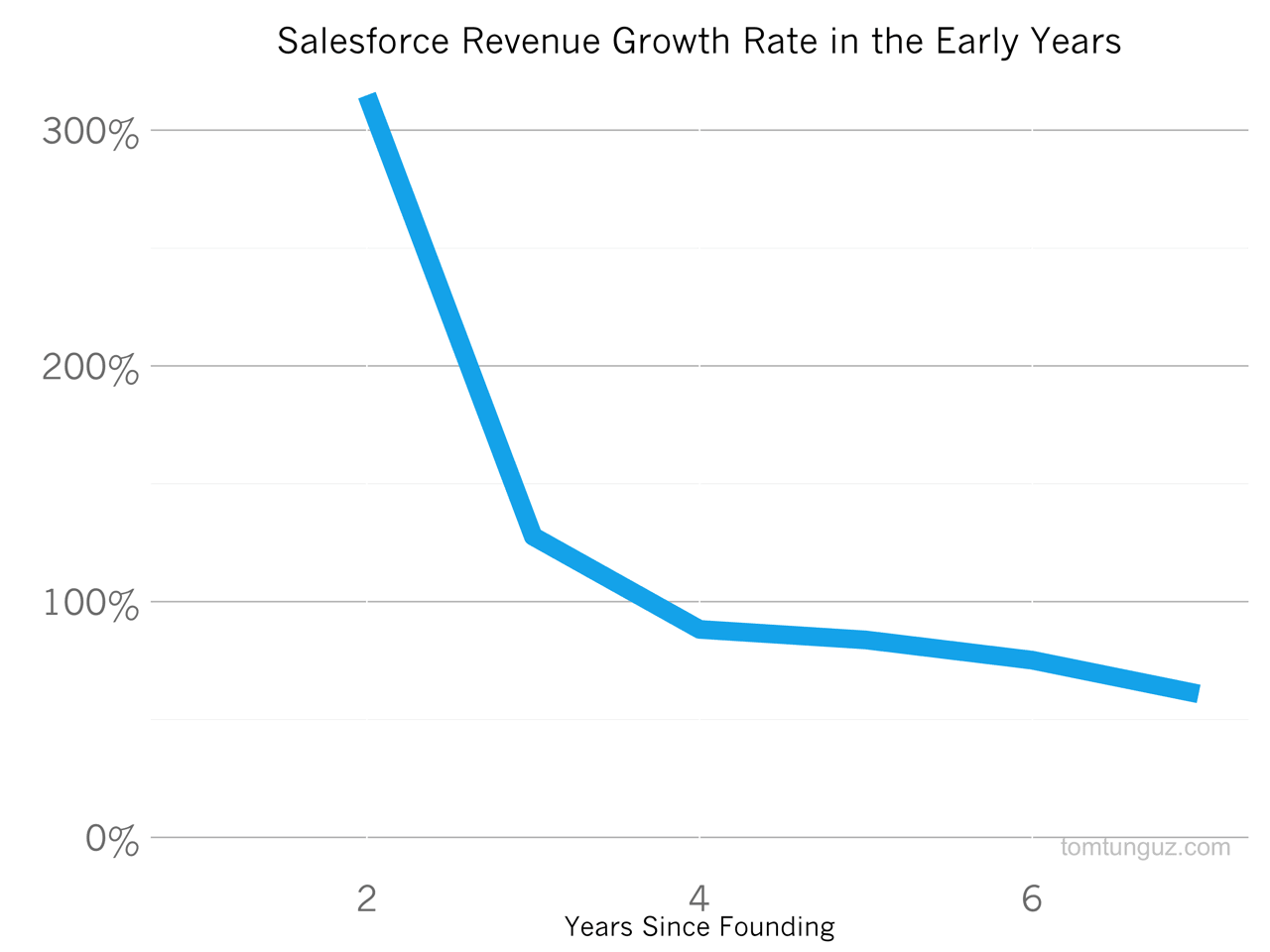 In terms of revenue growth rates, Salesforce was maintained a greater than 100% compound annual growth rate until $51M in annual revenue.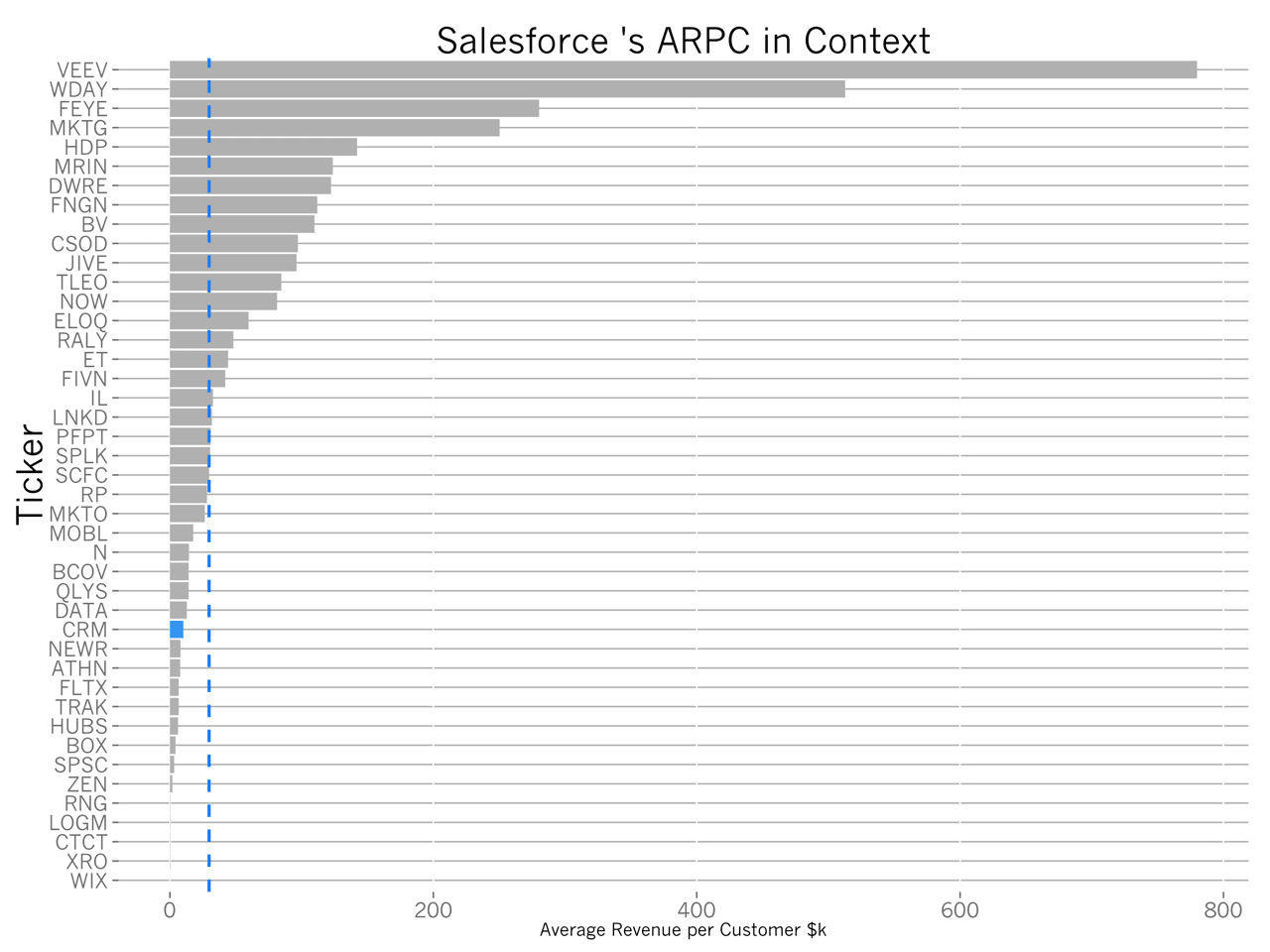 Salesforce's averaged an $11k account at IPO across 8000 customers, which is among the bottom third of SaaS companies. SMBs (less than 200 employees) contributed 40% of revenue, mid-market customers (200-500 employees) contributed 30%, and enterprise rounded out the last 30%.
To grow this quickly, Salesforce invested a significant amount in Sales & Marketing, but not meaningfully more than the SaaS median.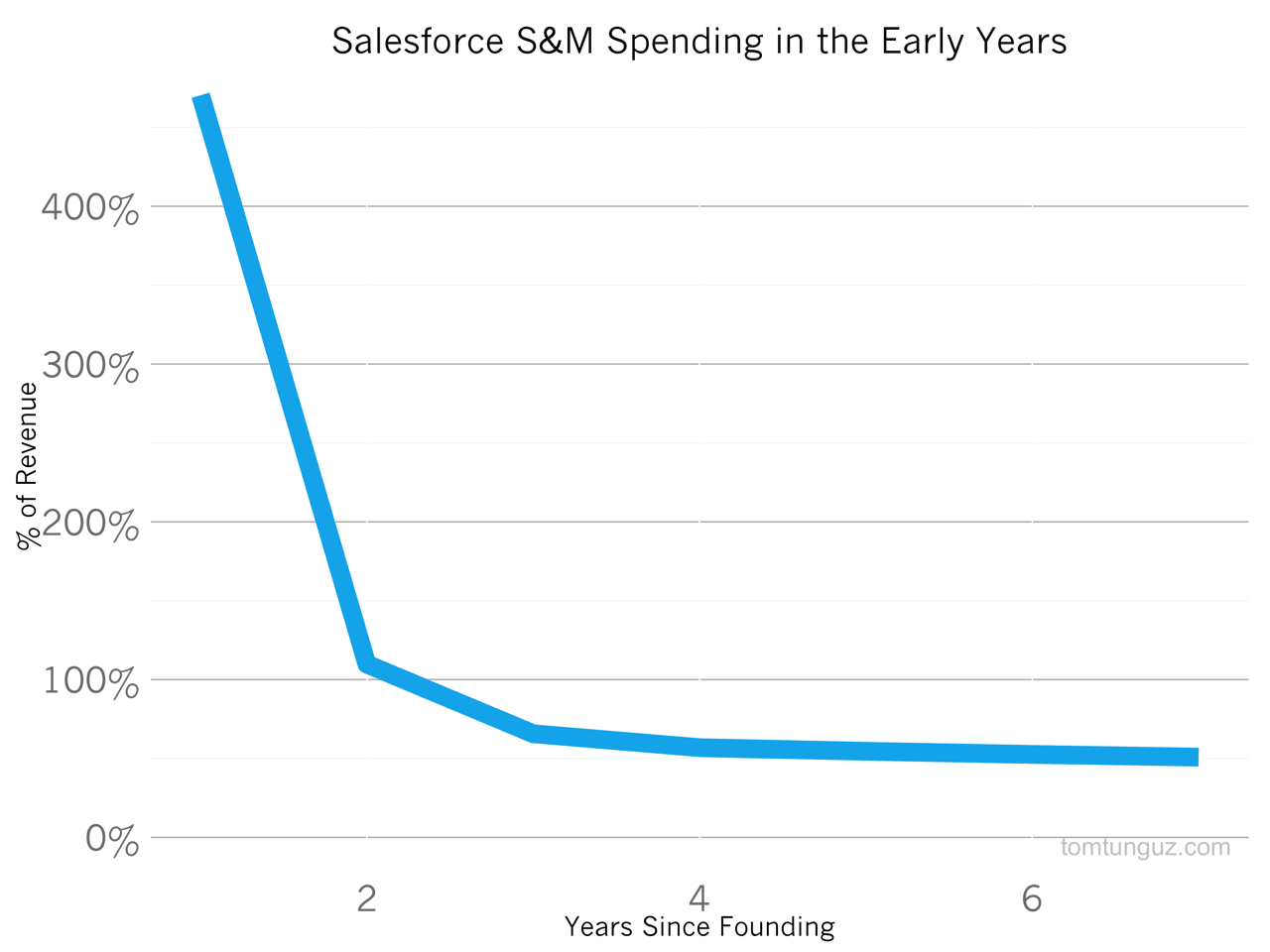 In the company's earliest years, Salesforce invested about 75-100% of revenues into sales and marketing, a figure that tapers off to the 50%.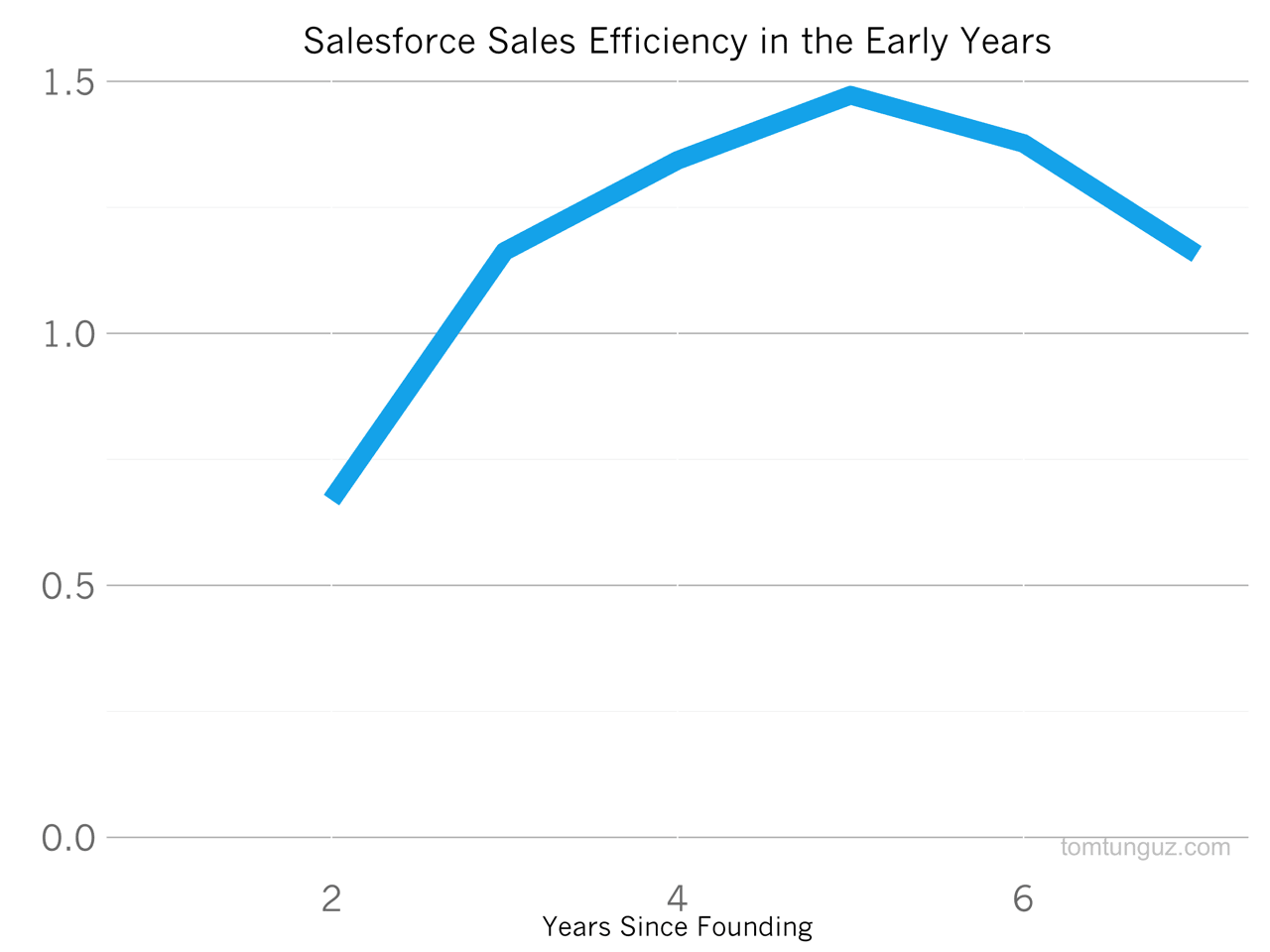 Salesforce recorded impressive sales efficiency metrics of greater than 1, meaning one dollar of Sales and Marketing investment bought more than 1 dollar of revenue, for years 3 through 7. This amazing sales efficiency fueled the company's growth and minimized cash burn.
And the company reached cash flow break even three years into sales, having burned about $69M.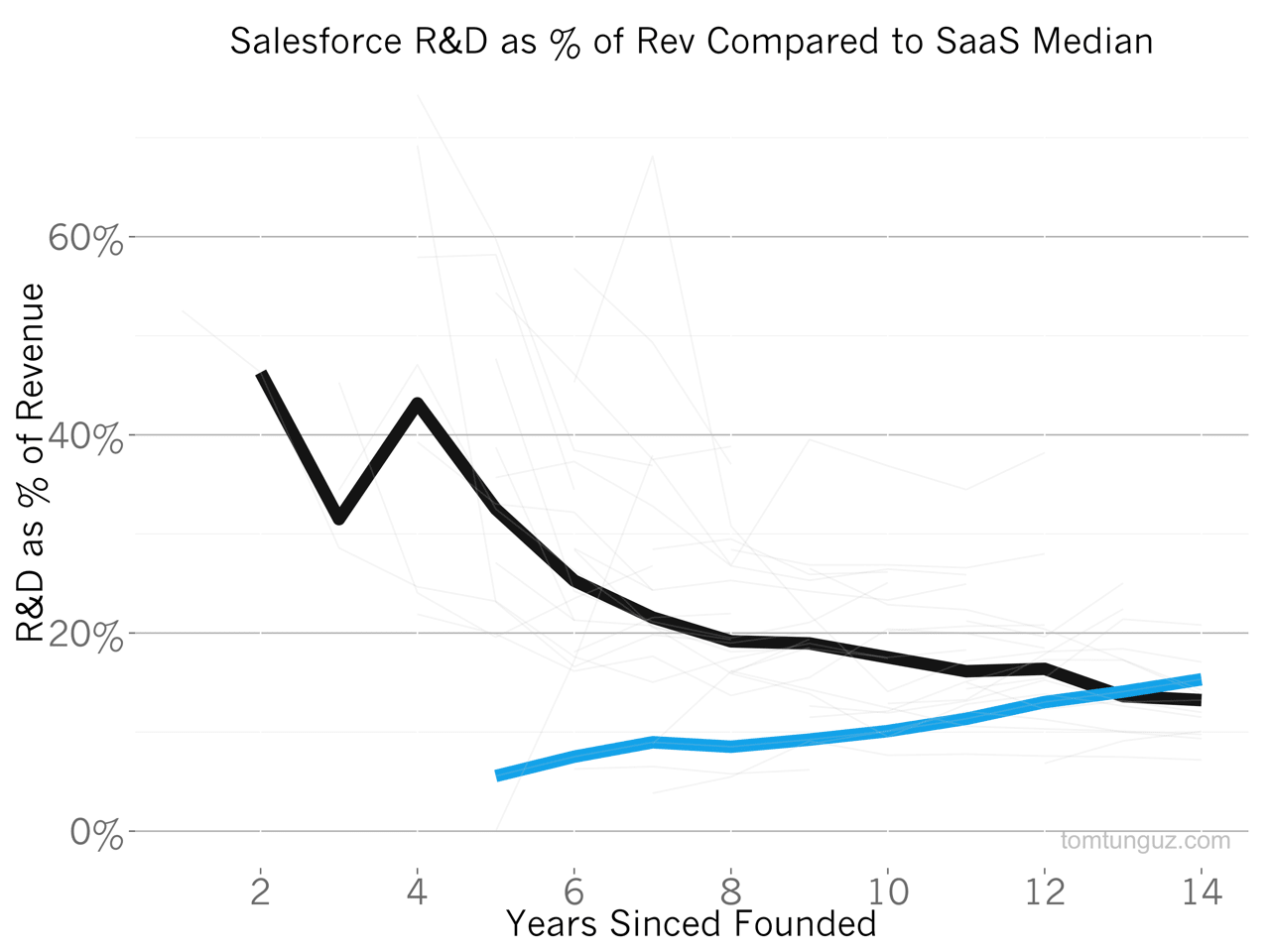 Initially, the company spent very little on engineering. In fact, it was once among the lowest of any SaaS company. But now the company is on a steady path above the median, as the company builds new products to cross sell its enormous customer base, including help desk software, business intelligence and marketing products.
Salesforce is a unique business. Out of the gate, the company grew, grew, grew and it's never looked back. Compared to several newer SaaS companies, Salesforce was remarkably capital efficient. The first pure play SaaS company, Salesforce remains the city upon a hill.
---
Read More: