2 minute read / Jun 21, 2020 / best practices /data analysis /sales /marketing /customer success /management /saas /startups /
What is the Structure of the Typical SaaS Company as it Scales?
This post is part of a series leading up to SaaS Office GTM Edition on June 24 in which we're reviewing the results of the 2020 Redpoint GTM survey. Today, we're answering the question: how do teams grow as a startup scales?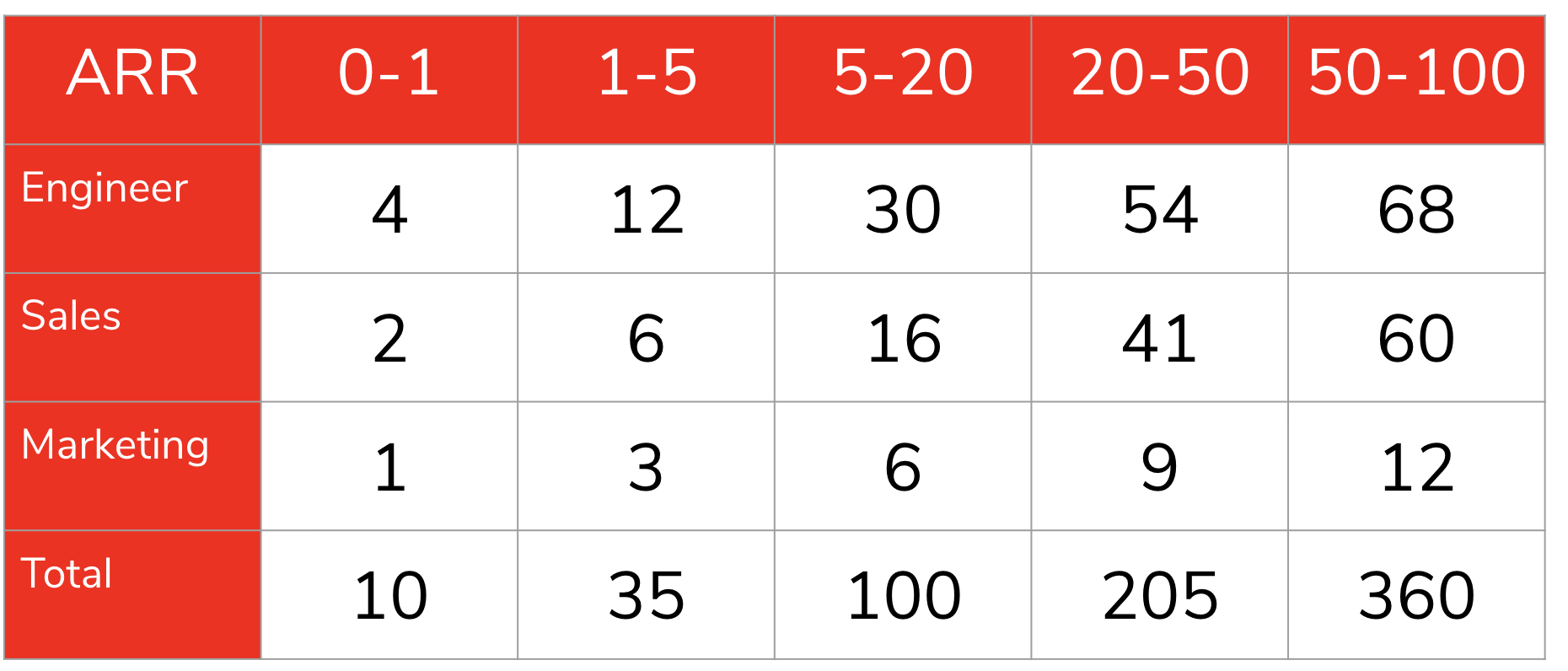 We can derive the table above if we look over the entire respondent base and bucket headcount by ARR. The median startup with between 1-5M in ARR will have 12 engineers, 6 in sales and 3 in marketing.
As the company grows and reaches 50-100M in ARR, the ratio of engineers to salespeople asymptotes to 1:1, down from 2:1. Meanwhile, the size of the marketing team increases only by 4X, compared to a 10X increase in sales and a 5X+ in engineering.
Software companies invest in engineering early and then the product matures, complement that engineering and product investment with go to market teams to commercialize the product.
Another question we asked in the survey is the most senior title leading the customer success, sales and marketing teams.

In the earliest days, leads head all of these teams. These are often individual contributors or team leads of small people. As a company skills to between 1-5M in ARR, the typical company hires their first VP in Sales. Reaching the 5-20M in ARR, the management team fills out with a layer of VPS. The VP titles remain in customer success in marketing.
The Chief Customer Officer, the c-level title for customer success, is the rarest of the C-level titles appearing in less than 10% of companies at $20M in ARR or higher.
But in sales, a CRO is often hired at the $20-50M ARR range. And at that scale or higher, CROs lead the go-to-market for more than 50% of respondents.
CMOs in SaaS companies head 35% of companies in the $20-50M ARR range, 40% at $50-100M and 53% at $100M+. As we learned at office hours with Hollie Wegman, the role of the CMO is team builder. And marketing teams don't scale linearly with other departments, so the need for a team builder can wait longer than either sales or customer success.
These medians conceal a fair amount of variance due to the ACV, buyer, and other differences. But if you were curious about what to expect at each stage of revenue growth, the data illustrates common patterns.
---
Read More: