3 minute read / Dec 8, 2015 / history /s-1 analysis /
Steady and Persistent Growth to $5.5B in Market Cap - The Ultimate Software Company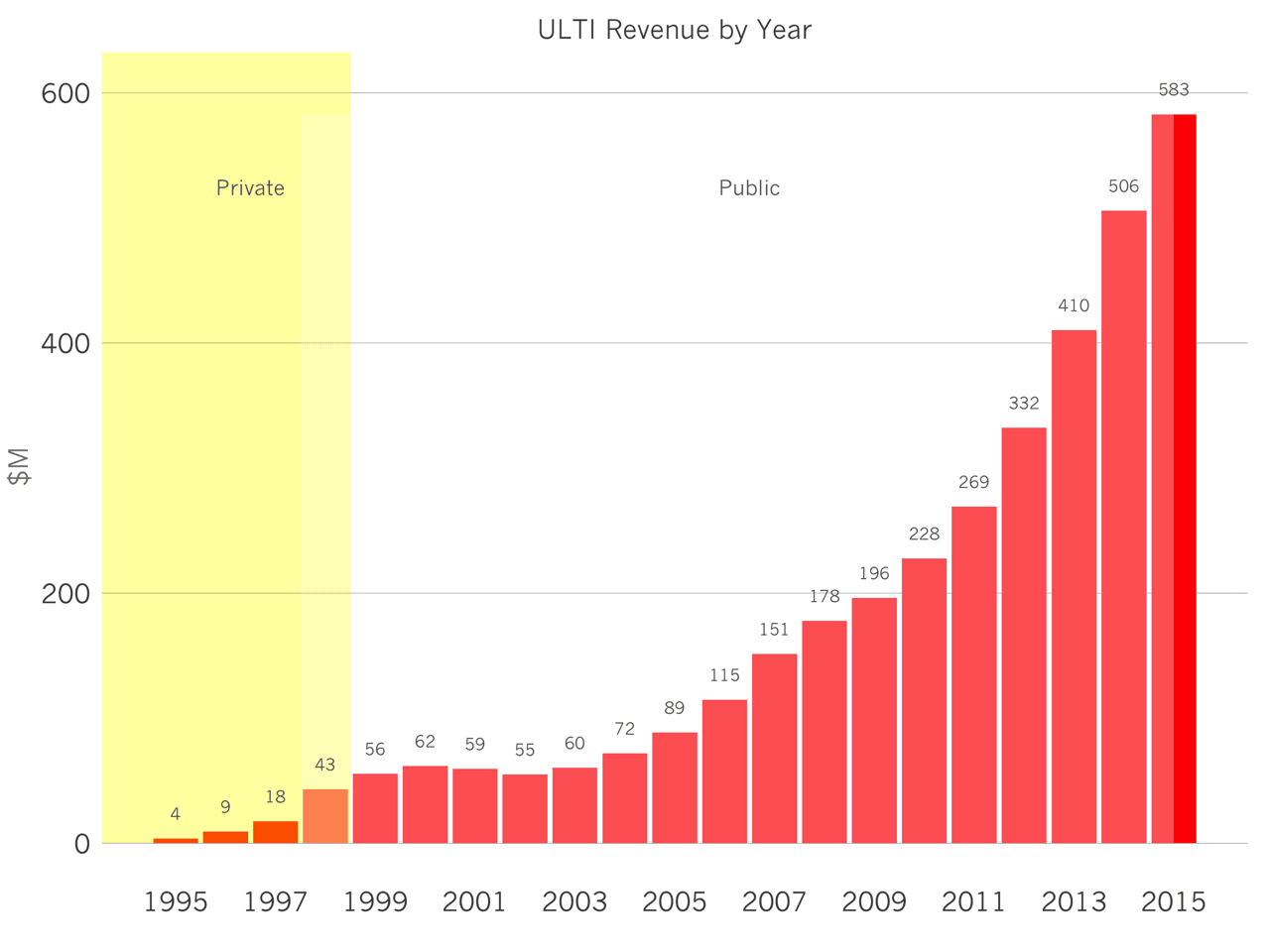 The Ultimate Software Company is a $5.5B market cap provider of SaaS Human Capital Management software. Founded in 1996, the company initially sold licensed software and migrated to multi-tenant SaaS in 2002 with a product called UltiPro. Today, more than 82% of revenues are subscription dollars.
The company serves the mid-market and enterprise customers with a broad software suite that includes Payroll, Human Resources Management Software (HRIS), Benefits Management, Time Clock and a Self Service Portal for employees. In addition, Ultimate Software sells a business intelligence product licensed from IBM Cognos. At roughly 2800 customers as of November 2015 and $583M in trailing twelve months' revenue, Ultimate Software generates about $210k in average revenue per customer, which implies reveune skews toward the enterprise part of the market.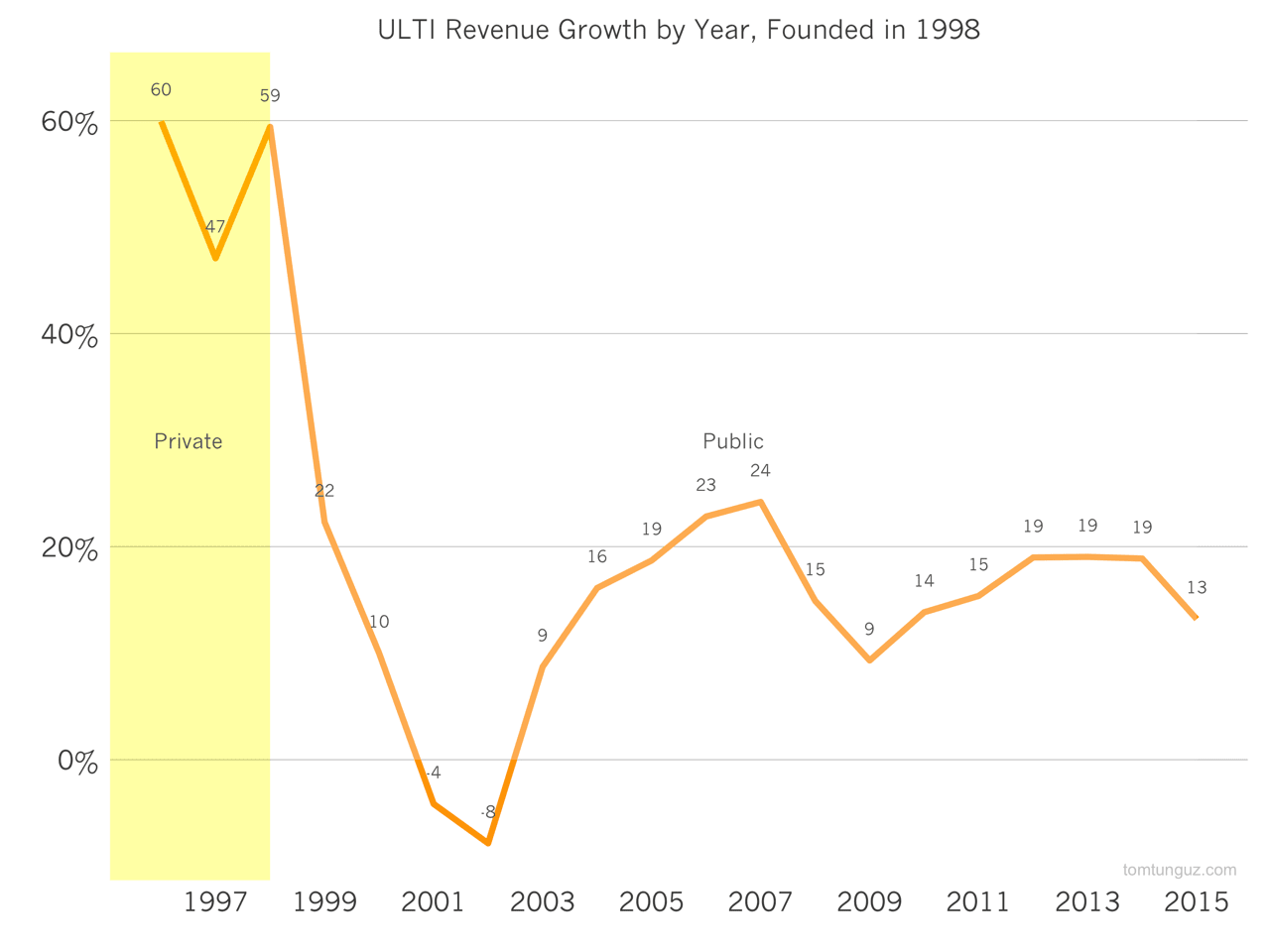 The company's financials are available for 20 years and show the progression of a company with $4M in revenue to more than $583M. Over that time period, the business has grown 28% per year on average, steadily becoming one of the largest SaaS companies in the world. Among publicly traded Human Capital Management software vendors, Ultimate Software is second to Workday.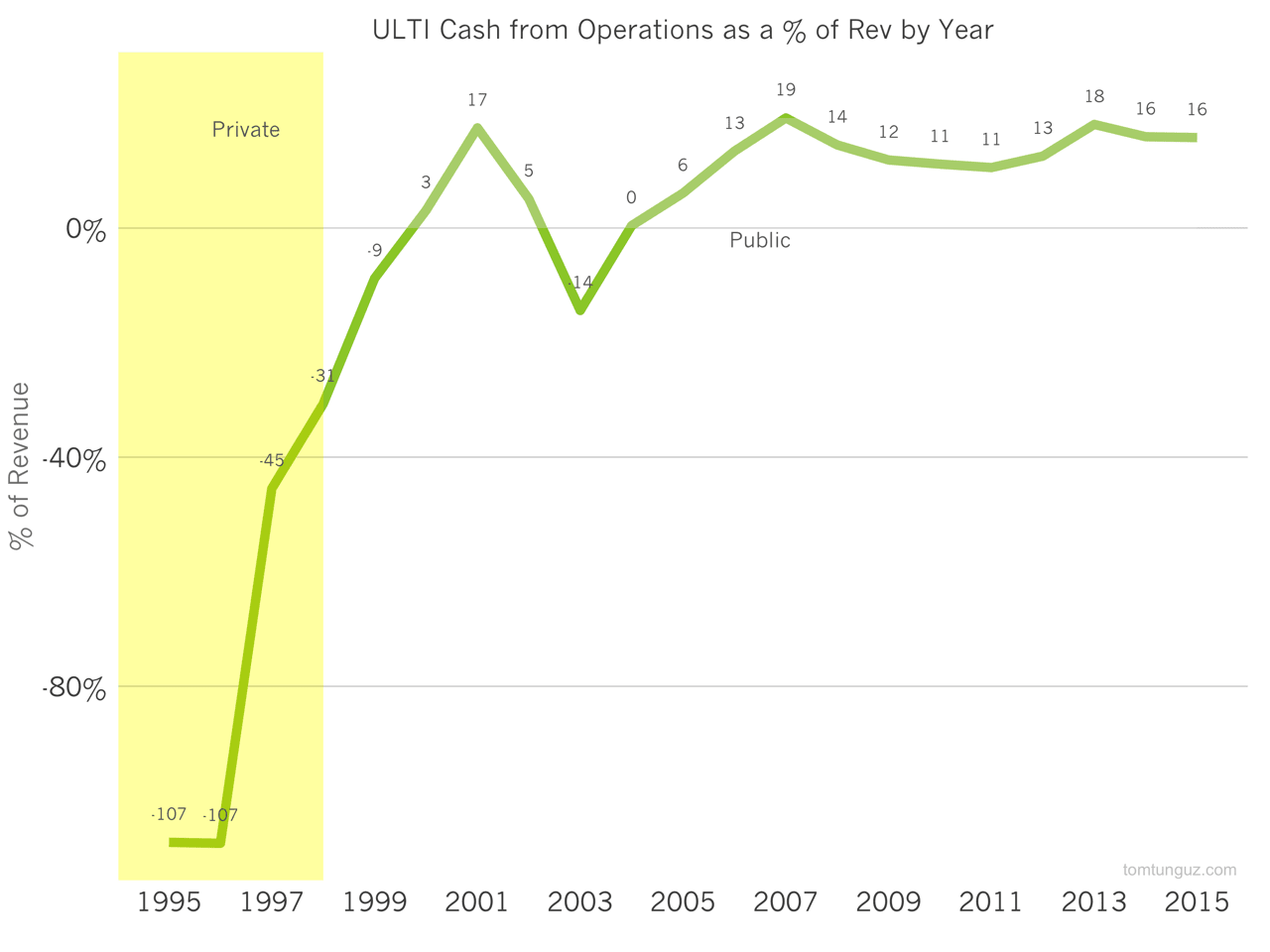 Since 2004, Ultimate Software has generated positive cash flow. The business went public in 1998 forecasting cash flow breakeven within two years.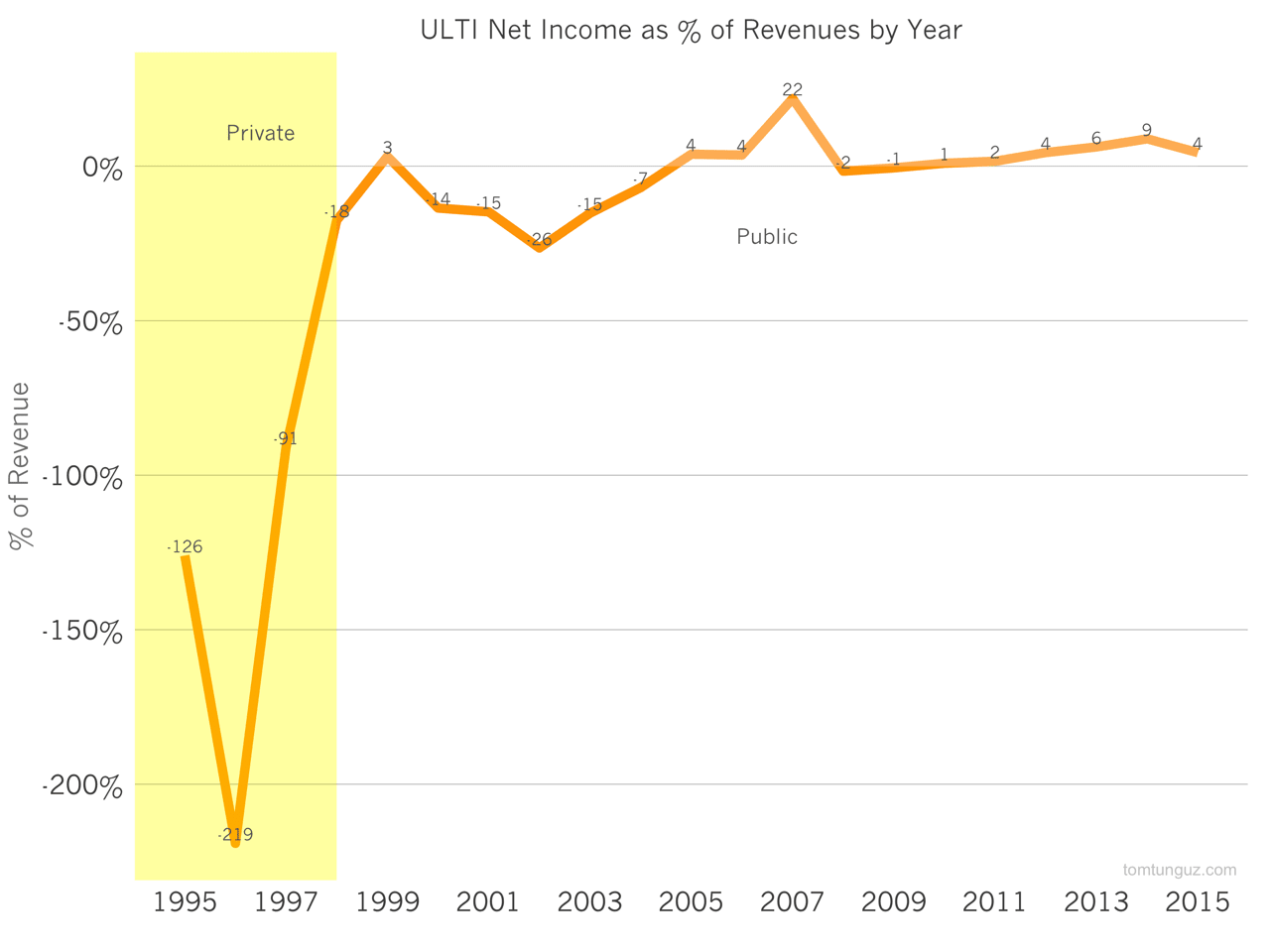 Ultimate Software ran mostly unprofitably through 2005, and has a strong history of operating with positive profits for the last 6 years.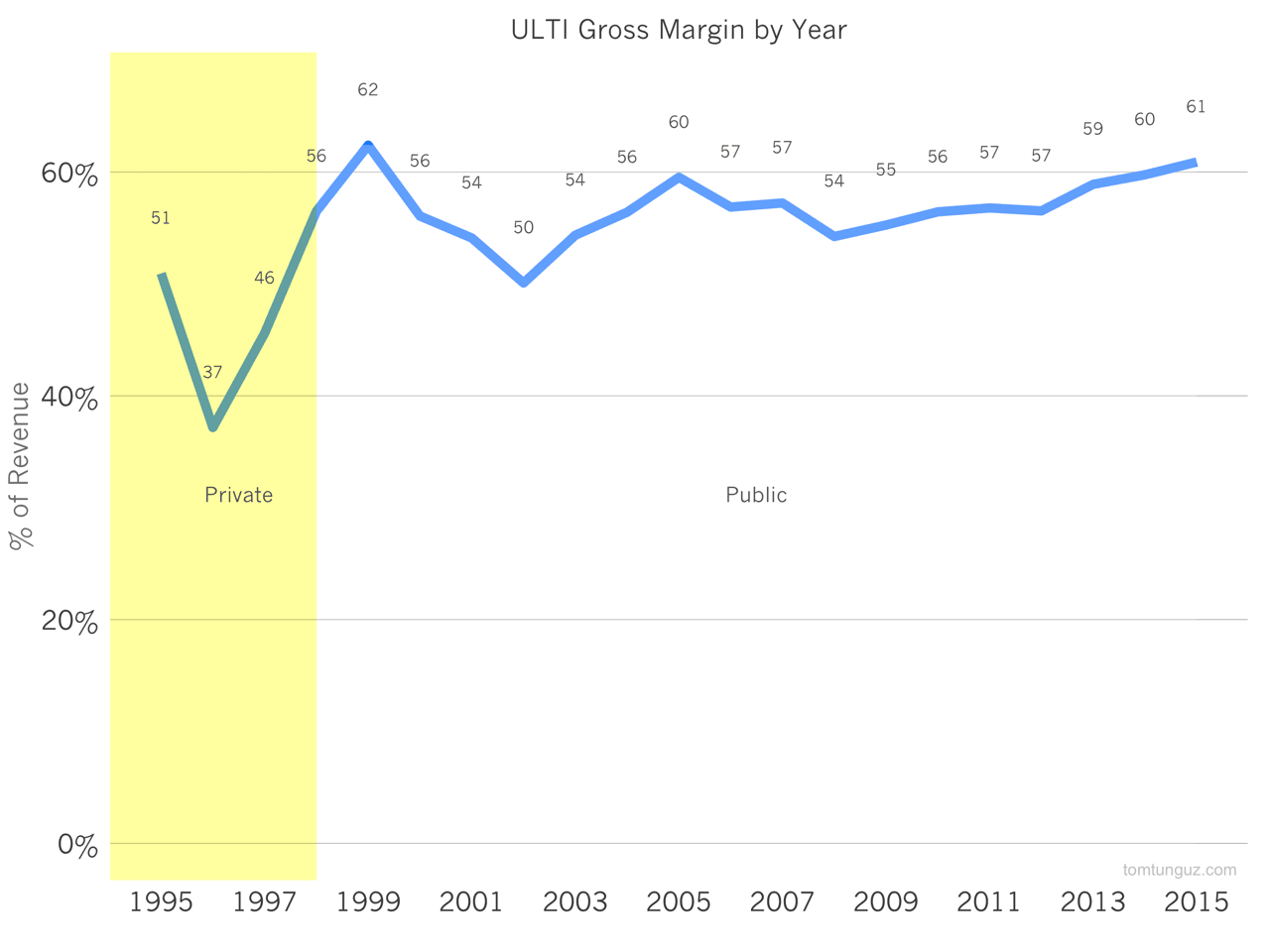 The median publicly traded SaaS company operates with 71% gross margins. ULTI has averaged about 60% of late. This figure is depressed by professional services revenue which represents about 20% of revenue and is run at 0% gross margin. However, professional services' contribution to revenue has fallen from 32% in 2010 to about 20%, likely because ULTI is moving into the mid-market and the product has improved so less service is required to satisfy customer needs. This decline in professional services revenue as a fraction of total revenue has boosted overall margin.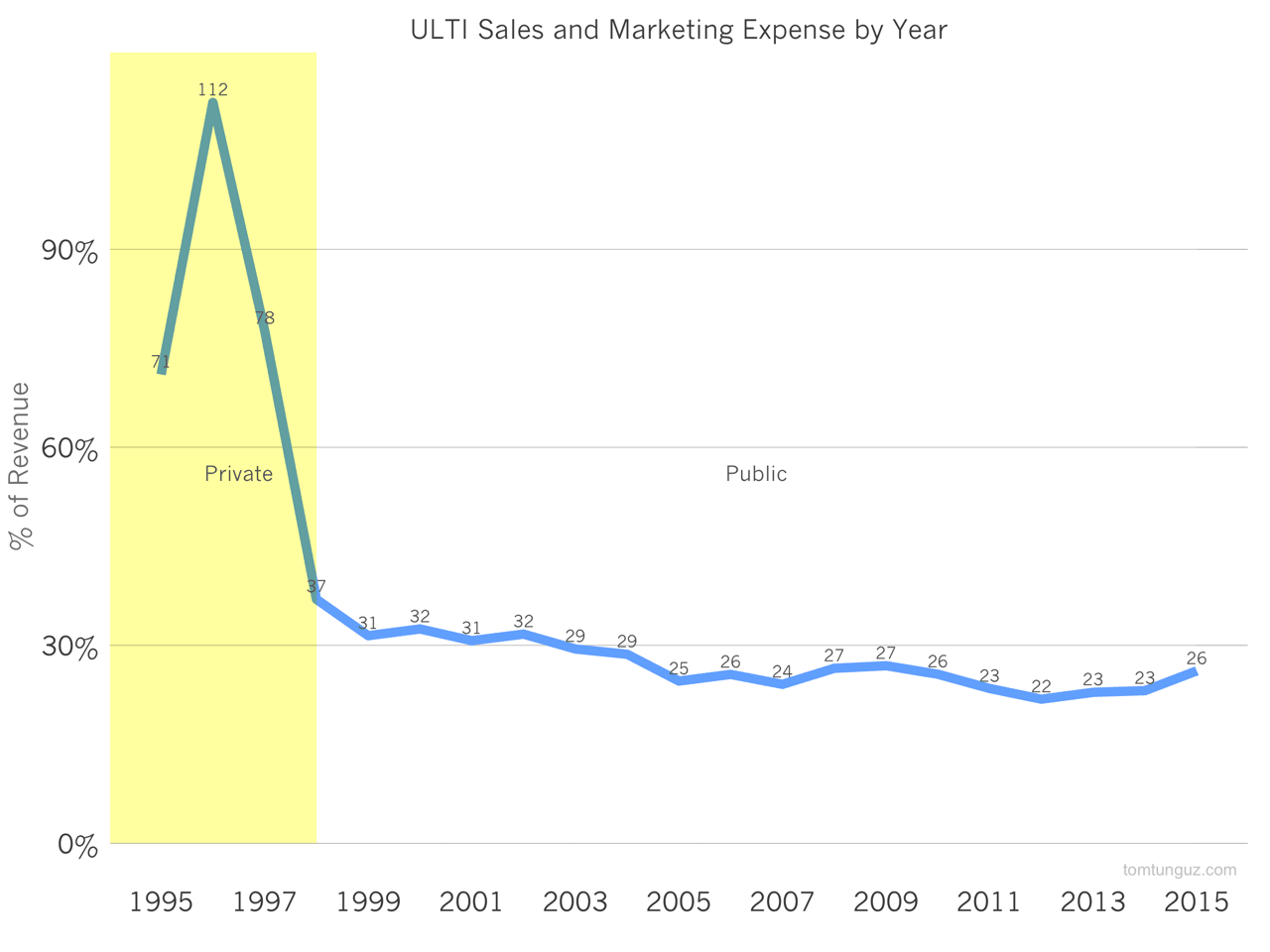 Ultimate Software spends about 25% of revenue on sales and marketing which is half of the publicly traded median of software companies, and they are growing at roughly the same rate as companies of their age - about 23% annually.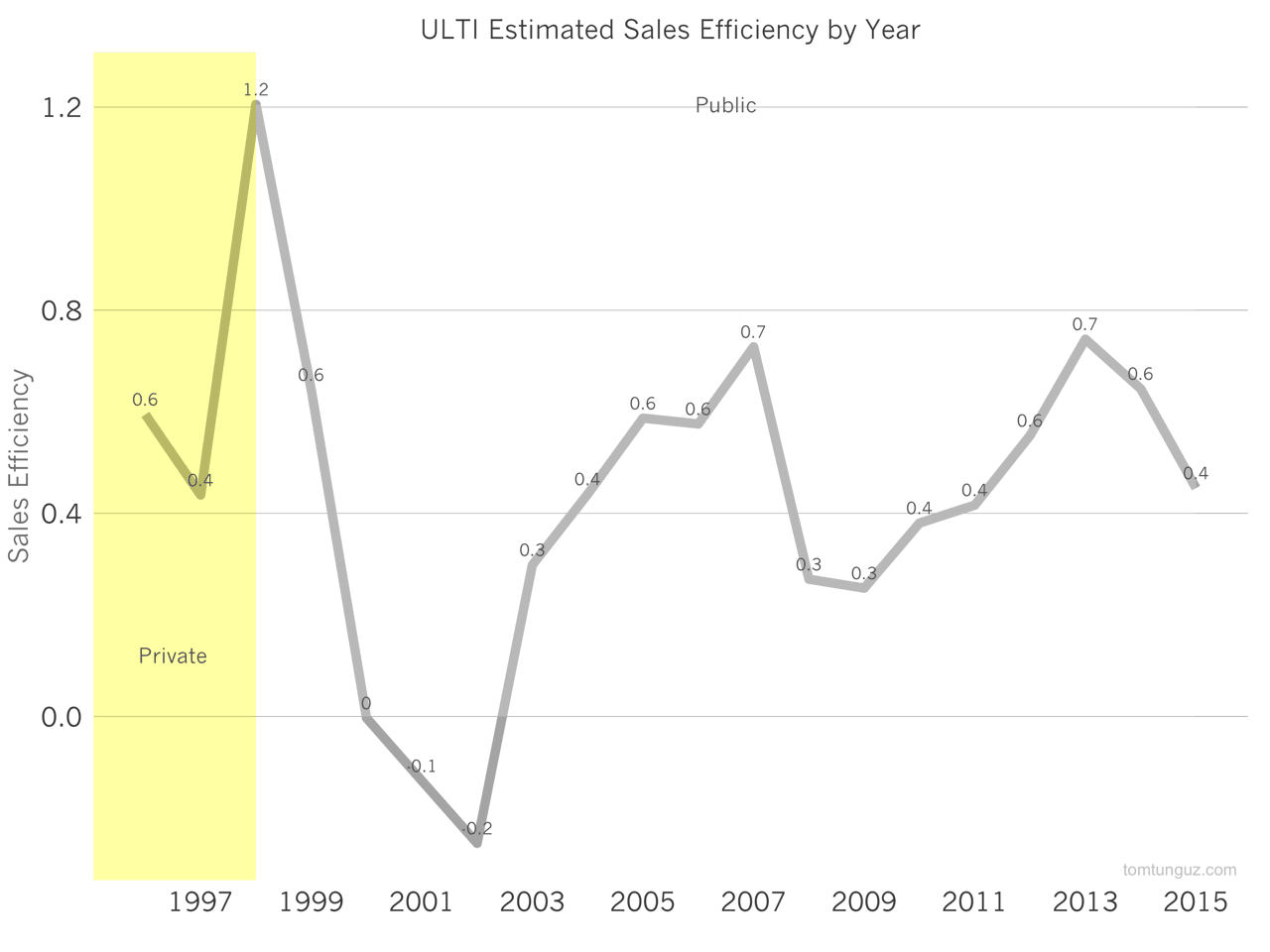 The company's sales efficiency has varied quite a bit over the past twenty years, but has exceeded 1.0 only once - during the year of the IPO. On average, the company generates about $0.44 of gross margin per sales and marketing dollar invested. In part, the relatively lower gross margin contributes to this figure. In addition, the presumably long sales cycles to win F500 contracts for this critical piece of software weigh some, too.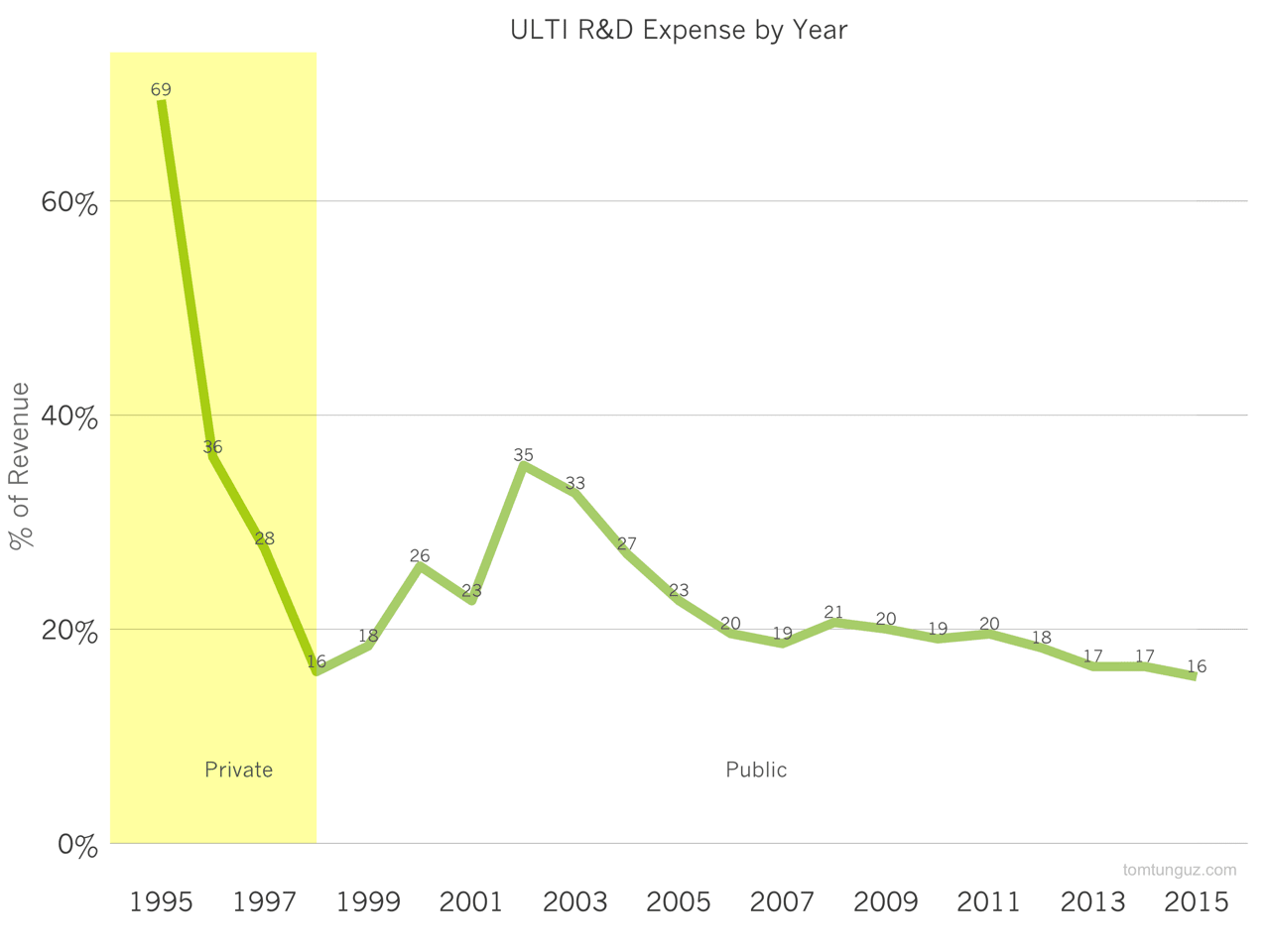 Ultimate Software is right on the median for engineering spend at 16% of revenue.
The Ultimate Software Company - name notwithstanding - is a great example of an enduring software company that has thrived for over 20 years with steady growth driven by disciplined investments into growth and product.
---
Read More: