2 minute read / May 9, 2013 / trends /
The Greatest Challenge to Facebook, LinkedIn and Twitter is Unbundling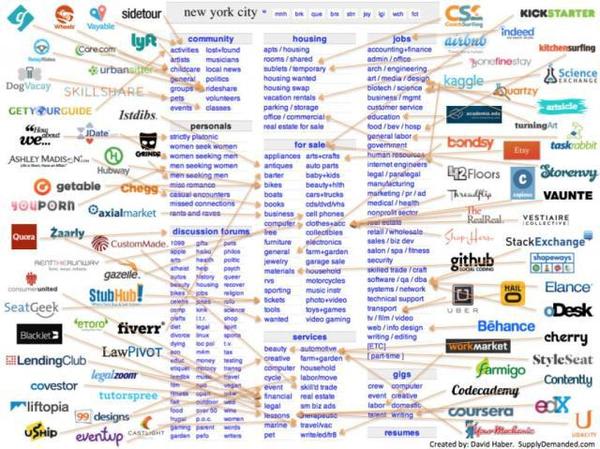 Craigslist's generic market place gave rise to fifty or more single-purpose alternatives some of which are quite valuable companies: AirBnB, Care.com, 99Designs, oDesk, CustomMade, Gazelle.
Each of these startups operates verticalized market places that solve customer problems better than Craigslist's generic platform. In so doing, these startups have grown their observed markets.
The same unbundling trend will happen to social networks.
Generic social networks will continue to succeed. But their most attractive users in the best segments will be systematically poached by verticalized competition.
Today in the US, there are three major generic social networks: Facebook, LinkedIn and Twitter. Personal, professional and news networks. In each case, they serve a vast cross-section of people.
Facebook's dominance is challenged by mobile-first messaging applications. Some of these offer a better product experience for core functions (Instagram, WhatsApp), others offer localized products that feel more native (Line, WeChat) and, others still offer better tools for self-expression (Tumblr) and last others offer more intimate networking (Path, Avocado, Couple).
LinkedIn, host to the world's resumes and workflow tool for recruiters, is challenged by dedicated professional communities offering workflow tools on top of social graphs. SpiceWorks is a community of IT professionals that also provides IT management services. Axial is an online network that helps connect buyers and sellers of private companies. Doximity is a social network for doctors that provides secure collaboration for cases.
Each of these segments represents tremendously valuable audiences whose these products could have been built on LinkedIn but are better served by dedicated tools.
Twitter, the news syndication and discussion component, is challenged by services like Quibb and Yammer which use smaller social networks to filter and discuss news, in particular professional news.
Make no mistake, each of the major social networks, like Craigslist, can continue to thrive despite unbundled competitors. But many of the most valuable users and products will be built outside of the ecosystem.
Unlike Craigslist, these social networks have far more capitalistic cultures, much larger balance sheets and are on the whole much more acquisitive which in the long term might be their best defense.
---
Read More: