2 minute read / Mar 2, 2020 / financials /benchmarks /
The Impact of the Coronavirus on Software Valuation Multiples
This morning, there were many tweets talking about the impact of the coronavirus on the fundraising environment. It's as a result of last weeks' wild swings in the stock market. According to Koyfin's analysis technology was the second hardest hit sector, falling 14%. The S&P overall was down 11%. Let's double-click on the impact of last week on the valuation environment.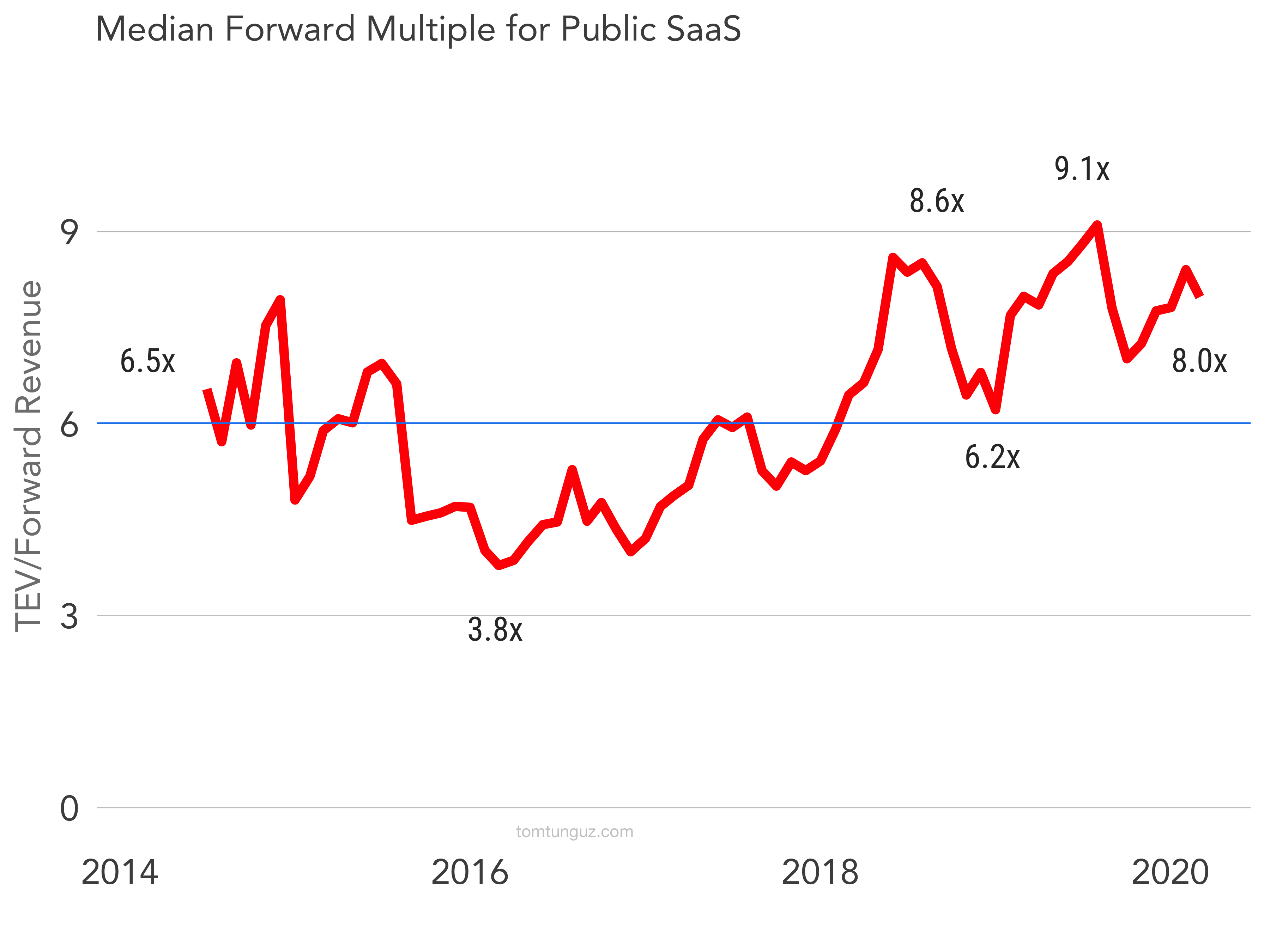 This is our familiar forward multiples chart. It includes a basket of all the next-generation software companies since 2014.* You will see that multiples are still meaningfully above the median of 6X which is the thin blue line. But, forward revenue valuation multiples are down about 12%, consistent with the Koyfin analysis.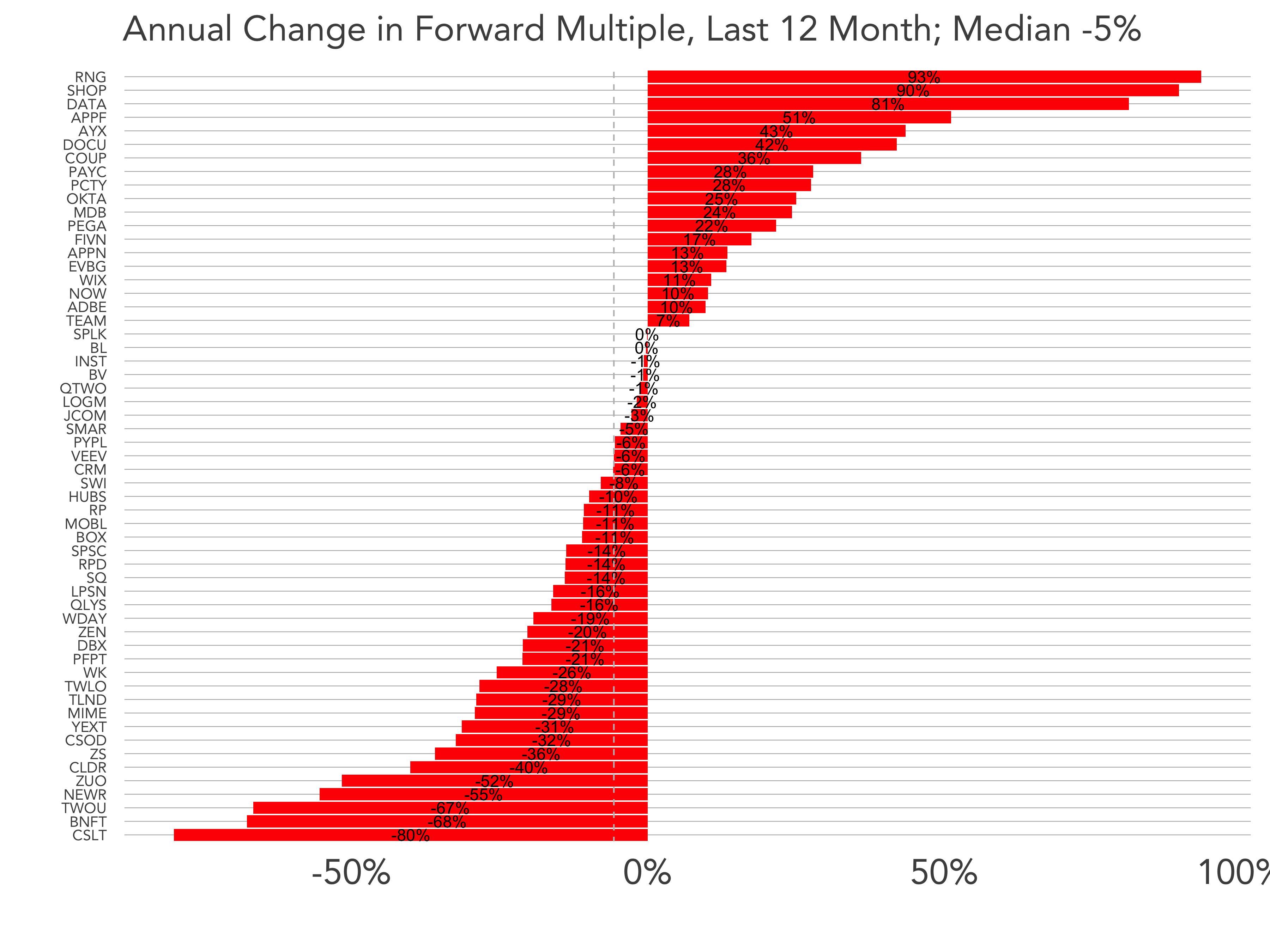 Over the last three months, more than half of the companies have seen a multiple expansion. The median change is +2% despite the volatility last week. Zoom has benefited from a 56% increase, as have RingCentral, Shopify, and SmartSheet.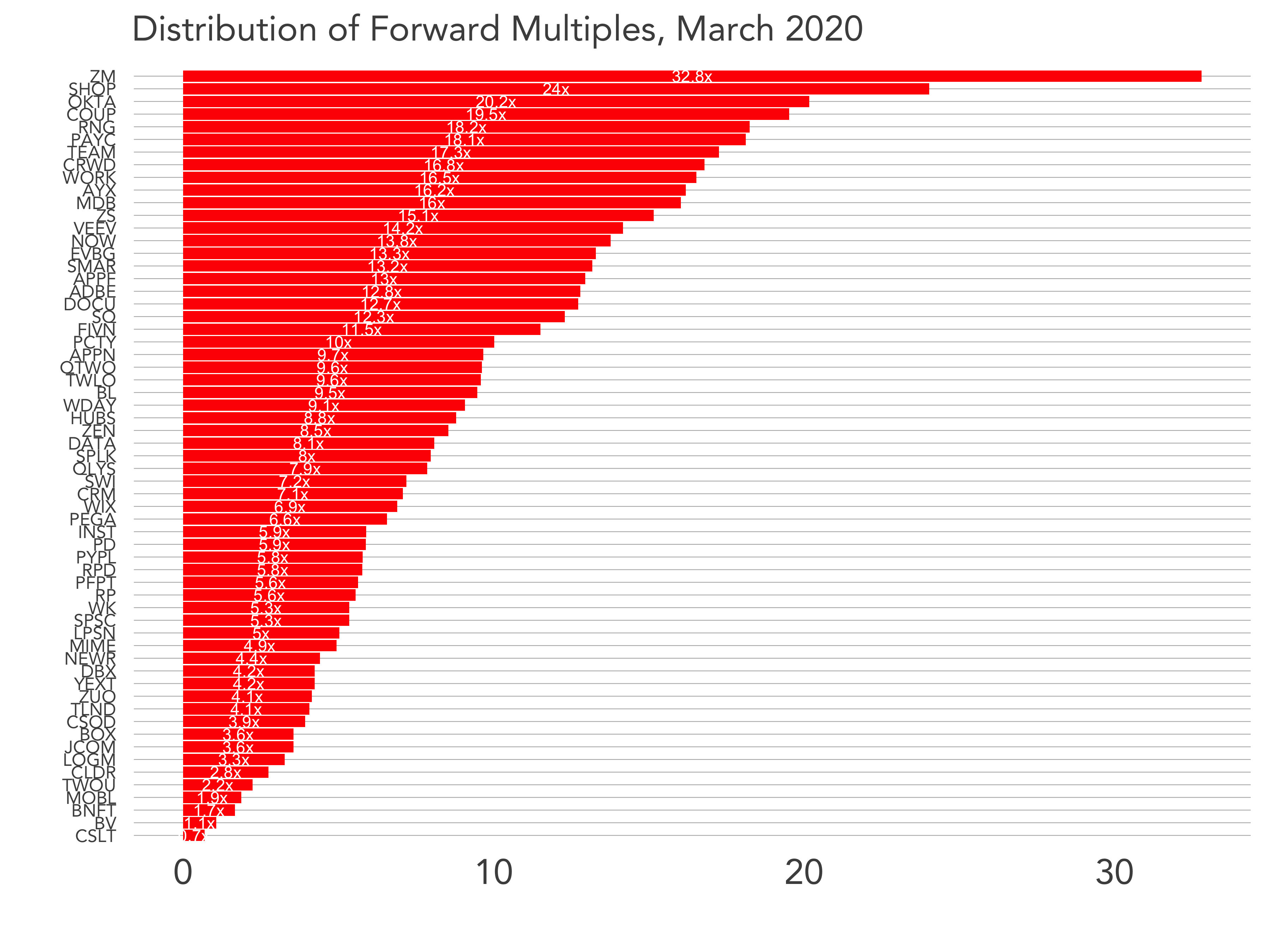 If you look at the distribution of forward multiples, we still see some incredibly elevated levels. Zoom is at 33x. Shopify at 24x. Okta at 20x. So, despite the volatility last week, multiples haven't corrected. Valuations are identical to three months ago.
Returning to the tweets about the changes in the fundraising market: the private market tends to move much slower to changes in valuation than the public market does. Considering that the public market still values these companies the way they were valued three months ago, this suggests that the private market should not change its behaviors. The most tangible difference in environment may be more videoconferencing meeting s and fewer attendees to large conferences in the next few weeks.
The bigger question is whether software purchasing habits change because of reduced travel and networking. We will see that in the earnings reports coming out over the next month, and startups may begin to observe it in longer sales cycles. That's the best leading indicator of choppiness in the market ahead in Startupland. So, if you are worried about coronavirus impacting your business, pay attention to sales cycle durations.
Note, I have changed my data source for forward multiples which means that some of these numbers are not the same as in previous charts. This is because the information providers calculate consensus forward multiples differently.

Notice: I hold Zoom and Microsoft stock and others as investments in index funds.
---
Read More: