1 minute read / Mar 13, 2016 /
From Modest Roots to $10.7T in Market Cap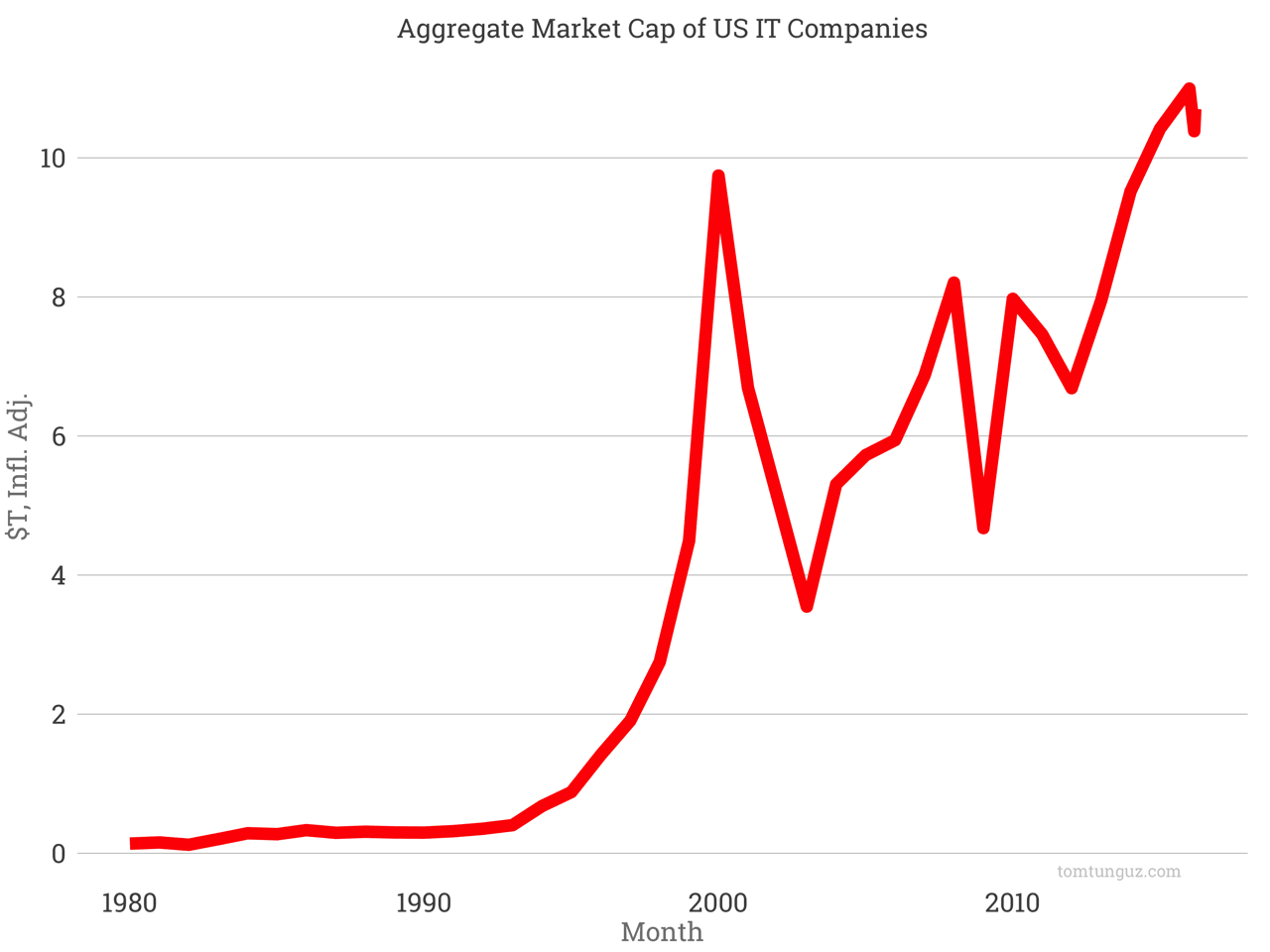 The value of all public technology companies exceeds $10.7T. At the beginning of 2016, that figure touched an all time high of $11T. It's taken more than a decade for public technology companies to replicate/recreate the market cap observed in the dot-com era, even when adjusting for inflation.
The preponderance of that increase has occurred in the last four years. In 2012, global technology companies combined in value to $6.7T, an annual growth rate of about 12.5%.
Which era of companies drive this growth? The chart above shows the share of market cap commanded by companies which went public in three different decades: the Nineties, the Dotcom era (2000-2010), and the Cloud era (2010-2020). Fifteen years on, Dotcom companies have finally superseded Nineties companies in aggregate value.
Decade
Count
Average MC, $B
Total, $T
Share
Legacy
114
18.9
124
2.3
21.8%
Nineties
673
4.4
3.2
30.2%
Dotcom
3268
3.3
30.1%
Cloud
1976
910
1.8
17.2%
Cloud era companies now represent about 18% of global IT market cap. At current valuations, all Unicorn companies total about $0.5T. If we assume half of these businesses will go public and discount the market cap figure by 50% to reach $0.25T, Cloud era companies' share bumps to 18.7%, up from 17.2%
This data illuminates three key points. First, founders continue to build massively valuable companies. That the current decade of public companies accounts for nearly a fifth of global IT market cap is astounding. Though the share hasn't risen as monotonically as for the two previous decades, because the total grew quite quickly in that period.
Second, the second chart illuminates the share shift of market cap from older to newer companies is happening. Cloud companies have taken share from legacy vendors while Dotcom businesses' share has remained stable. The legacy software vendors and consumer companies' share of IT market cap has fallen by half in fifteen years. This trend is inexorable.
Third, unicorns' paper valuations today represent about about 5% of global IT market cap. Though there's no data to prove it, I suspect this is the largest share held by private companies ever. This data point is another indicator of the availability of capital in the late stage private markets.
Like the micromills that revolutionized the American steel industry profiled in Clayton Christensen's Innovators Dilemma, newer and newer startups will continue to propel the global IT market forward, all the while growing the overall IT market and siphoning share from legacy businesses.
---
Read More: