2 minute read / Jun 17, 2020 / sales /benchmarks /data analysis /management /saas /
How Predictive is SDR/BDR Quota Attainment of AE Quota Attainment?
Leading up to the SaaS Office Hours GTM Edition, every day until then, we are reviewing key insights from the Redpoint GTM survey. Yesterday's post revealed the most common metric for measuring SDRs and BDRs, and the impact on AE quota attainment. If you'd like to attend the office hours session on these analyses, please register by June 19 here
Today, we'll review the impact of XDR (either sales development rep or business development rep) attainment on AE quota attainment. This analysis looks at both inside and outside sales AE attainment.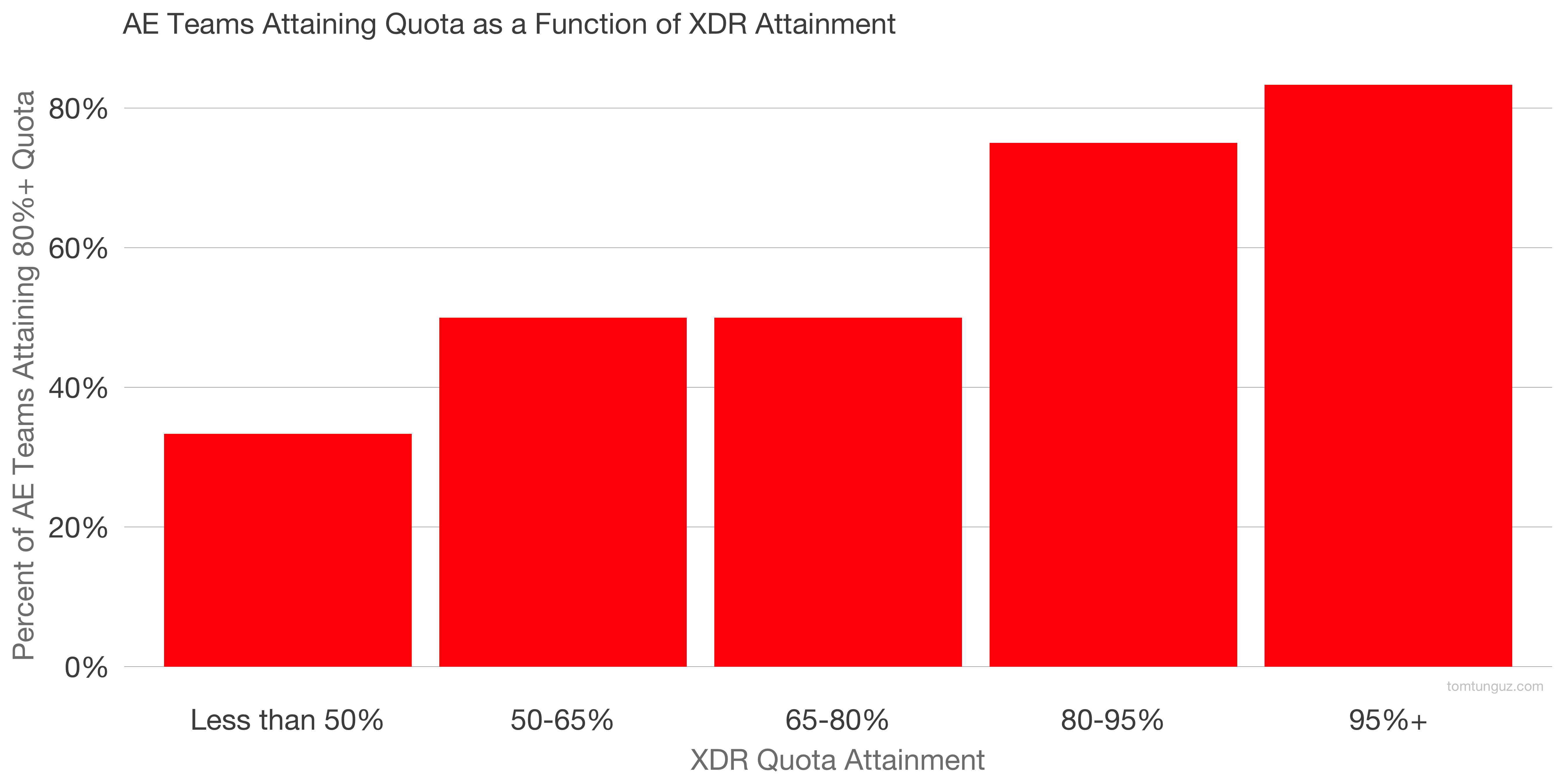 The short answer is that they are highly correlated. When XDR teams attain 95%+ of quota, 80% of AE teams attain theirs. When XDR teams attain 80-95% of quota, 75% of AE teams hit plan. Conversely, if XDR teams achieve less than 50% of their goal, only 33% of AE teams perform to target.
This result is true independent of buyer type (product, engineer, legal, finance, IT, etc.), ACV, ARR, or any other demographic variable we collected in the survey. In retrospect, I wish we had asked: what fraction of leads do XDRs generate for your business? It may have shown a difference in companies that rely on XDR support vs. other channels.
This correlation suggests XDR performance is a reliable leading indicator for ultimate quota attainment. Anyone who has managed a sales team will say it's an obvious conclusion. But it's always wonderful to see these bits of integration confirmed across such a large sample set.
The performance of the XDR team presages the success of the AE team.
---
Read More: