3 minute read / Jul 26, 2023 / trends /financials /saas /
Signs We've Touched the Bottom
I'm watching public company earnings to identify early trends in the software market to inform startups' plans for 2023. Yesterday, Microsoft & Google announced earnings. Amazon, Cloudflare, & Mongo announce soon.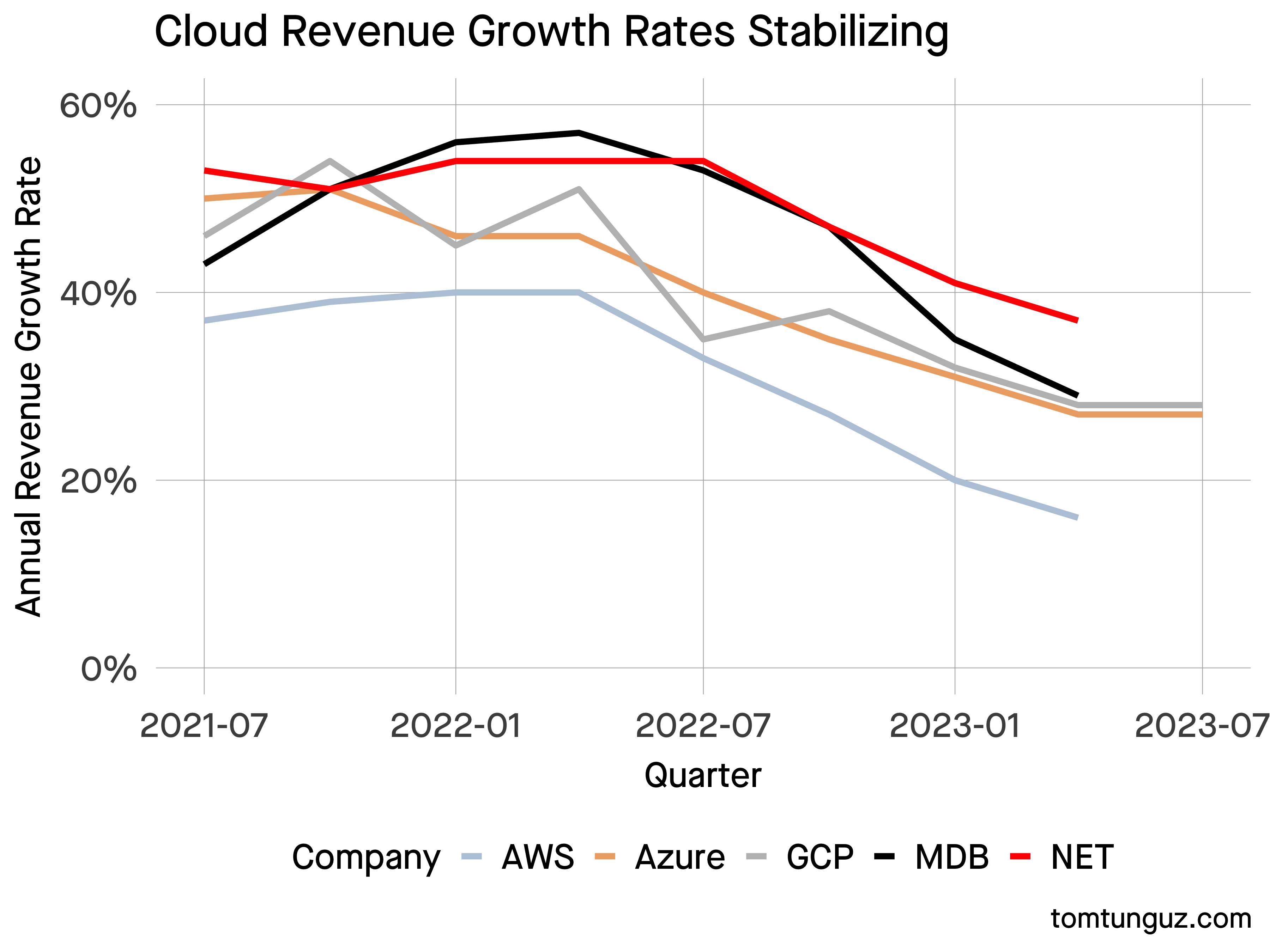 At last, we see a change in slope in the annual growth rates of the cloud services. Both Google & Microsoft announced growth rates in GCP & Azure that held steady from one quarter to the next.
There are two forces in tension : overall cost reduction efforts by companies & the desire to invest in AI.
The desire for AI is broad. Microsoft's Azure Open AI customer base grew 4x by count, up from 2500 last quarter :
We have great momentum across Azure OpenAI Service. More than 11,000 organizations across industries, including IKEA, Volvo Group, Zurich Insurance…
The same is true for the engineering productivity solution, GitHub Copilot
More than 27,000 organizations, up 2x quarter-over-quarter, have chosen GitHub Copilot for Business to increase the productivity of their developers.
Microsoft's Robotic Process Automation business, Power Automate is growing quickly, too. UIPath doesn't share MAU count & Microsoft didn't break out revenue, so comparing the two businesses' size directly isn't possible.
Finally, Power Automate now has 10 million monthly active users at companies like Jaguar Land Rover, Repsol, Rolls-Royce, up 55% year-over-year.
365 CoPilot, the Microsoft Office AI Upsell product has some good initial customer pull.
With about 365m Office users & a price point of $29 per user per month, a 10% cross-sell into the customer base would add $12.7b of revenue to the Office suite & more than $100b in market cap, assuming constant multiples.
We are now rolling out Microsoft 365 Copilot to 600 paid customers through our early access program, and feedback from organizations like Emirates NBD, General Motors, Goodyear and Lumen is that it's a game changer for employee productivity.
Microsoft is investing in data centers to support the needs of companies like Meta who have used Azure to train Llama2, a positive sign of increasing spend for the ecosystem.
The acceleration is really quite broad. It's both on – both the data centers and a physical basis plus CPUs and GPUs and networking equipment, think of it in a broad sense as opposed to a narrow sense. So it's overall increases of acceleration of overall capacity.
Satya Nadella's view on technology? The cloud migration is about halfway as percentage of GDP.
I mean this is – you've heard me talk about this as a percentage of GDP, what's going to be tech spend? If you believe that, let's say, the 5% of GDP is going to go to 10% of GDP, maybe that gets accelerated because of the AI wave.
Google revealed an impressive statistic :
More than 70% of gen AI unicorns are Google Cloud customers, including Cohere, Jasper, Typeface and many more. We provide the widest choice of AI supercomputer options with Google TPUs and advanced NVIDIA GPUs, and recently launched new A3 AI supercomputers powered by NVIDIA's H100.
Overall, the demands of AI seem to be stabilizing infrastructure spend, something we haven't seen in 7 quarters.
It may be a sign that we've hit the bottom but the remaining earnings calls of the top infrastructure companies later this month will be telling.
---
Read More: