2 minute read / Oct 19, 2022 / office hours /marketing /PLG /
Five Pillars of PLG with Carilu Dietrich
Yesterday, Office Hours hosted Carilu Dietrich, marketer at Atlassian & advisor to many iconic product-led growth companies (PLG). She's seen many different types of businesses from startups to massive publicly traded software companies.
Her unique vantage point on the tension facing the companies pursuing both PLG & classic selling formed the basis of most of our conversation. Here are some notes from the session.
Carilu shared her Five Pillars of PLG Success.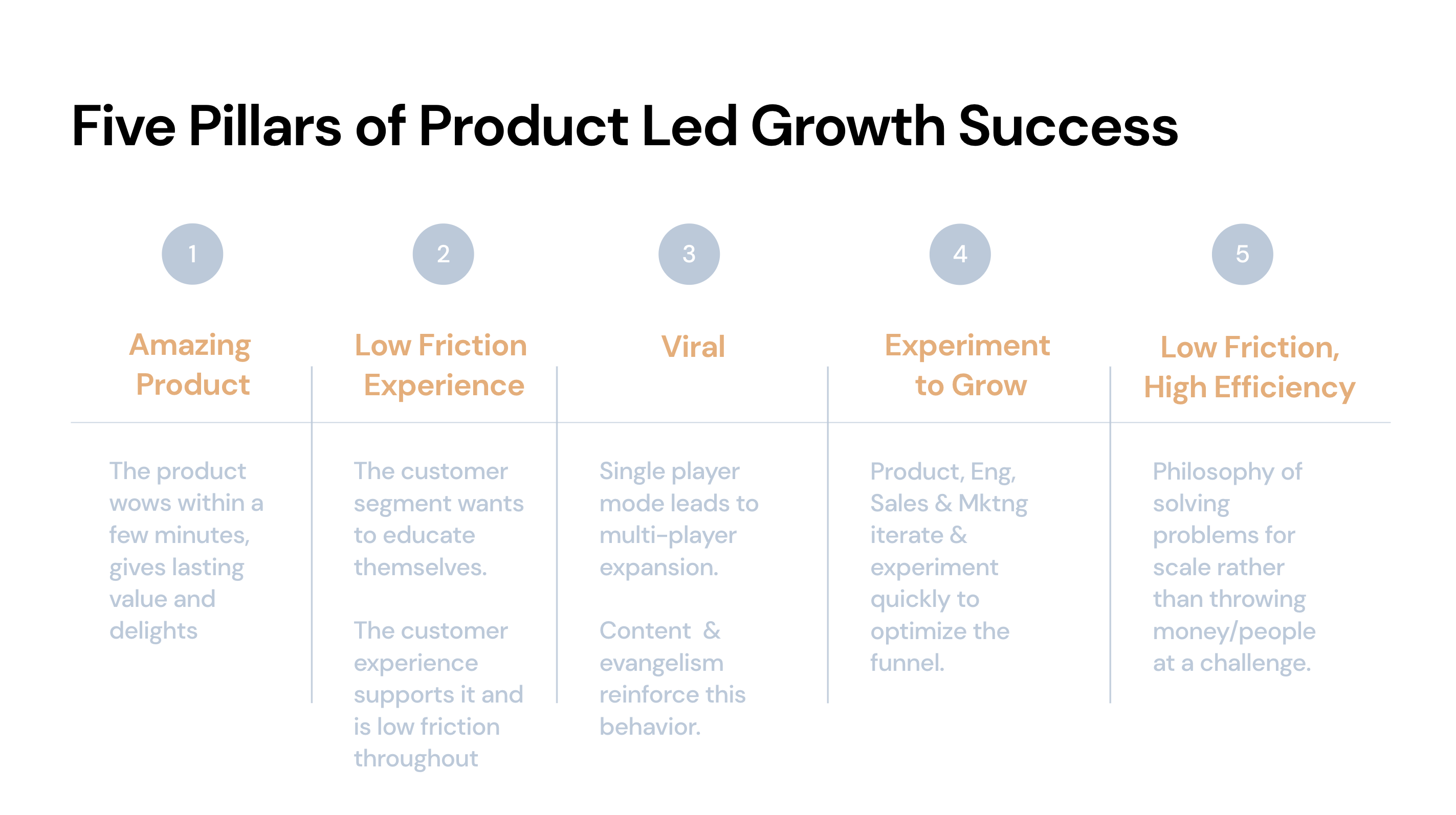 They are:
An amazing product that wows within minutes.
A user who wants to educate themselves. This education means using the product, solving a problem, & producing some output that's useful to others.
A buyer who becomes the internal champion to the rest of the team initially & potentially more of the company through time.
A corporate culture focused on experimentation & learning through iteration & data.
Philosophy of solving problems through product & software rather than through people or money.
Atlassian spent 35% of revenue on R&D, the highest of its peers, & 15% on sales & marketing, the lowest of its peers. That's pillar #5 in action.
Second, many PLG companies move into selling larger contracts to grow & scale their businesses. This is a natural evolution: Atlassian, DataDog, Slack & many others have matured this way.
To manage this, GTM teams segment the user base by customer size, dividing the world into PLG & AE selling motion by contract value.
However, cross-selling remains squarely in the salespersons' domain. Product-led cross-selling wasn't effective at Atlassian.
Third, the decision to complement an existing GTM strategy with product or sales-driven selling is a C-level/board-level decision because PLG isn't just a product initiative or a marketing campaign. It's a company-wide effort - often a multi-year journey.
When Atlassian pushed into the cloud, the company split the cloud group into its own division, freeing the team to move independently & faster. Some companies are exploring splitting their organizations in two, divided by GTM strategy. But there's no consistent pattern yet. We're still figuring this out as an ecosystem.
For a counterpoint on this idea, read about Kenny van Zant's Flywheel Model, which Asana used to become a multi-billion dollar public company.
There's much more to the session. The full video is here. The podcast episode is found here. And the slides.
Thank you, Carilu, for your insights & perspectives!
---
Read More: