2 minute read / Sep 29, 2020 / office hours /marketing /
Notes from Office Hours with Kimbre Lancaster on How to Run Successful Virtual Events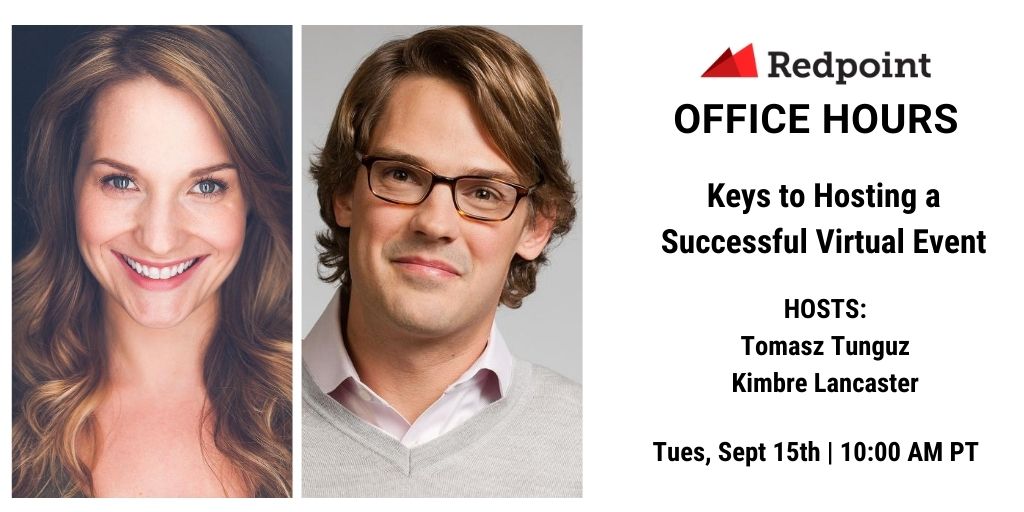 Recently, we welcomed Kimber Lancaster to Office Hours at Redpoint to discuss running successful virtual events. It was a fantastic session in which Kimbre surfaced counterintuitive insights about one of the most critical marketing channels of 2020. Below, I've summarized some of my notes from the session.
First, there's much more crossover between physical and virtual events than most people think.
The planning phase for virtual events parallels physical events. When you begin planning the virtual event, start with the event's goals and the audience's desires. Develop the messaging for your audience. Identify compelling speakers to further the cause. Declare metrics for success.
Not having to visit venues and plan for catering are the biggest differences and timesavers. You may also need to change your AV team, prep the speakers' home video quality, and pre-record sessions.
Audience engagement rose to the top of the questions list from the audience. Kimbre shared with us that she used to be a professional theater performer. When starting a performance, actors teach the audience how to engage. The best comedians teach the audience the cadence of jokes, when to expect a punchline, and when to laugh. Speakers can choreograph this back-and-forth to great success.
With virtual events, start every conference teaching the audience how to engage. Run a silly poll at the outset to teach attendees how to use tools. Encourage speakers to deliver presentations that require audience engagement. Some events have used slack as a communication tool. At Failover Conf, presenters engaged with the audience through Slack channels after their sessions.
Pre-recording speaker sessions is a new and important technique. Imagine the disaster if a speaker's internet fails during a talk. By pre-recording sessions, event organizers can ensure the event runs smoothly. Some virtual events pre-record all sessions and then have this speaker engaging with the audience live.
I'm grateful that Kimbre shared all these wonderful insights with us. If you'd like to read about the session in more detail and with the full transcript, please see the post on the Redpoint blog. And if you'd like to get in touch with Kimbre, you can find her here.
---
Read More: