2 minute read / Feb 3, 2023 / fundraising /sales /startups /
Predicting Cloud Growth Rates for 2023
I'm watching public company earnings to identify early weaknesses in the software market. Yesterday, Google & Amazon announced earnings which completes the picture. Growth will continue to slow this year.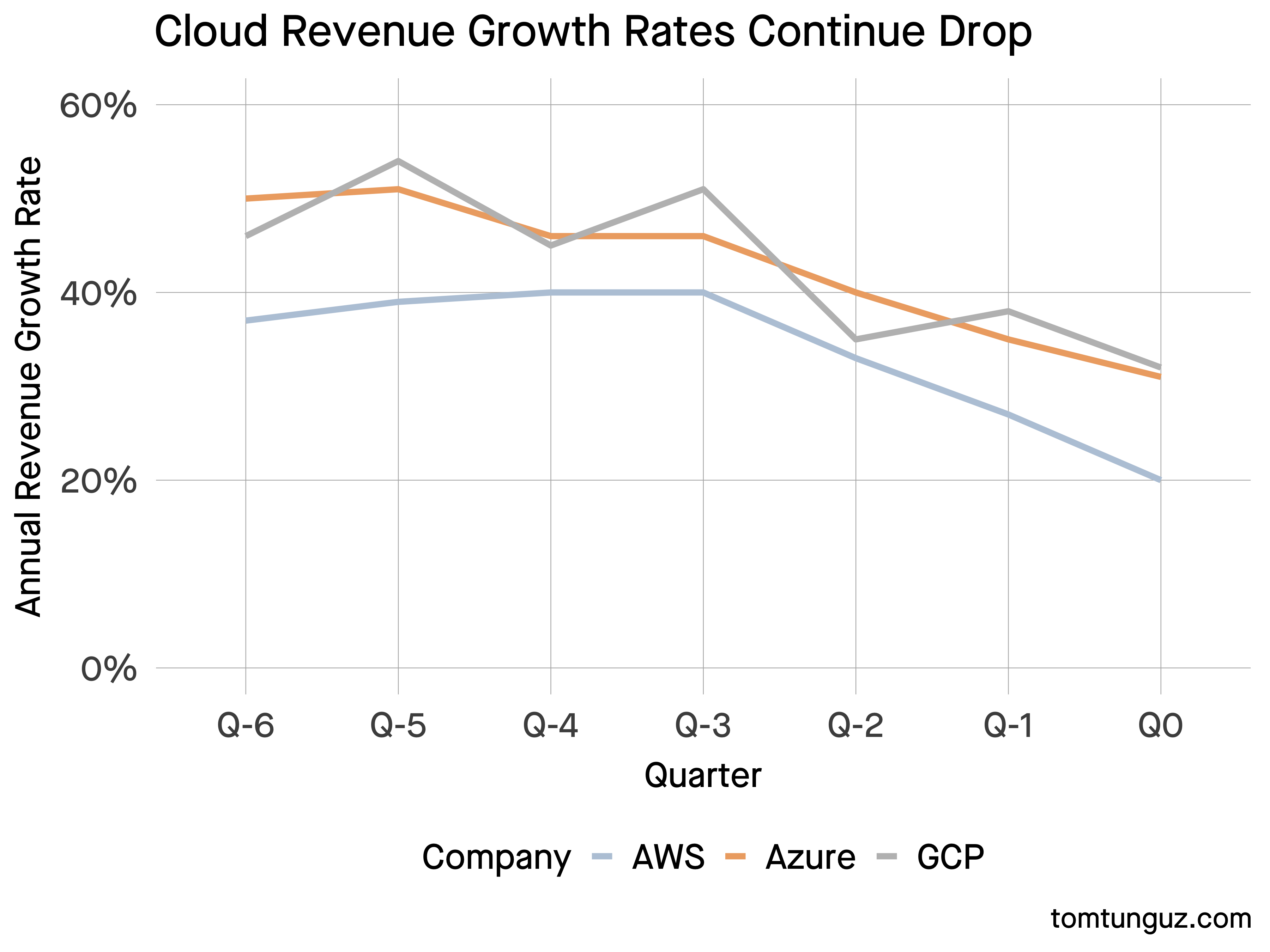 A year ago, AWS, GCP, & Azure averaged 44% annual growth. Today, that figure has dropped to 27%. Amazon also guided to lower growth rates in the future.
Amazon: We expect [customer] optimization efforts will continue to be a headwind to AWS growth in at least the next couple of quarters. So far in the first month of the year, AWS year-over-year revenue growth is in the mid-teens.
Google: [GCP] saw slower growth of consumption as customers optimized GCP costs.
The collection of these three earnings calls presages continued reduction in growth rates, likely through the end of the year, as most businesses favor profits over growth - a trend echoing across Startupland.
Google: [We] are pushing Google Cloud to Profitability.
With an operating loss of $480m on 7.3b in revenue, GCP is at -7%, not far off breakeven, but a long way from AWS' 30% profit margins.
One surprising nuance from the Google call:
Revenue growth in GCP was again greater than Google Cloud, reflecting strength in both infrastructure and platform services.
Infrastructure spend is more resilient than application spend. This may be the result of layoffs: applications are sold by the seat. Less hiring growth means smaller expansion. Meanwhile, the servers keep chugging along & data compounds at a constant growth rate.
Long-term the growth potential remains.
Amazon: 90% to 95% of the global IT spend remains on-premises. And if you believe that, that equation is going to shift and flip, I don't think on-premises will ever go away, but I really do believe in the next 10 to 15 years that most of it will be in the cloud"
And despite slowing growth rates, 20% growth of an $85b revenue business is $17b of new spend annually.
Amazon: Net sales increased $21.4 billion in Q4, up 20% year-over-year and now representing an annualized sales run rate of more than $85 billion.
Overall, given the trends we're seeing, I expect cloud growth rates to fall into the 18-22% range for 2023, about half of the growth rate of a year ago.
---
Read More: