2 minute read / Nov 24, 2014 / customer success /sales /saas /
How Much Should Your Startup Spend on Customer Account Expansion?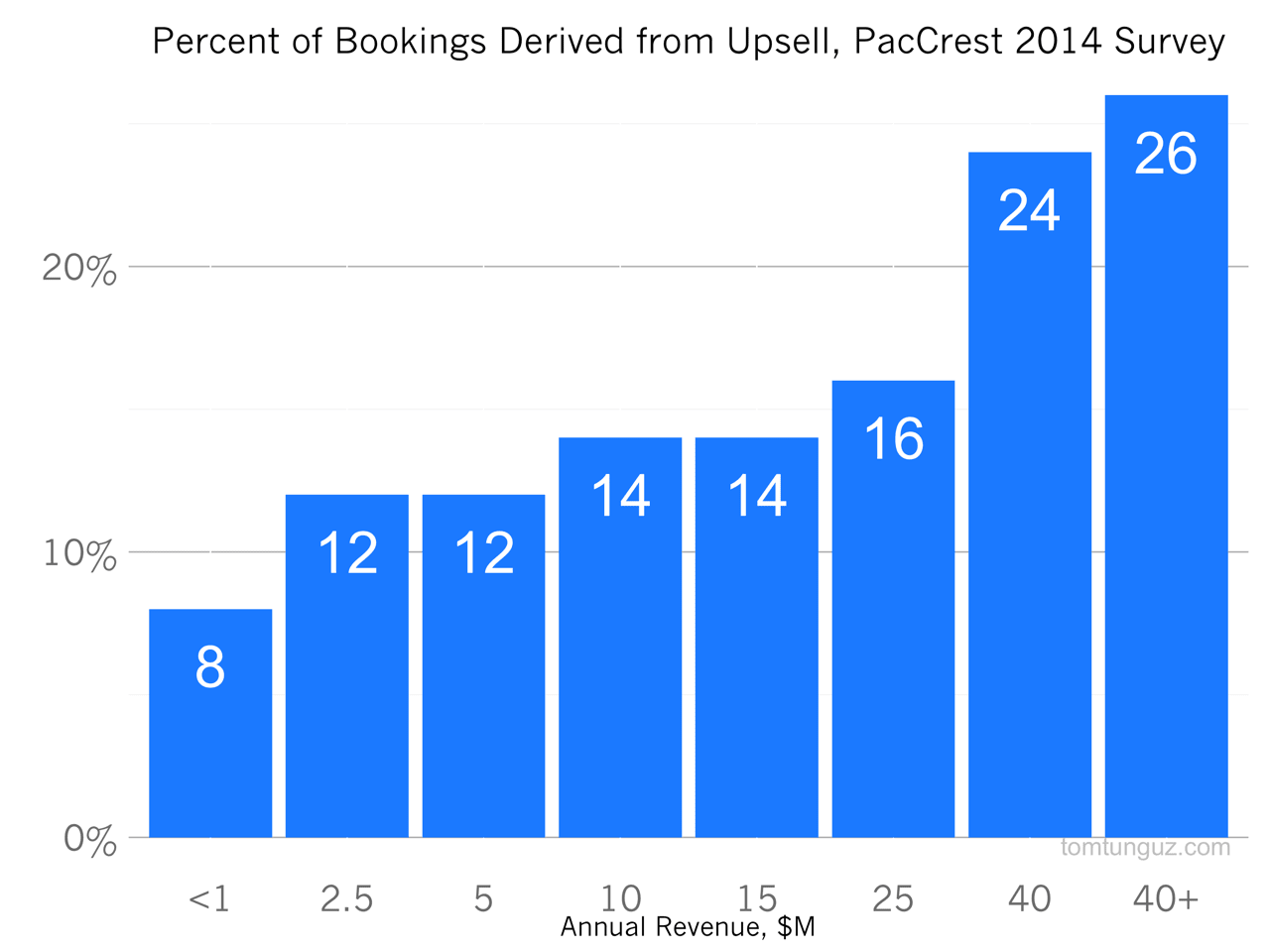 It's hard to overstate how powerful negative churn is for a SaaS company. Both New Relic and Zendesk have grown to billion-dollar-plus publicly traded businesses by achieving fantastic negative churn figures: 114% and 120% respectively. in other words, each year existing customers pay these businesses 14 and 20% more than last year.
The recent 2014 SaaS benchmark survey aggregated by Pacific Crest and Matrix indicates that expansion revenue accounts for between 8-26% of total annual bookings, increasing as the company scales.
There are many different ways of achieving this kind of account expansion. In some cases, customers use more of a product over time and consequently increase their spend without help from a salesperson. In other cases, startups rely on upsell teams to entice and encourage customers to increase their spend. Often, these upselling teams operate within the customer success organizations, structured as parallel sales organizations with quotas similar to the new customer sales team. In these types of sales teams, how much should a startup spend on customer account expansion?
Using data from the PacCrest survey, I estimated the relative investment between new customer salespeople and upsells salespeople. At the very earliest stages of a company, startups effectively staff five to seven salespeople to acquire new customers for every one salesperson hired to increase account size. In practical terms, the smallest companies likely don't have a full-time person, but divide the time of a smaller sales team. As the company grows in size and revenue, this proportion decreases to about 2.5 new customer sales people to 1 account expansion salesperson.
The PacCrest survey presents some terrific data to support an investment in both customer success and a parallel upselling team. At scale, these teams contribute upwards of 25% of annual bookings.
---
Read More: